Supreme Court Rules Against EPA on Mercury and Air Toxic Standards
---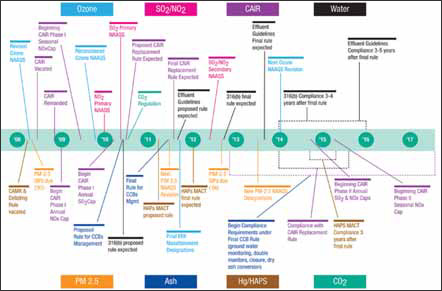 Often referred to as the regulatory 'Train Wreck,' a confluence of more than a dozen environmental
initiatives directed toward U.S. power production that are scheduled to be implemented by the
Environmental Protection Agency by 2017. (Source: The American Public Power Association)

Justices at the U.S. Supreme Court voted 5- 4 June 29 against the U.S. Environmental Protection Agency's (EPA) landmark Mercury and Air Toxic Standards (MATS) outlines, ruling that the Obama Administration's push to limit mercury and pollutant emissions from coal-fired power plants failed to consider costs and compliance issues.

The five conservatives of the court voted in the majority: Justice Antonin Scalia; Chief Justice John Roberts; Justice Anthony Kennedy; Justice Clarence Thomas; and Justice Samuel Alito. The proposed MATS regulations will remain in effect as the case now moves to appeals, where a decision will be made whether or not to entirely toss the regulations out.

The MATS rules, a majority of which went into effect in April, has an impact on about 600 power facilities nationwide; most of those complexes are already in compliance or have been retired as a result of the incoming regulations. The EPA estimated that the regulation would force power plants to bear costs of $9.6 billion per year.

The agency could not fully quantify the benefits of reducing power plants' emissions of hazardous air pollutants; to the extent it could, it estimated that these benefits were worth $4 to $6 million per year. The costs to power plants were thus between 1,600 and 2,400 times as great as the quantifiable benefits from reduced emissions of hazardous air pollutants.

A suit filed by pro-mining and utility groups as well as 21 U.S. states filed an appeal after an appeals court upheld the rules last June. Those groups, too, also focused on how much the costs would exceed estimates, including the increased costs for mines and miners, related businesses and even utility customers.

Justice Scalia, in a note written on behalf of the court, said Monday that a Clean Air Act provision dictating that the EPA could regulate power if it found it "appropriate and necessary" should be interpreted as cost consideration, though the agency had already decided it did not have to consider such figures at that stage. "The agency must consider cost—including, most importantly, cost of compliance—before deciding whether regulation is appropriate and necessary," Scalia wrote in the group's note.

Those justices dissenting said that the EPA could have considered costs later. Those in dissent included Justices Elena Kagan, Ruth Bader Ginsburg, Stephen Breyer and Sonia Sotomayor. "Over more than a decade, the EPA took costs into account at multiple stages and through multiple means as it set emissions limits for power plants," Kagan said. The EPA, which said it was reviewing the ruling, responded somewhat indignantly to the decision.

"EPA is disappointed that the Supreme Court did not uphold the rule, but this rule was issued more than three years ago, investments have been made and most plants are already well on their way to compliance," agency spokeswoman Melissa Harrison said in a statement.

"Today's decision by the Supreme Court is a vindication of common sense that is missing in much of the administration's regulatory actions," U.S. National Mining Association President and CEO Hal Quinn said. "The decision effectively puts the EPA on notice: reckless rulemaking that ignores the cost to consumers is unreasonable and won't be tolerated. It recognizes what the administration has ignored: that every regulatory benefit comes with a cost, and the value of that benefit cannot be known unless its costs are considered." A copy of the opinion is available at www.supremecourt.gov.
---
As featured in Womp 2015 Vol 07 - www.womp-int.com