Feasibility Study Supports Integrated Pumpkin Hollow Project Development
---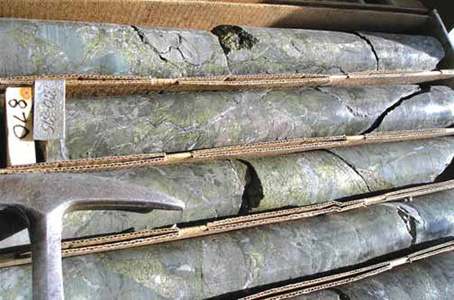 High-grade copper ore core samples from the Pumpkin Hollow project. (Photo: Nevada Copper).

Nevada Copper has released the results of a feasibility study that supports development of its Pumpkin Hollow project near Yerington, Nevada, as a single, integrated operation, with open-pit and underground mines feeding a 70,000-short-ton-per-day (st/d) mill. Metal production over a 23-year mine life is estimated at 4.5 billion lb of copper, 512,000 oz of gold, and 15.6 million oz of silver in copper concentrates.

Initial capital costs to develop the project are estimated at $1.07 billion. Contained copper production during the first five years of operation would average 275 million lb/y.

The Pumpkin Hollow concentrator will draw 63,500 st/d of feed from open-pit mining operations and 6,500 st/d from underground. Two open pits, North and South, will sequentially mine proven and probable reserves totaling 539.3 million st, grading 0.39% copper, 0.001 oz/st gold, and 0.44 oz/st silver. Underground operations 3 miles east of the open pits will mine proven and probable reserves of 32.6 million st, grading 1.29% copper, 0.005 oz/st gold, and 0.113 oz/st silver.

The mill will be located adjacent to the North and South open-pit deposits. Underground ore will be trucked to the mill. Underground mining will continue for approximately 15 years, when currently known reserves will be exhausted, after which 100% of the mill feed will be from the open pits.

Life-of-mine operating costs are estimated at $11.59/st of ore milled. Copper production costs during years 1 to 5 are estimated at $1.49/lb of payable copper.

Open-pit mining will begin with prestripping of the North deposit and will continue at the North deposit for approximately 13 years before transitioning to the South deposit. Mining will be a conventional truck-and-shovel operation, using electric cable shovels and 400-st-class haul trucks. Mined ore will be delivered to a primary gyratory crusher adjacent to the North pit and then conveyed to the mill.

In preparation for underground mining, Nevada Copper has completed a 24-ftdiameter shaft to the 1,900-ft primary production level. Mining initially will be from the East deposit, while horizontal access is established to the E2 deposit via a 3,500- ft-long drift. Ore mined from both East and E2 stopes will be delivered to an underground jaw crusher near the East shaft and then hoisted to surface.

Open-pit and underground ore will be fed from the stockpile reclaim system to a concentrator that will include conventional SAG/ball mill grinding, with cyclones for classification; rougher, rougher regrinding, cleaner, and cleaner scavenger flotation; concentrate thickening; and filtration. Tailings will be thickened and then pass through five parallel pressure filtration circuits prior to disposal at a dry-stack storage facility. A paste-backfill tailings processing facility, including a paste thickener, will provide underground backfill when needed.

Concentrates will be trucked approximately 20 miles to a new rail loading facility on Union Pacific tracks and railed to a U.S. west coast bulk port for shipping to smelters.

Nevada Copper has a target of securing financing for Pumpkin Hollow development during the third quarter of 2014. Assuming such financing is secured, critical activities would begin in the second half of 2015, including engagement of an EPCM contractor, start of detailed engineering, ordering of key long-lead-time mining and processing equipment, and establishment of a highvoltage power line connection. Pre-stripping the North deposit would be scheduled for 2016 once the equipment fleet has been delivered, and site preparation for the surface facilities would start in early 2016.

Under these scheduling assumptions, mill ramp up would begin in early 2018.

The feasibility study for the integrated Pumpkin Hollow project was prepared under the direction of Tetra Tech, with Stantec Consulting Services responsible for the detailed underground mine design and underground capital cost estimation.
---
As featured in Womp 2015 Vol 07 - www.womp-int.com