Newmont to Acquire CC&V Mine From AngloGold Ashanti
---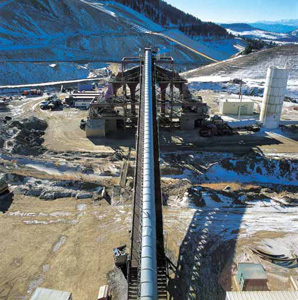 Newmont announced it will buy the Cripple Creek & Victor gold mine,
pictured here, from AngloGold Ashanti for $820 million plus 2.5% net
smelter return (NSR) on future underground ore production. The mine is
currently undergoing a $585 million expansion.
(Photo: AngloGold Ashanti)

Newmont Mining has agreed to acquire the Cripple Creek & Victor (CC&V) gold mine in Colorado, USA, from AngloGold Ashanti for $820 million in cash, plus a 2.5% net smelter return royalty on potential future gold production from underground ore. CC&V currently operates as a surface mine that delivers oxidized ore to a crusher and valley leach facility. The mine produced 211,000 oz of gold in 2014 at all-in sustaining costs of $1,026/oz.

A $585 million CC&V mine expansion program that includes a new leach pad and recovery plant and a new mill is about two-thirds complete. Completion of the project will lift the mine's gold production to between 350,000 and 400,000 oz/y by 2017 at all-in sustaining costs between $825 and $875/oz and will extend mine life to at least 2026.

Newmont will fund the acquisition with net proceeds from a common equity issuance of 29 million shares, supplemented by cash from its balance sheet.

Newmont President and CEO Gary Goldberg said, "CC&V represents a valueaccretive opportunity for Newmont to improve mine life and costs in a favorable jurisdiction. Consistent with what we've achieved elsewhere, we believe we can lower direct mining costs by up to 10% through improved productivity and optimization. We also look forward to learning from CC&V's experts and welcoming their experienced workforce to the Newmont team. Funding the acquisition with equity allows Newmont to maintain financial flexibility while continuing to develop profitable projects."

AngloGold Ashanti CEO Srinivasan Venkatakrishnan said, "After a competitive bidding process, we're pleased to have arrived at a transaction that recognizes the value of this asset. This deal significantly de-risks the balance sheet without diluting our shareholders, and places us in a much stronger financial position. It puts $820 million into our bank account, saves $200 million in capital expenditure that would be required to complete the CC&V expansion, and gives us continued exposure to the asset through an uncapped royalty on future underground production."

The transaction is expected to close in the third quarter of 2015, subject to regulatory approvals and the satisfaction of other conditions precedent.

CC&V operations are located in the historic Cripple Creek mining district in the mountains west of Colorado Springs, Colorado, about 100 miles from Newmont's corporate headquarters in Denver. The district was discovered in 1890 and produced more than 22 million oz of gold from as many as 500 mines between 1890 and 1910. The current CC&V operations came into production in 1995.
---
As featured in Womp 2015 Vol 07 - www.womp-int.com