Poseidon Poised to Re-open Lake Johnston Nickel Operation
---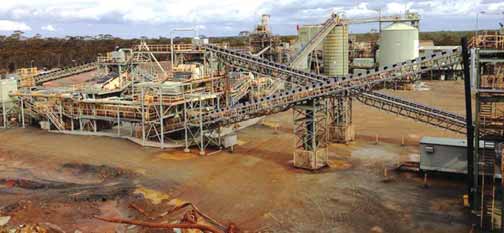 Currently in care-and-maintenance status after being shut down by former owner Norilsk Nickel, the 1.5-millionmt/ y
Lake Johnston mine and plant could be back in operation within six months of restart preparations, according to new
owner Poseidon Nickel.

Poseidon Nickel has outlined plans to restart mining and processing operations at its Lake Johnston nickel property 150 km west of the town of Norseman in southern Western Australia. Poseidon acquired the Lake Johnston property from Norilsk Nickel in a transaction that closed in November 2014. The project last operated in April 2013 and has been on care and maintenance since that time. Poseidon currently anticipates that it will have the property up and running within six months of initiating work to restart operations.

The Lake Johnston project has a modern 1.5-million-metric-ton-per-year (mt/y) concentrator and a large ground position, with numerous near-mine and regional exploration targets. Capital cost to refurbish the concentrator and infrastructure to operating condition is estimated at A$6.8 million, including contingency and management costs. Underground mine refurbishment cost is estimated at about A$1.5 million. Operating cost is projected at A$6.70/lb of nickel on an all-in cost basis, including sustaining capital.

Based on recent operations by Norilsk Nickel, Lake Johnston is expected to produce good-quality, smeltable concentrate grading 13% to 14% nickel, with a 6:1 iron-to-MgO ratio and 10 ppm arsenic. Poseidon reported in mid-December that off-take negotiations for Lake Johnston concentrate were well advanced.

Poseidon does not intend to modify the Lake Johnston concentrator flowsheet. Its target throughput on restart is 900,000 mt/y vs. the maximum demonstrated plant capacity of 1.5 million mt/y.

The processing flowsheet begins with three-stage crushing and crushed ore storage. Crushed ore is milled in a 4.5-MW primary ball mill operating in closed circuit with hydrocyclones. Cyclone underflow reports to flash flotation. The flotation circuit also incorporates rougher, rougher scavenger, and scavenger stages; regrind of the rougher concentrate; three stages of cleaning; and a further three stages of recleaning. Concentrate is thickened and filtered before bagging or containerizing for transport. Tailings are thickened and pumped to the tailings storage facility.

Work to ready the plant for restart will include repair of hazardous access platforms (including hand-railings) and installation of conveyor spill guarding in accordance with revised legislation; site-wide electrical, control, and instrumentation refurbishment and re-commissioning; crushing and screening plant servicing and re-commissioning; concentrate thickener re-coating; Larox filter re-commissioning; site-wide pump servicing and/or rebuild; and valve and actuator servicing, rebuild or replacement.

Poseidon has announced an initial mineral resource for Lake Johnstonís Maggie Hays deposit of 3.8 million mt, grading 1.41% nickel for 53,100 mt of contained nickel. Further resource updates are expected in the first quarter 2015.
---
As featured in Womp 2015 Vol 01 - www.womp-int.com