Coeur Adding to its Mexican Assets
---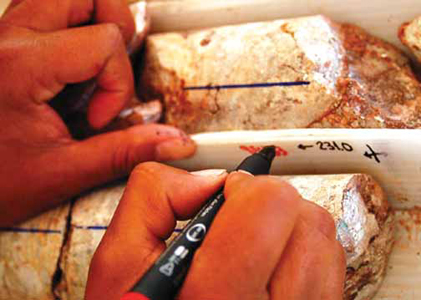 Coeur Mining's acquisition of Paramount Gold and Silver Corp. will allow it to develop the Don Ese
silver/gold deposit, which lies near an active Coeur underground development project and contains
higher-grade mineralization.

Coeur Mining has entered into an agreement to acquire Paramount Gold and Silver Corp. in an all-stock transaction valued at $146 million. Paramount is a U.S.- based exploration and development company with advanced-stage precious metals projects in Mexico and Nevada. Its San Miguel project, which includes the Don Ese deposit, covers more than 121,000 ha surrounding Coeur's Palmarejo mine complex in Chihuahua, Mexico.

The Don Ese deposit extends across a shared property boundary onto Coeur's Palmarejo land holdings, approximately 800 m from Coeur's Guadalupe deposit, which Coeur is currently developing for underground production. The Don Ese deposit hosts significantly higher-grade silver and gold mineralization than the Guadalupe deposit.

Coeur plans to develop the Don Ese deposit in 2015 by driving a 1,000-m decline from a portal adjacent to the existing Guadalupe surface infrastructure at an initial cost of approximately $15 million. The company anticipates production from Don Ese will start by the end of 2015, ramping up to 2,500-short-tonsper- day (st/d) day by the end of 2017.

Coeur's 6,000-st/d Palmarejo processing facility is expected to have excess capacity after current open-pit mining ends in 2015 and mining transitions to the Guadalupe deposit. Assuming utilization of the excess processing facility capacity, Coeur anticipates that the combined Don Ese and Guadalupe deposits could produce an average of about 6 million oz/y of silver and 110,000 oz/y of gold over the next eight years.

Coeur has identified significant additional exploration potential on other highgrade structures near the shared property boundary. Paramount's San Miguel project also contains several lower-grade deposits that could benefit from cost savings associated with Palmarejo's existing infrastructure.

Coeur President and CEO Mitchell J. Krebs said, "By adding Paramount's San Miguel project and particularly the Don Ese deposit to the ongoing mining activities at our Guadalupe deposit, Palmarejo will be well-positioned to remain one of the world's top producing silver and gold mines, with significantly higher grades and lower costs. Paramount's Mexican assets strengthen the long-term viability of Palmarejo throughout the price cycle and enhance Coeur's growth profile.

"We expect the transaction to lower our overall unit costs, improve our free cash flow in the current metal price environment, and provide near-term growth while preserving our liquidity."

The transaction requires the approval of Coeur and Paramount stockholders and is subject to Mexican antitrust approval and other customary closing conditions. Coeur expects the transaction to close in the second quarter of 2015. Upon closing, existing Coeur stockholders will own approximately 76% of the combined company, with Paramount stockholders holding the remaining approximately 24%.

Immediately prior to closing of the transaction, Paramount will spin off to its existing stockholders a separate, publicly traded company, expected to be named Paramount Nevada Gold Corp., which will own Paramount's Sleeper gold project and other assets in Nevada. As part of the transaction, Coeur will provide $10 million in cash to Paramount Nevada Gold and receive a 4.9% common share interest in the company.
---
As featured in Womp 2015 Vol 01 - www.womp-int.com