Innovative Gear Drive Solution for Grinding Mills
---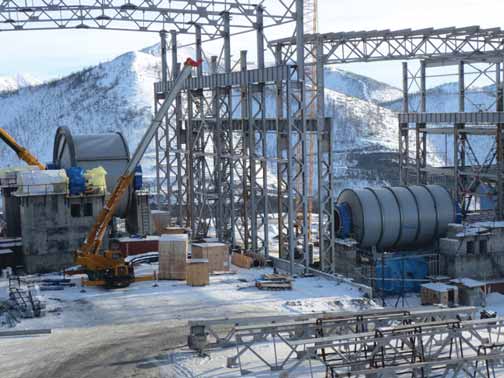 Cemtec and Siemens jointly developed a standard-equipment, economical solution to handle the power needed to drive
a 10.4 x 6.1-m, 15-MW SAG mill and an 8.2 x 14-m 18-MW ball mill at this Russian gold mill site.

Cemtec GmbH, an Austrian company, develops and executes projects for the mineral processing industry worldwide. One of its latest projects involves a Russian gold operation where, with the installation of two large, high-powered grinding mills, up to 30,000 metric tons (mt) of ore will be processed daily after startup in 2015.

According to Cemtec and mill-drive supplier Siemens, it took just 10 months for them to jointly design and install a complete solution for the operation's grinding requirements. Cemtec's purchasing manager, Stefano Pellisetti, commented, "The drive solution realized here on the basis of the DMG2 mill gear unit offers a whole slew of advantages."

These advantages include shortened construction time, because the Flender DMG2 gear units specified for the project were standard units, quickly deliverable and cost-effective. The amount of time needed for installation also was minimized. "The Flender DMG2 does not require massive foundations, and both transport and initial start-up aren't problems," said Pellisetti.

The two installed mills include a semiautogenous (SAG) mill measuring 10.4 x 6.1 m with a drive output of 15 MW; and a ball mill rated at 18 MW. The SAG mill reduces ore fragments with a maximum size of 250 mm (P80 = 152 mm) down to 2 mm, and the ball mill reduces the SAG mill product to about 74 µm. Grinding is followed by flotation.

The ball mill measures 8.2 x 14 m; in terms of power—transmitted by mechanical gear drives—it is considered one of the world's largest, if not actually the world's largest, horizontal mill, driven by two Siemens type 1RR5108-6FA90-Z threephase asynchronous motors with slip ring rotors, delivering an output of 9 MW each. The two motors (in operating mode S1) have an efficiency of 97.2%. They are started in parallel with a fluid starter also furnished by Siemens. However, the main feature of the drive technology at this location, apart from the sizes of the two mills, is the gear-unit technology, according to Siemens.

Two DMG2 gear units provide the necessary power transmission on each of the project's mills. Two pinions
positioned one above the other transmit output, enabling up to 9 MW of power per gear unit
Both the SAG mill and ball mill are each driven by two gear units. Because, on a conventional drive variant, only one engagement per pinion with the girth gear is possible per side, an economic power limit of about 8 MW per drive is in effect. With the DMG2 gear units, Siemens said this limit expands to as much as 12 MW per drive. The key, Siemens explained, is that there are two pinions— positioned one above the other in mesh on the girth gear—thus achieving the necessary power transmission capabilities.
The setup's self-aligning drive pinions guarantee an optimum contact pattern, said Siemens. This is how it works: The gear unit has an internal load-sharing system, allowing power to be optimally and evenly distributed between the two drive pinions, which mesh with the girth gear by means of an axially freely movable intermediate shaft. The gears are case-hardened for toughness and the output pinions are tiltable to optimally adjust to the profile of the girth gear.
Two fundamental advantages result from this dual-pinion construction: first, the mesh width of the tooth flanks, at 570 mm, is considerably smaller than on a conventional single-pinion solution, which, Cemtec specialists calculate, would have needed a width considerably larger than 1,000 mm; second, more costly helical gear teeth, which would probably have been necessary with a conventional gear-unit design, were unnecessary. Furthermore, this arrangement avoided any requirement for a large-dimensioned thrust bearing. "The result is that the DMG2 turns out to be physically about 30% smaller than conventional gear-unit solutions," said Pellisetti. In comparison, a size 25.4-gear unit for the SAG mill weighs about 36 mt, a size 30-ball-mill gear unit weighs as much as 70 mt.
The DMG2 gear units used in this installation are
about 30% more compact than a conventional gear
unit solution, according to drive supplier Siemens.
Siemens said FEM analyses were used to optimize the gear-unit housing; making, for example, bearing replacement on the input shaft a much easier job than previously. Sealing of the drive shaft is in the form of wear-free labyrinth seals. On the output side, the housings are connected to the girth-gear hood by a flexible, oil-tight bridge. An innovative system ensures optimum lubrication of the pinion/girth gear connection. Compared with standard grease lubrication, the oil lubrication system offers improved lubricating characteristics, leading to higher efficiency and ultimately, longer overall system service life. "Here, too, this compact design has important advantages, because transporting such gigantic mill systems, along with their drive systems, is in itself an incredible challenge," noted Pellissetti, who added, "So far as I know, there is no other solution of this magnitude operating in the mining environment."
Cemtec, as it looks ahead at future drive requirements, believes the availability of Siemens drive solutions generating outputs of up to 24 MW or more could allow it to offer productivity improvements reaching 30% or so when compared with maximum output being achieved at present.
---
As featured in Womp 2014 Vol 12 - www.womp-int.com