New Cat Loader and Mining-Class Excavator: Redesigned from the Ground Up
---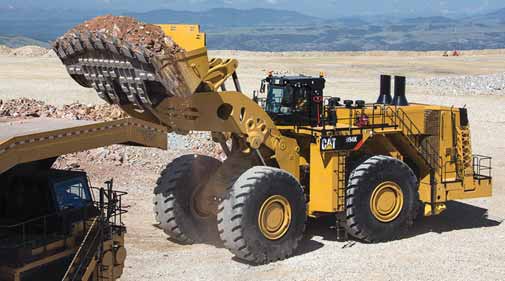 Caterpillar's Global Mining group recently previewed two new earthmover models for the trade press at its training, demonstration and testing site near Tucson, Arizona. One is an all-new version of the 994 wheel loader, the flagship of the Cat loader line for 25 years; and the other, a 250-tonclass hydraulic excavator that began as a concept at a competing company but will enter the market as a clean-sheet, Catdesigned machine with full dealer support.

The 994K loader, successor to the 994H, is more than 6 ft (2 m) longer and, at 527,218 lb, roughly 88,000 lb (40,000 kg) heavier than the older version—but Cat didn't just pile-on extra iron to achieve these measurements. The K version is a redesigned unit that uses its larger mass and higher breakout force to become "…not just a loader, but a good digger," according to Cat Product Specialist Randy Aneloski. Among the higher performance figures attributed to the new design are a 29% increase in payload compared with the H version, 28% more breakout force, 19% more power and 17% stronger rimpull.

Its 45-ton payload capacity translates into one less pass per truckload, and the K version is reportedly able to load a Cat 785 hauler in three passes, a 789 in four passes and a 793 in six passes or less, depending on material characteristics. The highlift version of the 994K is rated at 42 tons payload—4 tons more than the standardlift 994H. New high-performance buckets are available in a range of capacities, including 25–32 yd3 rock and 42–52 yd3 coal versions. Improved bucket design provides an extended floor, larger radius, and angled side bars for fast loading, high fill factors and good material retention, according to the company.

Power comes from a Cat 3516E diesel that produces 1,739 net hp (1,297 kW) compared with the 1,463-hp version in the previous model. The engine works through a Cat planetary powershift transmission specifically designed for mining applications. An integral Impeller Clutch Torque Converter and Rimpull Control System allow the operator to precisely adjust power at the wheels to specific loading conditions by modulating rimpull from 100% to 25%, reducing potential for tire slippage without diminishing hydraulic capacity. The diesel's 39% torque rise, according to Cat, ensures high lugging forces during digging and acceleration in high rimpull conditions.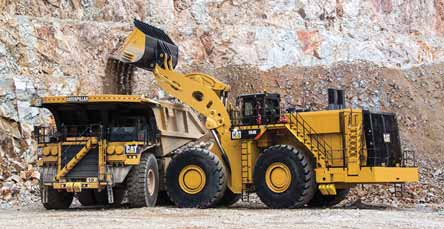 The 994K can accept the same selection of radial and bias-ply tires available for the H version, with 58/85-57's fitted as standard equipment. Although the new machine weighs considerably more, Cat engineers expect less stress on the tires due to the loader's more efficient weight distribution and wider footprint.
A new high ambient temperature cooling package prepares the loader for operation in conditions as high as 50°C (>120°F), while the standard package offers improved cooling compared with the previous model. Overall, the cooling system has been changed from an integrated to a separate machine system for increased efficiency. The new loader's air filtration system uses the same size filters as the H version—but more of them, providing up to three times the life of the former design.
An optional 1,500-gal fuel tank enables the loader to run for 24 hours without refilling. The location of the tank on the new model illustrates an important design consideration; it's now closer to the center of the machine, allowing the loader to stay consistently stable throughout a long shift as fluid weight diminishes from fuel consumption. The K's wider stance and longer wheelbase also contribute to machine stability.
Worker safety and service access also were key design concerns, according to the company. A powered access system enables easier personnel movement to and from the rear platform, while reduced stair angles allow safe forward or backward descent for workers. Recognizing that many injuries and mishaps occur when workers have to climb aboard mobile equipment to service or repair it, Cat has located all routine service points in logically grouped, ground-level panels on the left side of the machine. Additional serviceability features include longer service intervals on fluids and filters, swing-out doors on both sides of the engine compartment, ecology drains for spill prevention and centralized remote pressure taps.
Inside the cab, the operator has increased visibility with new "mining" mirrors, LED lighting and improved camera features for site awareness. The loader also provides reduced sound levels in the cab, along with improved cab air pressurization and filtration.
The 994K, according to Cat, will be commercially available in first quarter 2016.
The 6020B
Cat's new single-engine, 24-ton-payload 6020B hydraulic excavator is the result of a four-year development program spanning the machine's conceptual emergence in the years and months before Cat's acquisition of Bucyrus International in 2011, to the current version being tested at Cat's Arizona facility and elsewhere before a planned market introduction in 2015. Although the excavator's early design originated at Bucyrus and continued on through that company's acquisition of Terex's mining equipment group in 2010, Cat made it clear that today's 6020B is a clean-sheet design that offers performance and features in line with its own objectives and Voice of the Customer (VOC) survey results.
Using the same Virtual Product Development (VPD) techniques employed to prototype the 994K loader, Cat engineers were able to conduct numerous detailed computer simulations to test all aspects of the 6020B's design. The resulting product, according to Klaus Ukens, global product manager for hydraulic mining shovels, offers significant improvements in performance and reliability, made possible by design elements such as modular construction, an exchangeable power module, improved component locations and accessibility throughout, and a fully digital cab environment with increased operator comfort and visibility. Machine components were chosen that integrate easily into Cat's dealer network structure to facilitate full service support.
Basic specifications for the 6020B include an operating weight of 247 tons, bucket capacity of 15.7 yd3 (12 m3) and maximum digging range, in backhoe configuration, that includes digging depth of more than 26 ft (8.1 m), a reach of slightly more than 53 ft, and digging height of more than 45 ft. Maximum tearout force is 146,125 lb (650 kN) with maximum breakout force of 164,050 lb (730 kN). It is configured to provide optimal pass-matching with Cat's 777 series trucks, loading the 107-ton-capacity haulers in four to five passes, and the 150- ton 785 series trucks in five to six passes.
The excavator is powered by a Cat C32 ACERT engine producing 1,043 hp (778 kW). The walk-through power module is designed to be removable and replaceable, allowing quick switchout and transport of modules needing repair to a clean and safe work environment. This feature is in line with other design elements focused on serviceability: As with the 994K, routine service points on the 6020B are grouped logically and located at ground level, while hoods, covers or other external sheet metal components are generally sized to be handled or removed by workers without need of cranes or lifting gear. Other service features include convenient swing system component accessibility via the boom-mounted hydraulic valve block, as well as extensive troubleshooting capability via hydraulic service ports. An automatic centralized lubrication system is provided as standard equipment.
Sitting inside the three-seat cab during a ride-along demonstration of its digging and loading performance, the improved visibility available to the operator is quickly apparent with clear sight lines to the front and sides, while a new window (protected by a grate) at the operator's feet provides a view of the tracks and ground directly in front of the cab for improved safety and positioning.
Outside the cab, boom-mounted deflector plates protect fluid lines and bucket pivot points from rocks, while underneath an optional rough terrain undercarriage protection kit shields vital equipment from dirt, rocks and debris. The excavator's swing system includes a triple-race swing roller bearing with internal gearing connected to an automatic lubrication system. All lube lines supplying the swing roller bearing are located inside the superstructure for maximum protection.
The 6020B is built with an open-loop swing circuit designed to interact efficiently with the machine's advanced hydraulics. Utilizing patent-pending dedicated pump flow allocation technology, hydraulic pumps are allocated to individual circuits on demand, allowing all produced oil flow to be translated into cylinder motion when necessary, optimizing hydraulic efficiencies and reducing heat generation.
Although the machine's various mechanical and electronic systems are examples of the latest in high-tech design, the 6020B is easy to put together, according to Cat. For example, the machine was assembled and commissioned at a test site in northern Canada in just 13 days by a crew of six using two cranes—at an unsheltered erection site where temperatures dropped to –45°C.
---
As featured in Womp 2014 Vol 12 - www.womp-int.com