High-strength Steel Mining Applications Recognized in Design Competition
---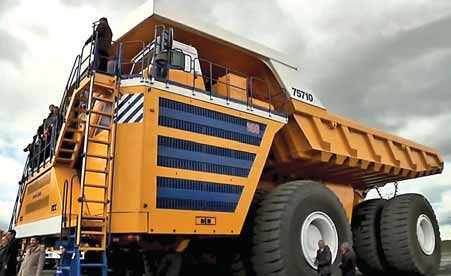 The BelAZ 75710 haul truck, capable of carrying a payload of 450 tons, uses SSAB's Hardox high-strength steel
in its suspension and body components.

Two mining-related products were included in this year's competition for the Swedish Steel Prize, a contest established by Swedish steelmaker SSAB in 1999 to recognize and reward creative, innovative products or solutions that utilize highstrength steel.

Brazilian iron ore producer Vale was nominated for utilizing Hardox 450 in the design and fabrication of a screening grid, or grizzly, to protect crushers from blockage and impact damage from oversize rocks dumped out of haul trucks. These large rocks, weighing 21 to 50 metric tons (mt), can bring crushing operations to a halt for hours or even days.

"This is a pioneering project. This project was a landmark for [the Carajás mine] due to its innovation," said José Cléber Rodrígues da Silva, engineering maintenance supervisor at Carajás. "There was nothing like it before. The screener was created and developed to address the negative impacts of large blocks of iron ore on crushing plants."

The screener is formed by several 3- x 3.3-m fixed grids in a pattern designed to withstand the impact of large rocks and optimize ore flow. They are mounted on a 2-m high, 21- x 18-m supporting structure mounted over the ore hopper. It is built to stand up to 1,200 mt of distributed ore and can support impact loads of 120 mt.

"The main reason for using Hardox was the combination of high hardness, excellent mechanical properties and toughness." Cléber explained. Hardox 450, with yield strength of 1,200 Mpa, "…worked very well. In addition, the hardness of 450 HBW ensured wear resistance."
A protective grid system developed by iron ore producer Vale protects crusher-station equipment from damage by oversize
boulders dumped from haul trucks.
Cléber said field tests yielded even better results than preliminary design modeling suggested: Downtime due to ore obstruction was 92% lower and the project returned its investment in just one month. The grids' expected service life is two years of 24/7 operation.
Belarus-based truck builder BelAZ also was nominated for the Swedish Steel Prize 2014 for its use of high-strength steel in the model 75710, the world's largest haul truck with a payload capacity of 450 tons. Weldox high strength structural steel from SSAB is used in the truck's axle suspension to reduce thickness while retaining the capability to handle extreme axle loads. In addition, Hardox wear plate in the body decreases abrasive wear and impact dents, according to SSAB's nomination statement.
"The main motivation was to produce the biggest dump truck that could deliver the most capacity with the lowest fuel consumption," said Leonid Trukhnov, first deputy general design engineer and mining equipment chief design engineer at BelAZ.
The solution to increasing payload was found in the weight distribution of the dump truck. The rear axle of conventional trucks typically carries roughly 70% of the load. In order to increase payload capacity, the weight would have to be evenly distributed over both the front and rear of the truck. To do this BelAZ needed to shift weight forward and use four tires in the front and four in the rear. A moveable axle system with slewing bearings was required.
SSAB's high strength Weldox 700F steel, in 110-mm and 125-mm plates, was selected for fabrication of the swivel carriage, a suspension component located between the axle and frame. Hardox 450 was used in the dump truck body. All parts were preprocessed by SSAB in Sweden and assembled on site in Belarus.
When it was completed, the BelAZ 75710 achieved its payload goal of 450 tons, 90 tons more than the company's next largest haul truck. It has a top speed of 60 kph; 40 kph when fully loaded and climbing a 10% gradient.
"The dump truck is also 180 mm lower than [previous models], which is very important for loading as well as stability and safety," noted Trukhnov.
One Belaz 75710 has been produced and is in operation at a coal mine in Siberia. The second one is in production, and five more are on order for 2015."
---
As featured in Womp 2014 Vol 12 - www.womp-int.com