Former Massey CEO Pleads Not Guilty in Federal Court
---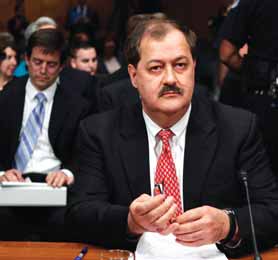 Embattled former Massey Energy CEO Don Blankenship faces charges
related to the 2010 Upper Big Branch explosion. (Photo: Associated Press)

In his first court appearance since being indicted on four federal felony charges on November 12, former Massey Energy CEO Don Blankenship has plead not guilty to all charges and is now free on bond.

The 64-year-old former executive, who was in a Beckley, West Virginia, court November 20 to enter his plea, is facing up to 31 years in prison for criminal offenses including conspiracy to violate mandatory federal mine safety and health standards, conspiracy to impede federal mine safety officials, making false statements to the United States Securities and Exchange Commission (SEC), and securities fraud.

A majority of the charges tie directly to his involvement with Massey Energy in the wake of the Upper Big Branch (UBB) mine explosion in April 2010 that killed 29 workers.

According to the Associated Press, Blankenship was released on a $5 million bond. His travel is restricted to Washington, D.C., and parts of West Virginia and Kentucky.

He has been ordered not to speak with the family members of UBB mine explosion victims. Additionally, he is included in an umbrella gag order for all involved parties regarding disclosure of case details to the media.

Blankenship's trial is scheduled for January 26.
---
As featured in Womp 2014 Vol 12 - www.womp-int.com