Asanko Gold Project's First Phase Targets 190,000 oz/y in 2016
---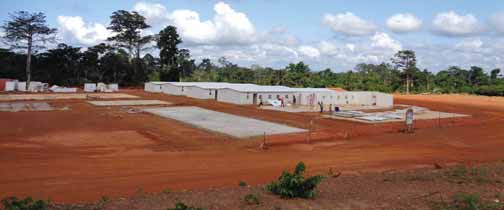 Mine construction camp at the Asanko gold project in Ghana. First gold is expected in early 2016.

Asanko Gold has released the Definitive Project Plan for Phase 1 of its two-phase Asanko gold mine project in Ghana. Construction has started on Phase 1, with steady state production planned at 190,000 oz/y. First gold is targeted for the first quarter of 2016 and steady state production for the second quarter of 2016.

Phase 1 is slated to produce 2.33 million oz of gold over a 12-year mine life. A study of Phase 2 development is scheduled for completion during the first quarter of 2015 and is based on development of the Esaase deposit 30 km north of the Phase 1 plant site. Phase 2 development has the potential to lift total project production to 400,000 oz/y of gold.

Asanko Phase 1 will mine the Nkran pit, which accounts for 85% of the Phase 1 ore reserves, and four satellite deposits: Abore, Asuadai, Dynamite Hill and Adubiaso. A life-of-mine schedule has been developed to supply 3 million metric tons per year (mt/y) of feed to a conventional milling and carbon-in-leach plant, which will include a gravity circuit that will recover about 40% of the gold. The plant will be located close to the Nkran pit.

A mining contractor will conduct all ore and waste mining activities. The five Phase 1 deposits will be mined by conventional truck-and-shovel methods. A single fleet of mining equipment will be shared between all of the deposits.

For the satellite deposits, a fleet of contracted over-the-road trucks will be utilized to haul ore from the respective pit rim stockpiles to the run-of-mine stockpile at the central processing facility.

Mine production will begin at the Nkran pit, which will assist in keeping pre-stripping volumes low and delivering higher mill feed grades early in Phase 1. Approximately one year of waste stripping will be required to expose sufficient ore to maintain a constant ore feed rate of 3 million mt/y.

The life-of-mine average operating strip ratio will be 4.7:1. The peak production requirements are 26 million mt/y of total material movement.

Capital cost to develop Phase 1 is estimated at $295 million, including all associated infrastructure and allowances for contingencies.

Phase 1 of the Asanko gold project has 15.6 million mt of proven reserves at a grade of 2.27 g/mt for 1.12 million oz of contained gold and 21.1 million mt of probable reserves at a grade of 2.07 g/mt for 1.39 million oz of contained gold.
---
As featured in Womp 2014 Vol 12 - www.womp-int.com