China Gold's CSH Mine Set to Double Production
---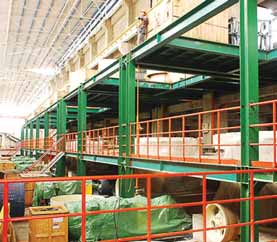 New comminution plant equipment at the CSH mine.

China Gold International Resources Corp. (CGIR) reported that test production runs at the second 30,000-mt/d heap leaching and processing system at its Chang Shan Hao gold mine (CSH mine) in Inner Mongolia, China, have been completed, and the results are in line with expectations. The facilities entered commercial production in October.

During 2014, CGIR has gradually increased the CSH mining rate from 30,000 to 60,000 mt/d to meet the newly expanded processing capacity. Successful production of approximately 6,241 oz and 13,185 oz of gold was achieved in August and September, respectively, from the new facilities.

Production from the CSH mine is scheduled to nearly double from its 2013 level of 131,418 oz to about 260,000 oz/y by 2016. Production in 2014 is forecast at about 165,000 oz.

CGIR is based in Vancouver, British Columbia, Canada, and is listed on the Toronto and Hong Kong stock exchanges. China National Gold Group, China's largest gold mining company, owns a 39% interest in the company.

In addition to the CSH mine, CGIR owns and operates the Jiama copper-polymetallic mine in Tibet, China, with current processing capacity of 6,000 mt/d. A major expansion program currently in progress is scheduled to lift Jiama throughput capacity to 50,000 mt/d by 2016. When the expansion is complete, the mine is expected to produce about 67,000 mt/y of copper, 2,400 mt/y of molybdenum, 2.8 million oz/y of silver, 42,000 oz/y of gold, 10,400 mt/y of lead, and 4,000 mt/y of zinc in concentrates over a mine life of 35 years.
---
As featured in Womp 2014 Vol 12 - www.womp-int.com