Sierra Club Requests Review of Romarco's Haile Mine Permit
---
The South Carolina Department of Health and Environmental Control Board received a request from the Sierra Club on November 19 for a review of the proposed mine operating permit issued for Romarco Minerals' Haile gold mine project in Lancaster County, South Carolina. The permit had been approved on November 7 and was due to become effective on November 21. The permit was the final major permit required for the Haile project.

The Sierra Club's request cited the Haile project reclamation plan and reclamation bonding as areas of concern. Under the mine operating permit, Romarco would be required to provide $60 million in reclamation bonding. The Sierra Club said it believes $100 million to $500 million would be more appropriate.

Romarco responded that it did not believe the Sierra Club request had technical merit and that the Haile project's reclamation plan and reclamation bonding had been adequately addressed throughout the permitting process.

Romarco consulted extensively with environmental groups during the four years of permitting, but the Sierra Club did not elect to participate in the process. Days prior to approval of the Haile mine operating permit, on October 27, Romarco received a Record of Decision and permit under Section 404 of the U.S. Clean Water Act from the U.S. Army Corps of Engineers. The clean water permit was the only federal environmental permit required for Haile.

In a conference call to discuss the Sierra Club request, Romarco President and CEO Diane Garrett called it "very disheartening." The company said it has received resumes for 3,500 job applications for the several hundred jobs the project will create. Detailed engineering is 85% complete. Construction was due to begin in early 2015.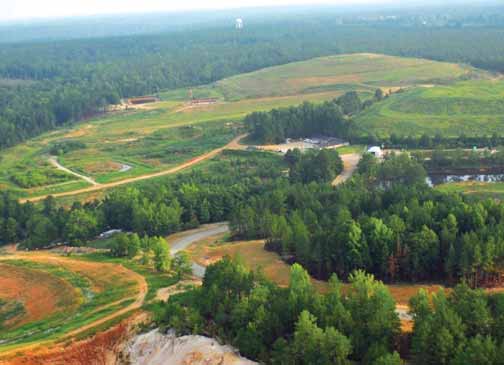 For now, major spending on the project will remain on hold until the Sierra Club's request is resolved. The permit review process could take several months but may not require that much time.
The Haile project has proven and probable gold reserves of 30.5 million metric tons (mt) grading 2.06 g/mt gold for 2 million oz contained. Measured and indicated resources total 71.2 million mt grading 1.77 g/mt for 4 million oz contained.
Mine planning calls for an open-pit operation delivering 7,000 mt/d to the processing plant. Total material moved on a daily basis at startup would be 60,500 mt/d.
Processing would include crushing, grinding, flotation, cyanide leaching and gold recovery by electrowinning. Gold production is estimated at 133,000 oz/y over a mine life of 13 years.
Cost to develop the project have been estimated in the range of $360 million to $380 million, including initial project capital, reclamation bonding, wetlands mitigation, working capital and other startup costs.
---
As featured in Womp 2014 Vol 12 - www.womp-int.com