Resolution Completes Deepest Single-lift Shaft in the U.S.
---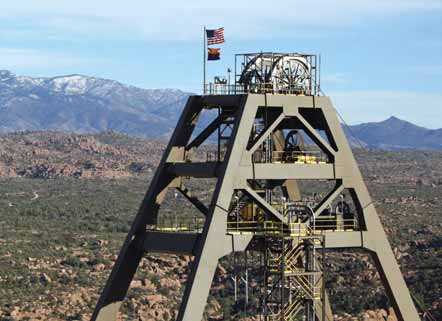 The Resolution Copper Project, owned 55% by a subsidiary of Rio Tinto and 45% by a subsidiary of
BHP Billiton,reached a key milestone in November, completing construction of the 28-ft-diameter No. 10
shaft (headframe shown here) to final depth of 6,943 ft (2116.2 m).
(Photo courtesy of Resolution Copper Mining)

Resolution Copper Mining announced on November 18 the completion of construction of a 28-ft-diameter (8.5-m) exploratory shaft at its Resolution copper project in Arizona to a final depth of 6,943 ft (2,116 m). The project is located in the area of the former Magma copper mine near Superior, Arizona, 65 miles (105 km) east of Phoenix. Construction of the shaft began in 2008.

"Completion of this 1.3-mile-deep vertical shaft is truly unprecedented in North America," said Tom Goodell, general manager of shaft development for the Resolution project. "The safe completion of the project represents a great engineering achievement, and I am particularly proud of the team, made up mostly of miners from this area, who made it happen."

Cementation was the shaft-sinking contractor.

Resolution Copper Mining is a limited liability company owned 55% by a subsidiary of Rio Tinto and 45% by a subsidiary of BHP Billiton. Rio Tinto is the manager. The shaft is being used to gather geotechnical information needed to design an underground panel cave mine that will produce in the neighborhood of 500,000 mt/y of copper contained in concentrates.

Capital investment to complete the project is estimated at more than $6 billion.

The Resolution project has an inferred resource of more than 1.7 billion mt grading 1.52% copper. Resolution Copper Mining's website stated that because the Resolution orebody is in close proximity to the historic Magma mine, there is a general belief that the same or similar mining techniques could or should be used to extract the ore.

"However," the site explained, "while both orebodies contain copper, the similarities end there. Firstly, Magma miners chased veins of 5% copper, while the Resolution copper deposit is a porphyry deposit containing more than 1.5% copper dispersed in a high volume of rock. Secondly, the Resolution copper project is twice the depth of the Magma mine workings, and its rock pressures, temperatures, and operational and engineering challenges are different."

Resolution anticipates that panel caving will allow it to mine the most ore while creating the least amount of waste. The technique is safe, uses state-of-the-art technologies, and results in favorable economies of scale.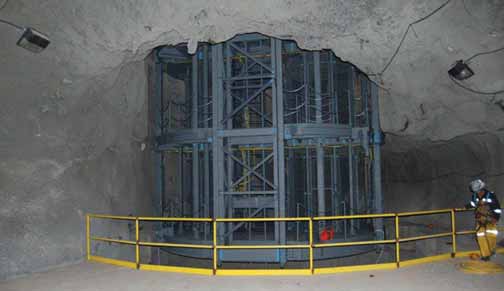 Shaft-sinking contractor Cementation's Galloway stage is shown here during an earlier stage of development at the
Never Sweat tunnel level of the No. 10 shaft. (Photo courtesy of Cementation)
Resolution plans to build a concentrator on the historic Magma mine site. The concentrate will be delivered by pipeline to an area between Florence Junction and Magma Junction, Arizona, where it will be dewatered and loaded into rail cars for transport to smelters. Some smelting may be done in Arizona. However, due to limited smelting capacity in the state, most of the smelting is expected to take place outside the state and likely outside of the United States.
Resolution Copper Mining Project Director Andrew Taplin said, "We have invested more than $1 billion to date in the project, and most of that investment has been used to sink the exploratory shaft to full depth. Now, we are focused on working with regulators and the community to finalize our plan of operation and earn the permits we need to responsibly and safely develop and operate a world-class copper mine."
---
As featured in Womp 2014 Vol 12 - www.womp-int.com