Proximity Detection Aids Minesite Awareness
Technology is catching up with rising industry awareness of the need for proximity detection and collision avoidance systems in surface mining
By Simon Walker, European Editor
---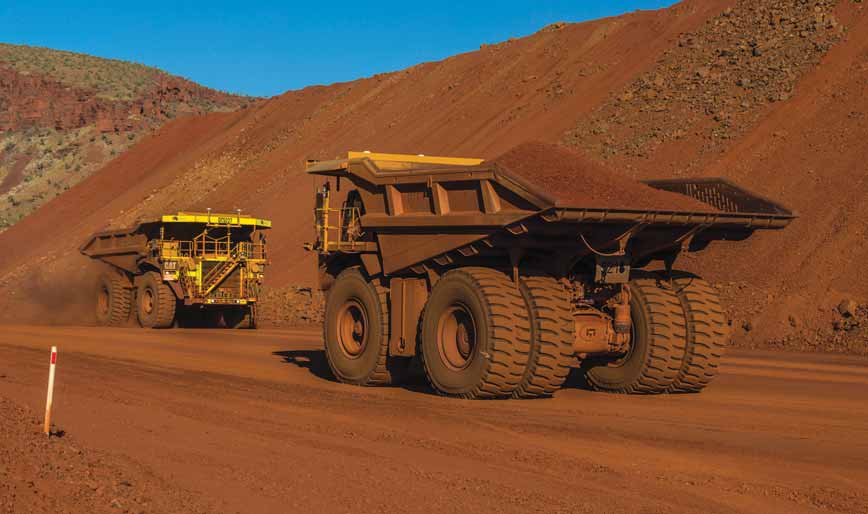 As haulage equipment gets larger and faster, mine operators are experiencing a growing need for proximity detection and collision avoidance systems that can effectively
overcome the operator's blind areas and, with the increasing adoption of autonomous haulers, help ensure that each vehicle stays on its prescribed route.

One of the maxims of surface mining is that haul trucks and mine utility vehicles don't mix—as observed by the author during a stint many years ago at the Chingola open-pit mine in Zambia: "There are few sights more disconcerting than looking in a pickup's rear-view mirror, and only being able to see the tread pattern on the front tire of a haul truck immediately behind you."

As the size difference between the two types of vehicles has progressively increased, so has the potential for the driver of one vehicle not to see the other. And while the opportunity for the operator of a 55-ton truck to miss seeing a pickup is much less than for, say, his counterpart in a 300-tonner truck, he can still be completely unaware of the presence of a pedestrian until it is too late. It has happened.

And, of course, the problem is not just one of size. As is recounted later in the article, an incorrectly spotted truck can cause major damage to a shovel—when two large machines collide, the repair bill can be substantial. In fact, poor visibility from the cab on any piece of mining equipment increases the risk for some sort of collision, as the operator is basically "flying blind" when it comes to making certain maneuvers—such as driving straight ahead.

Most surface mines operate under strict safety codes that have the aim of protecting drivers and operators of vehicles of all sizes. The use of whip pennants on utility vehicles has been commonplace for decades, providing a highlevel visual signal to the haul-truck operators of the presence of something much smaller, and more vulnerable, that could be out of their line of sight.
Cat Detect camera and radar units installed on the side of a 777G haul truck give the operator better 'visibility.'
Yet even such visual markers can fail, as happened in April 2008 at Albian Sands' Muskeg River mine in northern Alberta. An empty hauler ran over an electrician's pickup—fitted with both a buggy whip and a flashing light—at an intersection, with the hauler operator unaware of the accident until notified about what had happened. The pickup driver died.
The investigation by Alberta's Occupational Health and Safety authorities cited a number of factors that contributed to the accident. The blind areas from the hauler operator's position was one. Heavy site radio traffic meant that the truck operator did not hear a message sent by the electrician. The pickup was stopped at the intersection, but was too close to the haul road edge. And the electrician was driving into the setting sun, which must have affected his vision to the extent that he did not see the approaching hauler when he moved off.
Clearly, visual warnings and the use of a mandatory safety code for drivers and operators were insufficient in this particular case. So, what else could have been done, and how are today's mine operators endeavoring to consign this type of incident to history?
One answer, as the burgeoning number of suppliers will confirm, is the use of proximity detection and collision avoidance systems—systems that can detect the presence of another vehicle, or even a person, in a potentially dangerous position— and alert the machine operator. Systems that can effectively overcome the operator's blind areas and, with the increasing adoption of autonomous haulers, help ensure that each vehicle stays on its prescribed route.
Autonomy is a Driver
As with its major competitors, Caterpillar has developed its own collision-avoidance systems for use on its equipment. Part of the Detect capability set within the company's MineStar system, these are used in the Command for hauling operating system for autonomous trucks, and other autonomous and semi-autonomous machine-operation systems, such as the one for drills. Cat noted that Detect can help to alleviate situations where machines or vehicles are too close for safe operation, and can also be configured to provide information about site conditions and other assets working in the area.
The system can, of course, be customized to suit individual applications, and in its simplest form consists of cameras and an in-cab display. More sophisticated versions add radar scanning, while Proximity Awareness uses medium-precision GNSS receivers to warn operators of nearby equipment and light vehicles whenever the machine is in operation.
Object Detection locates objects in close proximity to the machine at initial movement and during slow-speed travel. As the machine moves toward a detected object, the display automatically switches to the camera view where the object is located. Depending on the proximity, the operator receives both visual and audible alarms that increase in frequency as the distance to the object decreases. Where several detections occur at once, logic is built into the system to determine which is the most critical.
Caterpillar explained that these two facets provide complementary coverage. Object Detection alerts the operator if an object is detected around the machine during startup or slow-speed operation, while Proximity Awareness is active whenever the machine is moving faster. The net result is that the operator of a machine that is equipped with all three Detect levels is aware of the real-time position of all other reporting assets.
For Object Detection, large trucks are equipped with eight radars, four cameras and an in-cab display. Two configurations are available for small off-highway trucks, including complete coverage with radars and cameras on each side, or only front and rear coverage. For wheel loaders, wheel dozers and motor graders, Object Detection is a rear-only system consisting of a single camera and from one to three radars, depending on the machine model.
Proximity detection and collision avoidance are key components of autonomous truck operation, with Cat now having 793F units working or on trial at both Fortescue Metals Group and BHP Billiton iron-ore mines in Australia. FMG's plans for its Solomon operations calls for a progressive ramp-up to 45 autonomous trucks in the future, while Cat noted that FMG is using its Detect and other MineStar system capability sets across its mobile equipment fleet, including support equipment and light vehicles.
The Major Hazards
In his presentation to a proximity detection and collision avoidance systems workshop that was held in Sydney, Australia, in February 2011, Craig Hoffman, product manager for Collision Avoidance and Geospatial Systems at GE Mining Technology in Australia, provided a list of some of the scenarios that can present hazards during normal surfacemine operations. They include:
• Heavy vehicle take-off operations with other vehicles or personnel on the ground in the path of travel;
• Heavy vehicle reversing operations with other vehicles, personnel or stationary objects in the path of travel;
• Light vehicles overtaking heavy trucks on a haul road;
• Reversing into a dump;
• Intersections;
• Haul trucks approaching graders and other haul-road maintenance machines;
• One haul truck closely following another;
• The swing arc of a mining shovel; and
• Two haulers reversing separately but toward each other.
Hoffman also illustrated the huge "blind" areas that handicap haul-truck operators in their day-to-day work, areas that are still substantial even with rearview mirrors.
GE Mining Technology offers a 360° situational awareness solution that integrates blind-spot cameras, RF and GPS proximity detection, and real-time web-based reporting. Multiple technologies provide a high integrity solution with redundancy. A personnel protection system is being developed that uses low-frequency electromagnetics for reliable detection of people around or under heavy vehicles that does not rely on line of site for operation.
Real-time Detection
With its headquarters in Switzerland, and part of the Hexagon group of companies, SAFEmine told E&MJ that it offers a dedicated and optimized radio system that can provide real-time traffic awareness and collision avoidance to vehicle operators in open pits.
Providing 360° protection at any speed and any visibility with a typical range of 800 m, SAFEmine does not require line of sight to function. The company stated that more than 18,000 mining vehicles of many types are now protected by its collision-avoidance system (CAS) worldwide, and that it can be found on all major OEM's haul trucks.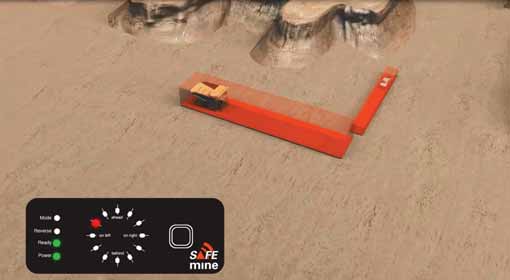 Providing 360° protection at any speed and any visibility with a typical range of 800 m, SAFEmine does not require
line of sight to function, and creates configurable zones around each vehicle.'
The technology increases situational awareness and reduces accidents by actively alerting the vehicle operator to imminent threats. Speed, heading and paths are calculated using GNSS to determine the vehicle position, and are sent via a radio link to other outfitted vehicles in the area.
Two main functions are provided: traffic awareness, which shows where other vehicles are located, and collision warning, which predicts if the paths of two or more vehicles will converge. Audible and visual warnings alert the drivers who are causing the dangerous situation. SAFEmine said its philosophy is to provide the most effective information to the operator so that he or she can make informed decisions without being obtrusive to their normal driving duties.
SAFEmine uses smart trajectory prediction algorithms to minimize nuisance alarms, and does not require any radio or IT infrastructure. In addition to collision avoidance, its product portfolio offers fatigue monitoring, real-time fleet tracking, solutions to avoid damaging cleanup equipment around heavy rotating machines, and radars to detect all objects (including personnel) at ranges of up to 30 m. Operator interfaces use sophisticated displays that present vital information intuitively in truck and other vehicle cabins.
Success stories are always better to hear than accident reports, and SAFEmine cited a recent example where its CAS helped to avoid what could have been a serious incident. A surveyor at New Hope Group's New Acland mine in southern Queensland, Martin Leggat, told of his experience: "I was driving along in a light vehicle and came to an intersection, looked both ways, and didn't see anything, so I started to accelerate. Then SAFEmine CAS went off and alerted me that a vehicle was coming and within a second there was a big 793 dump truck coming down on me—so the system basically saved me," he said.
Pulsed Radar Technology
U.S.-based Preco Electronics offers PreView, which it described as being a complete proximity-detection system that provides rear, side and/or front active blind-spot warning for mining machinery. The company said its patented pulsed radar technology is also used as a component by other system vendors, and is used by many OEMs in both factory installed and retrofit applications.
PreView detectors can provide coverage for distances of up to 10 m from each sensor, with 360° coverage provided by installing a number of sensors. The system can be integrated with cameras and monitors, while standard CAN-based communications allow it to work with third-party components such as GPS. The company claims that PreView can detect both moving and stationary objects, is effective in extreme weather and work-site conditions, and can be fitted to equipment such as shovels, ADTs, water trucks and loaders, as well as haul trucks.
Preco provided E&MJ with an idea of some of the costs involved following an incident at a surface coal mine where an operator accidentally reversed an empty haul truck into the tail end of a shovel that was loading on the other side. Not only was the shovel badly damaged, but the mine lost nine days of its use while it was repaired. While the repair bill was some $200,000, the total cost to the operation was closer to $500,000 once standing time for all the equipment was added in.
Preco Electronics' PreView system provides rear, side and/or front active blind-spot warning for mining machinery.
Its patented pulsed radar technology is also used as a component by other system vendors, and by OEMs in both
factory-installed and retrofit applications.
The mine subsequently installed PreView radar, Preco said, giving the shovel operator audible and visual notice of the approximate range of an object in his swing radius—with no further incidents involving PreView-equipped vehicles.
Sensor Technology for Mining Vehicles
Sick AG is a major world producer of sensors for industrial applications, with its headquarters in Germany. In 2010, it installed its first surface-mining CAS at Alcoa's Huntly bauxite mine in Western Australia, marking the company's introduction of a family of turnkey proximity and collision detection systems for the OEM and retrofit market.
In a paper published two years ago, Nicky Guenther, technical industry manager for surface mining at Sick Australia, and his colleague, Holger Salow, reported that it was estimated that more than half of the mining operations in Queensland were trialing or operating proximitydetection systems on heavy mining vehicles. "Sadly," they noted, "the majority of fatalities in mines are still the result of interaction between humans and mining equipment," before stating that, "the varieties of accidents demand a combination of technologies to assist operators and reduce risk."
Sick offers its Minesic100 system in three formats: the TPS for large mining trucks, the EPS for shovels, excavators and draglines, and the WPS for wheel loaders and wheel dozers. Where shovels are concerned, the company pointed out that the sequence of digging at the highwall, slewing with a full bucket and loading trucks can cause visibility to be impaired because of huge blind spots and dust, while the major hazard for operators of wheel loaders and dozers is the lack of visibility while reversing—a maneuver that is repeated countlessly during each shift.
Sick offers its Minesic100 system in three formats: the TPS for large mining trucks, the EPS for shovels,
excavators and draglines, and the WPS for wheel loaders and wheel dozers.
In more detail, Minesic100 EPS for shovels and excavators uses multilayer and multi-echo laser scanner technology to give the operator assistance in correct vehicle positioning and safe hauler loading. It provides active collision warnings for the shovel operator and other heavy vehicles, vehicle positioning and loading assistance, and highwall collision warning. Visual feedback is provided via a touch-screen operator display and audible alarms, and there is an open interface to fleet management and dispatch systems, and for event logging.
Meanwhile, Minesic100 WPS uses advanced laser scanners and specialized sensors to help wheel-loader operators maneuver safely and efficiently. The system gives full-coverage rear-end collision warning, and can provide active reverse assistance for maneuvering in confined spaces while accurately displaying any obstacles—including windrows, vehicles and people—behind the vehicle in real time. It is also fully functional across the loader's speed range, Sick noted.
The company stated that major benefits from using its systems include fewer incidents, less downtime and lower repair costs, as they can detect and track moving and stationary obstacles without the need for RFID tags.
In all of the systems, unintended road departure, potential collisions and reversing incidents are prevented by alerting the operator, with only the relevant information displayed. Sick said that its CAS has been developed to be an aid and not an annoyance, as it has a built-in awareness of intentional driving behavior, such as avoiding a rock or turning at an intersection. For trucks, it also automatically adapts warning-zone dimensions according to the vehicle's speed, and switches the context between reversing, traveling forward, crossing roads, turning and loading. A digital map is used to raise the operator's attention in his or her approach to predefined hazardous areas like intersections and construction sites.
The Fatigue Factor
Modular Mining Systems told E&MJ that over the last 10 years, the mining industry has become increasingly focused on concerns related to operator safety; a trend that prompted the company to release its first-generation proximitydetection system in 2006. Today, Modular added, regulatory agencies and mine organizations continue to strive for a zero-incident workplace, a fact that has mines placing even more emphasis on both stand-alone and fleet-management system-integrated safety solutions.
Modular stated that its safety management tools meet this demand head-on by addressing mines' most common safety- related issues: vehicle-to-vehicle collisions, operator fatigue, hazard awareness, speed violations and tire management. Together, its collision avoidance and fatigue management applications form two of the pillars of its MineAlert safety system.

Five out of many potentially hazardous situations for
haul-truck operation that Modular Mining Systems
has identified.
The company's CAS utilizes ranging sensors and GPS receivers to determine collision risks based on vehicle travel paths, speed, distance and other factors. A radio link provides direct vehicle-tovehicle communication, eliminating the need for wireless network infrastructure. Today, its fourth-generation CAS addresses more than 60 of the most common vehicle collision scenarios, including forward path (front-to-rear, head-on), takeoff, speed-limit violations, overtaking and intersections.
The module sends real-time notifications of impending vehicle-to-vehicle collisions to drivers via audible and visual alarms. In contrast to systems focused solely on proximity, the CAS distinguishes between real and false safety threats, thus virtually eliminating nuisance alarms, Modular claims. "The collision avoidance systems on the market today suffer from a fatal flaw—they generate excessive numbers of false alarms," said Michael Lewis, the company's vice president for product innovation. "Excessive nuisance alarms cause operators to tune out, thus reducing the effectiveness of the system. Our fourth-generation collision avoidance system is designed to predict potentially hazardous situations while minimizing nuisance alarms presented to the operator."
As a fully functioning stand-alone application, Modular's CAS has no reliance or dependencies on external applications or central servers. A dedicated in-vehicle CPU stores sensor data, which can be downloaded for use in analysis reporting and training. When integrated with a Dispatch fleet management system, data are transmitted directly to the central server for immediate and future use.
Modular introduced its fatigue management system to help mines combat the issue of operator fatigue. Operators receive a fatigue score, based on a number of factors including their Circadian rhythm patterns, quality of rest or sleep before a shift, length and type of tasks performed, and fatigue-based lapses in steering. Purpose-built hardware employs real-time, machine-behavior-based technology to measure the dynamics of equipped haul trucks and mine equipment. The module combines the fatigue score and equipment measurements to predict the operator's potential for risk before fatigue actually occurs.
Assisting Operator Awareness
In mid-2013, Germany's Becker Mining announced a three-year global agreement with ICAS Australia for the distribution of its second-generation surface collision- avoidance safety system. This uses 50-channel industrial GPS to detect the position of all nearby mobile plant, vehicles and fixed infrastructure that is also fitted with an ICAS unit within a configured zone, then uses a secure VHF wireless network in conjunction with pre-configured alarms to alert all surrounding ICAS-fitted vehicles. Becker claims that the system is accurate to plus-or-minus 1 m, and has a 20 km range, providing a mix of audio and visual alerts as well as an operator acknowledgement facility.
Becker's national sales and marketing manager, Jim Dwyer, said at the time: "the primary objective is to keep personnel safe and prevent damage to assets. With realtime situational awareness essential to an effective collision-avoidance system, ICAS enhances operator awareness with critical and accurate data—including vehicle orientation— using a combined GPS-compass heading sensor.
"This increases safety and minimizes the chances of accidents or near-misses resulting from insufficient reaction time due to an operator's lack of situational awareness," Dwyer added.
Heavy-duty Eyes All Around
Of course, proximity detection is not just about being able to see other vehicles. Simply reversing a mine truck at a wastedump edge, or at a crusher, can have its own challenges. The installation of heavy-duty cameras is one solution that gives the machine operator better rear visibility. Intec Video specializes in producing cameras for this type of application, providing a range of high-resolution color and black-and-white performance, even down to 0.05 lux for very low-light applications. Very wide-angle fields of view are standard, the company said, with narrower fields available for specific machine requirements.
Intec's systems include heavy-duty, 5- and 6.5- in. displays that are bracketor flush-mountable for aftermarket or customized OEM installation. System controllers can handle up to five camera inputs and two radar channels simultaneously, with the option of multiview programming for two-, three- or four-screen viewing. Each camera channel can be programmed individually, and all of the camera views can be triggered automatically as the machine is operated.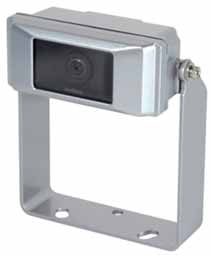 Intec's heavy-duty cameras provide high-resolution
color and black-and-white performance, even in very
low light levels. Wide-angle fields of view are standard,
with narrower fields available if needed.
Intec said that its radar integration safety system is redundant and independent of the camera system's visual provisions. Radar integration includes a visual, audible and secondary alert output capability so that the radar alert will still function fully if there is a loss of video signal. And the company can provide the cabling needed to connect all of the system components, with its standard type comprising heavy-duty polyurethane jacketed cabling with overmolded MIL-spec connectors. Both armored and extreme temperature cables are also available as options.
An Electromagnetic Approach
With a development program that has run since the early 2000s, Strata Worldwide's HazardAvert is a very precise, near-field proximity-detection system that discriminates between actual or false intrusions into warning zones, the company told E&MJ. The system detects when a person or vehicle enters the "marked zone" around a piece of operating machinery. When the zone is breached, it emits an audible and visual alert to warn personnel and vehicle operators of the imminent danger.
HazardAvert uses a proximity module to establish a magnetic marker field around machinery to mark out areas that are considered to be potentially dangerous. Workers and operators wear a personal alarm device (PAD), which detects and measures the magnetic marker field to determine their proximity from the machine and alert them of possible danger to their safety. Collisions between machines can be avoided with the use of vehicle alarm devices (VADs), which are integrated with the proximity modules and detect the electromagnetic fields of other equipment.
According to Strata Worldwide, field sizes and shapes can be configured and customized to individual operations, and can be shaped around a machine to cover blind spots. The proximity module can project an elliptical field up to 25 m from its center, while the PAD and a personnel warning module weigh just 90 g between them—light enough to be worn on a safety helmet or belt.
HazardAvert systems are activated and deactivated by use of the brake or retarder on a haul truck, and are temporarily disengaged during truck loading to eliminate nuisance alarms. The company claims that the system is effective over a greater range than others that are available, providing coverage in the dark and when operations are affected by dust or bad weather.
An Essential Survival Tool
There is now increasing awareness of the need for proximity detection and collision avoidance technology in surface mining. Indeed, industry take-up is accelerating, with a number of national governments now actively working toward mandatory implementation of CAS in mining. In a recently published white paper, GE Mining noted that "In Australia, it is widely accepted that discussions may soon turn into forced compliance, with Queensland's commissioner for mine safety and health listing investigation into the use of CAS and proximity detection technology as a key priority in its 2012-2013 report.
"From 2014, it is predicted to become one of the top areas for planned technology investment in Australian mining over the next two years, with more than 30% of Australian miners planning to invest in the near future," the company stated.
And as Sick AG noted, a number of proximity detection systems are available on the market, all of which are designed to help save lives. No individual system offers a "silver bullet" solution, as commented by Queensland Senior Inspector of Mines Tilman Rasche at a seminar on proximitydetection systems in 2010, but they do add a layer of protection to infrastructure, equipment and people working in mines.
Detecting Overhead Danger
It is important to remember that sometimes proximity detection needs to work vertically as well as along normal sight lines. The British electronics company, Transport Solutions, has developed a detector unit for one such potential hazard—high-voltage overhead power cables.
Available in both in-cab and exterior-mounted versions, the HVDS is designed to prevent vehicles and machinery from coming into contact with overhead power lines. Consisting of a detection antenna and an audio-visual warning unit, the system can sense the presence of overhead power cables from up to 100 m away, warning the operator of the potential danger.
The company claims that the units can be mounted to virtually any vehicle, with a simple "plug-and-play" setup procedure that needs no calibration by the user.
---
As featured in Womp 2014 Vol 11 - www.womp-int.com