Norilsk Selling its African Assets
---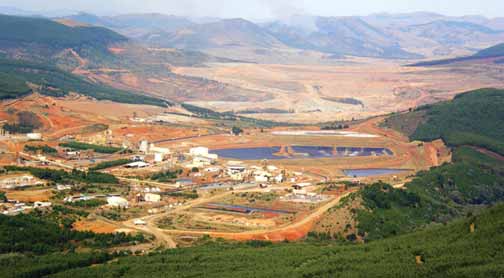 BBCL Ltd. will pay $337 million to buy Norilsk Nickel's 50% interest in the Nkomati mine, shown here and Norilsk's 85%
interest in Tati Nickel Mining Co..

Norilsk Nickel announced in mid-October an agreement to sell its 50% interest in the Nkomati nickel mine in South Africa and its 85% interest in Tati Nickel Mining Co. in Botswana to BCL Ltd. BCL is a Botswana-government-owned mining and smelting company based in Selebi Phikwe, Botswana. The company is anchored by a world-class copper-nickel smelter that has treatment capacity of just under 1 million metric tons per year (mt/y).

Consideration for the transaction is $337 million in cash. BCL also will assume all attributable outstanding debt and environmental and rehabilitation liabilities associated with the assets. The agreement envisages the assignment of the Nkomati concentrate off-take agreement from Norilsk to BCL. In addition, Norilsk will enter into a matte off-take agreement with BCL, whereby matte will be supplied for processing to Norilsk's Harjavalta refinery in Finland.

Completion of the transaction is subject to regulatory approvals and customary closing conditions. Closing of the transaction is not subject to any financing conditions and is expected to occur within six months.

Norilsk's sale of its African operations is the largest in a series of asset disposals by the company since October 2013, when it announced a strategy to exit from its non- Tier-1 mining operations. The transaction with BCL marks Norilsk's full exit from its African businesses, which together with earlier disposals of Australian assets represents its complete exit from international operations marked for disposal.

BCL's acquisition of Norilsk Nickel's Nkomati interest marks its first significant investment in South Africa. The transaction will allow it to treat both Tati Nickel and Nkomati concentrates at its Selebi Phikwe smelter, significantly optimizing the operation. The Nkomati mine is located 300 km east of Johannesburg in Mpumalanga province and is the only primary nickel producer in South Africa. African Rainbow Minerals owns the 50% of the operation not owned by Norilsk.

In 2013, Nkomati produced 23,000 mt of nickel in concentrates. As of December 31, 2013, proved and probable ore reserves totaled about 113 million mt, grading 0.32% nickel and 0.13% copper. Measured and indicated resources totaled 241 million mt, grading 0.35% nickel and 0.14% copper.

Tati Nickel operates the Phoenix openpit nickel mine 35 km east of Francistown, Botswana, and owns the Selkirk underground nickel mine, which has been on care and maintenance since 2002.

In 2013, Tati Nickel produced 8,100 mt of nickel in concentrate. As of December 31, 2013, the aggregate proved and probable ore reserves of the Phoenix and Selkirk mines totaled 27 million mt, grading 0.19% nickel and 0.13% copper. Measured and indicated mineral resources totaled 239 million mt, grading 0.22% nickel and 0.22% copper.
---
As featured in Womp 2014 Vol 11 - www.womp-int.com