Upgraded Wheel Loader has Engine Options for the World Market
---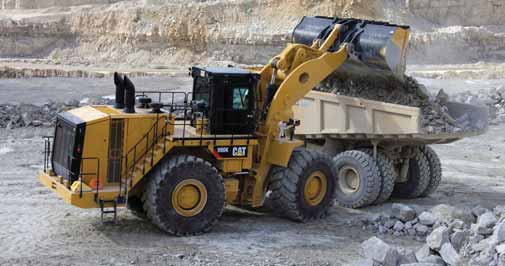 Cat reported that its new 990K wheel loader has more power and increased payload, a redesigned cab, and features that enhance operator and maintenance technician safety. Well-suited as a loading tool for Cat's 773, 775 and 777 haul trucks ranging from 60-to 100-ton [54 to 91 metric tons (mt)] capacity, the new 990K replaces the H version and offers engine configurations to meet customer needs worldwide. The loader's rated payload is 17.5 tons (16 mt), compared with the 16.5-ton (15-mt) payload of the H Series model. The increased payload makes the new loader a four-pass match with Cat's 775 truck. New Performance series buckets are available in sizes ranging from 11.25 to 13 yd 3(8.6 to 10 m 3 ).

A Cat C27 ACERT engine powers the 990K and delivers 699 net hp (521 kW)— an 11% increase in power compared with the previous model, without any change in fuel consumption. The 990K is available as a U.S. Environmental Protection Agency (EPA) Tier 4 Final version and as a Tier 2 version for less regulated regions. No regeneration or operator intervention is required for the NOx reduction system and diesel oxidation catalyst fitted to the Tier 4 Final model.

An optional ground level service center displays fluid level status, houses drain-andfill ports and provides a data port for diagnostic work. A number of additional options are available to tailor the loader for specific applications and sites, including an optional high lift linkage that enables the 990K to load Cat 777 trucks, or an integrated axle cooling package and ride control options that are beneficial in load-and-carry work.
---
As featured in Womp 2014 Vol 07 - www.womp-int.com