New Bulldozer Model Moves More Material with Higher Fuel Efficiency
---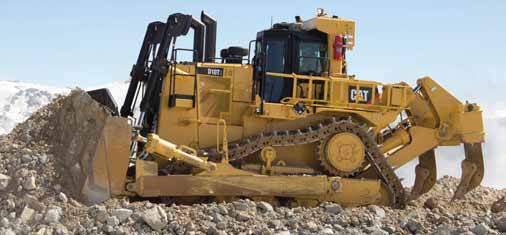 Caterpillar says its new D10T2dozer builds on the proven D10T with refinements to its power train, automated controls and structures. The result: high productivity, reliable operation with long-lived structures, and enhanced access for service technicians and operators. The D10T2, according to Cat, uses the latest load-sensing hydraulics technology, combined with Cat advanced engine controls, to maximize the amount of material moved per unit of fuel burned. Improved filtration protects the fuel system, hydraulic system, and power train oil system to help ensure high reliability and minimal machine downtime. Refined large structures, such as redesigned track roller frames, deliver longer service before rebuilds. Improved access and egress features enhance safety and productivity of technicians and operators, and optional powered access systems and platforms enable configuring the D10T2 for the site.

The D10T2is available with two variations of the Cat C27 engine: one is U.S. EPA Tier 4 Final certified, and the other is equivalent to U.S. EPA Tier 2 standards. Both engine configurations produce 600 net hp in forward gears and 722 hp in reverse gears (447/538 kW). The engine controller automatically adjusts power output based on the direction of travel. With the new system, the D10T2has about 20% more power in reverse compared to its predecessor model. The result is faster cycle times and greater productivity in certain applications.

Enhanced AutoShift (EAS)—a new standard feature—improves fuel efficiency and productivity by automatically selecting the optimal gear and engine speed combination based on power train load and desired ground speed. EAS functionality combined with the increased power in reverse enhances productivity when backing up slopes.

Another new feature, Adaptive Load Select, enhances Autocarry by automatically adjusting blade load based on operating conditions, such as underfoot conditions and track wear. Similarly, the new Automatic Ripper Control monitors speed and automatically adjusts engine speed and ripper depth to minimize track slip. A new blade control system automatically guides the blade to the desired design contours, and is integrated with Autocarry to sense and automatically control the load of the blade for improved performance and efficient blade loading applications.
---
As featured in Womp 2014 Vol 03 - www.womp-int.com