Magnetic Separator Line Offers Capacities Up to 1,400 mt/h
---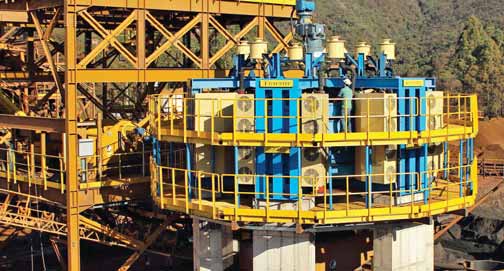 The Itaminas iron ore operation in Brazil has installed two of allmineral's gaustec magnetic separators to process iron
tailings with 45% Fe content.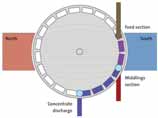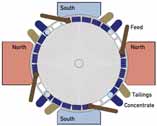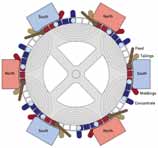 Diagram illustrates allmineral's magnetic separator product evolution from basic bipolar type (left) to tetrapolar (middle)
and most recently to hexapolar (right).

According to mineral process equipment supplier allmineral Aufbereitungstechnik GmbH, Duisburg, Germany, increased global demand for raw materials, combined with a steady decline in the quality of the mineral raw materials in demand, has generated rising interest in development of highintensity magnetic separators with larger capacities. Currently, allmineral has more than 750 installations for dry and wet processing in Europe, India, Australia, North and South America, and South Africa.

In response to market interest, the company developed the new gaustec GHX 1400 model, claimed to be particularly efficient and cost-effective for wet processing lowgrade material into marketable high-grade pellet feed fines. Although low-grade iron ore mines will benefit from the new technology, the main focus is on reclaiming lowgrade iron ore tailings from ponds, with environmental and economic benefits.

A number of factors make the gaustec GHX 1400 an innovative solution, according to allmineral, ranging from simplified maintenance, reduced energy consumption, smaller plant layout and greater flexibility through variable customized settings, to the unit's high throughput capacity of up to 1,400 metric tons per hour (mt/h).

According to allmineral, gaustec technology separates ores and other paramagnetic and weakly magnetic minerals in particle sizes up to 3 mm. The matrix is made of grooved plates with the gap between the plates designed according to process requirements. Flow through the matrix is vertical and unhindered, eliminating the risk of blockage by ferromagnetic particles. This allows for small quantities of magnetite in the feed when treating hematite ores.

The high-gradient magnetic field is independently adjustable for each rotor through AC/DC converters, in the operational ranges. This allows for rougher and cleaner/scavenger process steps in a single machine. The rotor speed is adjustable from 3 to 7 rpm through a frequency inverter.

A plant using gaustec technology to process tailings grading 45% Fe was completed in 2013 at Brazil's Itaminas mine, owned by a state-run Chinese mining company. The plant became operational in mid-2013, providing a feed capacity of 480 mt/y with three processing stages (rougher, cleaner and recleaner) in a single unit at 2.5-mm matrix gap. Following treatment, the pellet feed produced by the plant contains up to 65% Fe with an average tailings grade of 35%, approximately equivalent to a 30% plant yield.

The performance of the first GHX unit led to the construction of a second plant of the same type for further downgrading the tailings to less than 20% Fe. The plant is scheduled for commissioning in 2014.
---
As featured in Womp 2014 Vol 03 - www.womp-int.com