Dewatering: An Increasingly Important Mineral Process
Efficiency improvements are always the goal in this vital equipment class, with the aim of optimizing the balance between residual moisture contents and the benefits gained from water recovery
By Simon Walker, European Editor
---
WesTech Engineering's EvenFlo feedwell provides better feed distribution into a thickener, according to the company.

Filtration and thickening are areas of mineral recovery technology that are often overlooked. Nonetheless, they represent an important component of the entire process, since without dewatering, it would be hard to produce concentrates to transport specifications while water recycling from tailings streams is becoming increasingly important as energy costs for pumping steadily increase. In addition, the benefits of dry tailings disposal are becoming increasingly appreciated from both environmental and social responsibility perspectives.

This review looks at some of the major players in the supply of both filtration and thickener equipment, companies that over the years have developed and improved upon the technologies and concepts involved. As with other areas of mineral processing technology, efficiency improvements are always the goal, with the aim of optimizing the balance between residual moisture contents and the benefits to be won from water recovery.

The Benefits of a Joined-up Approach
U.S.-based McLanahan Corp. has recently been doing a lot of work installing its deepcone thickeners and filter presses together for several different mineral-processing customers. McLanahan's director of process engineering for mineral processing, Scott O'Brien, explained the rationale for using this approach to dewatering.

O'Brien said while using a thickener on its own will enable an operator to recover 80%-90% of the water in a slurry, the underflow will still contain enough water to make it difficult to handle. Normally, he said, this would go to a pond for further consolidation of the solids, and perhaps to recover some reusable water.

"However," he went on, "getting a permit for the pond might not be feasible or may just be very difficult. That's when a filter press can be extremely useful.

"The thickener underflow can go through a filter press to become a cake that can be picked up with a loader and transported. Since filter-press cakes contain such a high proportion of solids, they also stop water dripping all over the road during transport, which officials don't take kindly to."

O'Brien went on to point out that producers who do not have a thickener, but do have a filter press, end up putting a dilute feed into the press. This greatly increases the cycle times because more water is going through the press. In addition, he said, longer cycle times of high-velocity water can cause faster wear on the filter cloths.

The benefits of using a thickener and filter press combination can include better water recovery, the removal of permitting issues, lower operating costs since a tailings pond may not be needed, and better compliance with environmental requirements, O'Brien suggested.

Higher water-recovery rates mean that operations can cut their fresh-water demand, while stacked dry tailings are less likely to have dam-failure issues.

McLanahan stated that interest in this type of combined dewatering system is increasing, with the concept becoming more accepted. It also points out that most mineral-processing plants already have some type of thickener, and with changes in regulations or plant-processing needs, a filter press can easily be added to treat the thickener underflow. The company added that it will be installing a number of presses with existing thickeners in the U.S. and Russia over the next few months.
McLanahan Corp. is actively promoting the concept of combining thickener and filter-press technology; as
shown in the inset, the resulting cake is much easier to handle.
Colossal Filter Recovers More Water
FLSmidth reported that its paste thickening equipment is used to maximize waterecovery and reduce the amount of water lost during tailings disposal. Paste thickeners increase the underflow solids concentration and reduce the final water content of material sent to the tailings pond. The company stated that its EIMCO deep cone paste thickeners accommodate up to 20 times the solids mass flow and 10 times the hydraulic loading of conventional thickeners, which is achieved by optimizing the solids concentration for feed dilution, chemical addition and floc formation while minimizing floc degradation.
FLSmidth told E&MJthat it recently designed a new feed system, incorporating its E-duc feed-dilution technology and Evolute feedwell. This has been designed to maximize the critical parameters of "best practice" feedwell performance, the company said, and incorporates all of the benefits of both closed- and open-bottom feedwells without any of their drawbacks. The new feedwell has been designed for easy installation, with an upgrade available for retrofitting onto existing thickening equipment structures.
E-Duc feed dilution and flocculation ahead of the feedwell allows for excellent mixing conditions for contact of flocculant, the company added. Followed by the low turbulence and further flocculation in the Evolute feedwell, this provides the optimal environment for flocculation and aggregate growth, minimizing flocculant usage and increasing settling rates.
For more effective tailings management, pressure filters installed after the tailings thickeners increase the efficiency of moisture removal to create a filter cake generally containing less than 15% moisture. Cake stacking in multiple lifts can take up less than half of the area of a comparable tailings pond, with dry stacking proven to be safer and more sustainable for both a mine and its neighboring communities.
With FLSmidth's AFPIV minerals pressure filters used for process-water recovery, the company's newly designed Colossal filter press has been engineered to be twice as wide as previous models to give even better performance. The Colossal includes a patent-pending filter plate design, while 2-m-wide cloths are used on each side of each plate, making the cloth easy to handle. These filters not only provide high throughput and efficient solids capture, but they also operate continuously, automatically, in harsh environments, and can handle abrasive or corrosive slurries, the company stated.
New Orders for Tenova Delkor
Earlier this year, Tenova Delkor reported on three recently awarded contracts for its thickener technology from operations in Madagascar, Liberia and Sierra Leone. The order from an existing client, Dynatec Madagascar SA (DMSA), was for an additional 80-m-diameter ore thickener mechanism for the Ambatovy joint venture, and follows initial orders for thickener equipment dating back to 2007.
Tenova Delkor said the thickener offers a number of advantages specific to the conditions at Ambatovy, such as a feed dilution system that enhances the thickening of the feed, using a forced dilution technology. The order was signed last November with the thickener mechanism due for delivery in the middle of this year. Tenova Delkor's scope of work covers design, supply and delivery, together with supervision of the installation and commissioning.


FLSmidth's Colossal filter press.
Meanwhile the company received its first order from an operation in Liberia in December last year, with delivery due in the third quarter of 2014. Placed by BEA Mountain Mining Corp., part of Aureus Mining Inc., the order covers one 21-mdiameter high-rate thickener, two belt linear screens (9 m 2and 6 m 2 ) and a flocculant plant with auto dilution for increased steady-state conditions. The equipment is destined for the New Liberty gold mine, where the first gold pour is expected at the end of the first quarter in 2015.
Lastly, Tenova Delkor reported that it recently delivered a 22-m-diameter ore tailings thickener to London Mining's Marampa iron-ore project in Sierra Leone. The company noted that this was its third order for Marampa, with the two previous contracts covering the design, supply and delivery of 85-m2 belt filters. The first of these was installed in 2011, and the second last year. All three machines were designed by Tenova Delkor in Australia, with the first belt filter being manufactured in Australia, and the other equipment produced in South Africa.
Fully Automated Filter Presses
The Japanese company, Ishigaki Co. Ltd., is the developer and worldwide supplier of the Lasta MC filter press for dewatering mineral concentrates and tailings. The company claimed that the Lasta MC has the largest capacity of any comparable filter press, the fastest cycle time and has the best reliability, while allowing highly effective cake wash and achieving low cake moisture contents that can reduce or eliminate drying requirements. Typical target performance includes tailings dewatering to 14% moisture and concentrates to 8%.
The company noted that many of the more than 100 Lasta MC machines now in use have been operating efficiently for upward of 20 years. Ishigaki offers three models, with plate sizes of 1.5 m x 2 m, 2.1 m x 2.1 m and 2.1 m x 2.9 m.
In 2011, the company's U.S. distributor, Micronics Inc., received a $14 million order from a domestic gold producer for Lasta MC presses. With an initial throughput of 10,000 tons per day (t/d), and the capability of increasing this three-fold, the presses are being used for dewatering, with the removal of cyanide and 99% recovery of any residual gold from the filter cake before tailings disposal, Micronics reported.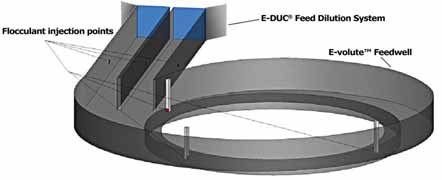 The company's E-volute feedwell is the result of years of development work.
Filtering and Thickening Technology Worldwide
Part of the Austria-domiciled Andritz group, Andritz Separation offers equipment such as filter presses, belt filters, hyperbaric and vacuum disc filters, and vacuum drum filters for mineral-sector applications. Its range of thickener products includes conventional units as well as CCD thickener circuits and flocculation plants.
The company reported that for coalwashery applications, its belt presses are used for dewatering fine and ultra-fine coal and tailings, and for recovering process water, while hyperbaric filters find applications in dewatering ultra-fine coal. Installations in this sector have included belt presses supplied to the Russian steel producer, Severstal, and hyperbaric filters to the Czech coal industry for handling flotation concentrates.
For the iron-ore industry, Andritz Separation has supplied vacuum filter technology mainly to magnetite producers, while hematite operations in the U.S., India and Russia use hyperbaric disc filters. These have more than four-times the throughput of vacuum disc filters, the company said, while reducing the moisture content by an additional 4%-6%. Six 120-m 2 hyperbaric filter units installed at a Jindal Steel plant in India have the highest throughput of any worldwide, the company stated.
In non-ferrous mineral processing, Andritz has supplied thickeners for CCD circuits to Nkana in Zambia (six 20-m diameter units), Langer Heinrich in Namibia (four at 35-m diameter) and Glencore's Mumi operation in the DRC (six 35-m-diameter). Nchanga in Zambia uses 26, 80-m2 horizontal vacuum belt filters for copper recovery, while Mumi has two 122-m 2 units for contaminant removal. Andritz filter presses are in use in various gold and base metals operations in Russia and Kazakhstan, and also for water clarification in underground dewatering plants in a number of gold and platinum mines in South Africa.
According to Steve Myers, Andritz Separation's manager for mining and minerals for North America, recent supply contracts won by the company have included six hyperbaric disc filters for iron-ore concentrate in the U.S. and India, 14 thickeners for a major potash plant in Russia and 10 filter presses for a large cement producer in Germany, as well as 12 centrifuges for a Canadian potash plant.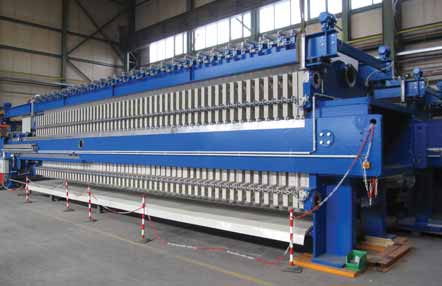 An Andritz fast-opening mining filter press for iron-ore concentrate in India.
Higher-efficiency Feedwell Design
U.S.-based WesTech Engineering provides liquid/solids separation solutions for mineral and industrial applications world-wide. Its product range includes ceramic disc filters, horizontal belt filters, various types of drum filter and tower press filters. In thickening technology, it can supply conventional as well as high-density and high-flow units to suit specific dewatering and paste production requirements.
One of the company's recent technology developments has been the EvenFlo feedwell. This, WesTech said, induces consistent energy dissipation, controlling and equalizing the feed distribution into the thickener, providing enhanced flocculation and optimal mixing. The EvenFlo design consists of a two-part feedwell system, with an inner chamber that converts the feed energy into a concentric radial flow. The main feedwell chamber then evenly distributes the feed into the sedimentation zone of the thickener, minimizing short-circuiting and eliminating uneven coarsefraction deposits. The EvenFlo is ideal for new thickeners or as an upgrade to existing equipment, WesTech added.
In February, WesTech launched its tower press filter to the industrial and minerals markets. The company said the filter delivers optimum production performance and availability for maximum dewatering in a wide range of industrial and minerals applications, including fine iron-ore concentrates, leach residues, metallurgical precipitates and more. Other key benefits include low maintenance and operational costs, as well as fully automatic operation.
"This technology extends WesTech's ability to directly provide full systems solutions to its customers," said Philip Lake, the company's international business unit leader. "WesTech is now poised to provide spare parts and service to existing tower press filter operators around the world, at a service level and price that will be extremely competitive."
The tower press filter has a five-stage operating cycle, encompassing feed, filtration, washing, air-drying and cake-discharge stages.
Metso Thickeners Cut LKAB's Pump Costs
While the use of thickener technology is often associated with the back end of mineral processing plants, there are other applications, as Metso Minerals points out. A recent paper by product manager Pejman Oghazi and some colleagues looks at the ways in which mine water can be treated underground, the aim being to save wear-and-tear on pumping systems by handling raw water that would need to be treated on surface in any case.
The authors explained that Metso has a system solution to treat mine water, by separating out the solids before it is pumped to surface. This system, they said, reduces pump erosion and can save on maintenance in the long term. It can be divided into three steps: a spiral dewaterer to remove coarse solid particles; a lamella thickener to remove most of the solids; then a tube press to handle the sludge from the thickener underflow. The concept is based on a project that the company undertook for the Swedish iron-ore producer, LKAB, involving the installation of equipment at a dewatering station, 1,368 m below surface. The spiral dewaterer is basically an open trough with arrangements to transport settled solids in a continuous operation, and replaces a traditional settling process in an open pond or sump. Metso produces these units in sizes to cover a hydraulic flow of up to 2,000 m3 /h. The settling area is dimensioned to allow solids to settle in relation to the feed flow and solids cut-point.
WesTech Engineering recently launched its tower press filter for minerals-sector applications.
Metso's inclined plate settler consists of two main components: an upper tank containing the lamella plates inclined at 55° and a lower conical or cylindrical sludge tank. The feed enters through vertical chambers on either side of the lamella packs, with clarification taking place above the suspension inlet so there is no mixing of the clarified fluid with the incoming feed. The solids hit the lamella plates and slide down to the sludge tank where they are thickened further and compressed using a raking system.
Coal-industry Standard Filters
With its headquarters near Salt Lake City, Utah, Peterson Filter Corp. reported that the first of its "Coal Type" vacuum disc filters were installed in the eastern U.S. in the late 1950s; since then, these units have become an industry standard in the coal preparation industry, with more than 400 in service. They are used in fine-coal preparation circuits for filtering clean coal and refuse slurries, the company stated.
Peterson noted that since flocculation of the fine coal filter feed slurry is often needed in order to obtain acceptable filtration rates, together with low cake moisture, it has developed a highly efficient flocculator that can be used to condition both thickener and filter feed slurries. It added that as refuse slurries often have a high ash content and hence lower filter rates and higher cake moisture, proper flocculent feed slurry conditioning is essential for acceptable filter operation.
The company offers a complete line of disc filters, ranging from 18-in.-diameter laboratory-size units to full-size 12 ft. 6-in.-diameter production units with 15 discs. In addition to its coal-type filters, it has a similar line of equipment for filtering concentrates and tailings slurries in metallurgical mining, as well as drum-type filters that can be customized for specific mining-sector applications.
Bilfinger Boasts Largest Filter Press
Bilfinger Water Technologies (formerly known as Diemme) has designed and supplied complete filtration plants for the minerals sector. Process areas covered in these projects have included the use of filter presses for concentrate dewatering, filtering lixivants in hydrometallurgical plants, dewatering slurries from off-gas treatment in pyrometallurgy, and the recovery of metals through electrolysis.
Among the Bilfinger filter presses for the minerals sector, the GHT 4 x 4 is designed for high productivity. The filter plates are hung from an upper beam and are moved automatically, with the shifting mechanism equipped with a carousel system that reduces the filter press opening and closing sequence to the minimum. Effectively guarded moving parts and the use of state-of-the-art electronic interlock systems mean that the press conforms to the highest operator health and safety regulations, the company said. In addition, routine maintenance is simple, with easy access to the filter plates for both inspection and filter-cloth replacement.
In 2010, Bilfinger supplied what it claims is the world's largest filter press, the GHT 2500, to a steelworks in India, for dewatering iron-ore concentrate. The unit also uses up-to-date technology to reduce the filtration cycle of cake blowing, drying and squeezing to a minimum. Capable of being expanded, it can handle up to 200 mt/h of product to a residual cake moisture content of between 5% and 9%, according to Bilfinger.
Metso Minerals has designed its inclined-plate settler to minimize the size and cost of gravity-settling
equipment.
The year before, the company had supplied a silver producer in Mexico with three GHT 2000 filter presses that could dewater up to 4,000 mt/h of dry solids in a sludge dewatering plant that was designed to maximize process water recovery from the tailings stream. The presses produced cake with a residual moisture content of less than 20%, while achieving up to 84% water recovery and helping to eliminate the need for tailings ponds.
The mine had previously bought four Automat 1500 filter presses from Bilfinger for use in its Merrill Crowe plant.
Gaudfrin Wins Repeat Business
The French company, Gaudfrin, specializes in the design of equipment for the filtration, thickening, clarification, dewatering and washing of solid-liquid separations. It has a worldwide patent on the Diastar static-pressure vertical-leaf filter, which, it said, provides a simple, safe and economic solution to many filtration requirements, with more than 300 units now working in more than 25 countries. The Diastar filter has no moving parts, works on short cycles, has an automatic washing system, and requires very little intervention from the operator.
Gaudfrin also supplies horizontal vacuum belt filters, pressure or vacuum rotary disc filters, dynamic pressure and vacuum vertical-leaf "Universal" filters, and the "Dynapress" dynamic belt-press.
The company said the main applications for the Diastar filter are the thickening or clarification of slurries, as well as cake washing and/or cake dewatering. Its Univeral filters are used for filtering slurries with poor filterability, and for cake washing, plus cake dewatering. Disc filters are used on concentrate slurries and for cake dewatering, while its belt filters find applications for filtering slurries with good filterability and for cake washing.
Last year, Gaudfrin commissioned a fourth 90-m 2 belt filter at one of Foskor's fertilizer plants in South Africa. The three original units had been in operation in the phosphoric acid plant since 2002, and had proved so successful that when Foskor decided to renovate an older section of the plant, it opted for another Gaudfin filter instead of replacing the existing pan filters there.
In another application, Pacific Aluminium's Gove alumina refinery in Queensland uses Gaudfrin filters to remove fine bauxite residue particles from the turbid digestion liquor.
Thickeners for the World Market
For nearly 30 years, Canada-based Westpro Machinery has been supplying a range of equipment to the mineral-processing industry around the world. Its equipment, including thickeners and clarifiers, is now in use in Bolivia, Peru, Chile, Guyana, Mexico, Russia, Canada, the U.S. and in some parts of Africa.
Westpro noted that it supplies its equipment manufactured to the highest Canadian standards in components that require little or no on-site assembly. As an example, its high-capacity thickeners are made with diameters of up to 38 m (125 ft), yet the bridges are made to fit fully assembled into sea containers, with the drive, power unit, control panel and handrails all ready to use "from the box."
Both hydraulic and electric drive units are available, with benefits including hightorque characteristics, reversibility and variable speed capability, the company stated. The units are also light and compact, with low maintenance requirements, it added. The rake assembly features an efficient design that provides higher raking power with less torque, as well as an adjustable slope for on-site customization, while the high-capacity tank is generally delivered in formed pieces for field welding, with the individual sections designed to fit into containers.
High-efficiency Thickening
Phoenix Process Equipment supplies dewatering equipment to the aggregate and mining industries. For example, its HiFlo thickener clarifies the water while it thickens the slurry from a wash plant to 40%-45% solids, greatly reducing the volume going to the slurry pond. For complete elimination of the slurry pond, the company said, a belt filter press can be added to dewater the thickened slurry, either initially or as an upgrade.
The company claims that separation is often more than 20 times as effective as conventional thickeners. The plant area is greatly reduced, such that indoor installation may become practical. In addition, the design provides for deaeration of the feed ahead of the feedwell, with the feedwell designed to enhance the separation. The flocculation level can be carefully controlled, Phoenix said, with the use of bed-level interface sensors for optimum performance.
Benefits of this type of equipment include its minimum space requirement and good thickening performance, Phoenix added, with overflow water being clarified for use in the wash plant or as belt wash water for a belt filter press. Using a HiFlo thickener can greatly reduce the volume reporting to a slurry pond, the company stated, or properly condition the slurry for press dewatering to a stackable, solidphase discharge cake.
Other Phoenix products include recessed-chamber and membrane filter presses and piston-membrane pumps which, it noted, can provide alternatives to its core belt filter-press dewatering technology.
---
As featured in Womp 2014 Vol 03 - www.womp-int.com