Africa Remains an Important Destination for Mining Investment
Failed policies and ongoing issues in South Africa put a damper on a discussion that should otherwise be upbeat
By Gavin du Venage, South African Editor
---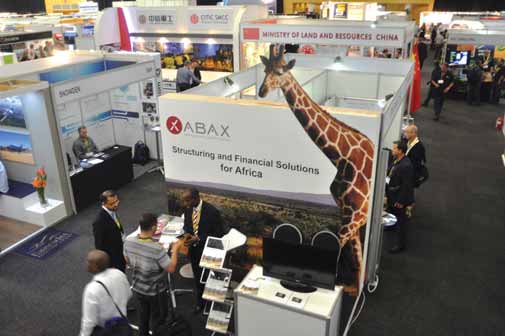 The African Mining Indaba remains the continent's top mining investment event.

The African Mining Indaba 2014 took place, as usual, under the beneficent shadow of Table Mountain in Cape Town, a venue far removed from the somber events taking place far to the north. Each year critics of the annual industry jamboree attack the conference for its remoteness from the harsh realities taking place in the gold and platinum belt of the Witwatersrand. This is perhaps the point; to provide a setting where delegates can conduct business away from the frenetically evolving events in the South African mining belt.

As the conference opened, more than 90,000 platinum workers remained on strike, the memory of the Marikana massacre the year before adding an edge to already fraught industrial relations. The fourth and final day of the event had delegates wake to the news that nine mineworkers had died during a seismic event 1.7 km underground at Harmony's Doornkop gold mine in Carltonville.

These events had a sobering effect on the 8,000 or so men and women gathered at the Cape Town International Convention Centre. Yet the Indaba, billed as the world's largest mining investment gathering, moved forward to serve its central purpose—bringing miners and funders together. Money is the lifeblood of the industry and without it, mining would cease to exist.

Mining Indaba's managing director, Jonathan Moore, tried to capture the industry's dilemma of having to balance humanitarian objectives and hard-nosed business. "We come together each year at the Indaba because we are committed to advancing mining on the African continent," Moore said in his opening address. He noted the event was a catalyst for the investment of billions of dollars of foreign direct investment across the continent, a result of 20 years of facilitating deals that have changed the face of African mining and strengthened the continent dramatically as a global player.

Moore can produce an impressive array of numbers to back up his assertion. By 2012, global mining exploration budgets had reached an all-time high of $20.5 billion, increasing by 19% against the previous year. He noted that Africa had leapfrogged Canada to take the second-largest slice of the global exploration pie. For some countries, the investment has been exceptional. The Democratic Republic of Congo headed exploration spending for the second time in three years. West Africa also received intense interest, particularly with regard to gold.

In South Africa, mining still accounted for 19% of private-sector investment in 2012 and about 12% of total investment in the economy. This directly produced 8.3% of gross domestic product (GDP), though indirect multiplier and induced effects more than doubled mining's impact on the economy to about 17%, Moore said.

Countries across Africa also form about a quarter of the nations supplying China's resource-hungry infrastructure program.

In 2004, about 1,500 delegates attended the Indaba, representing about 50 countries, and about 150 exhibits were staged. By the decade's end, this had doubled to about 3,000 delegates and this year around 7,800 attended. They represented 2,100 international companies from more than 110 countries, with about 500 sponsoring companies and 40 African government delegations.

Shabangu Fails to Impress
"The late great Nelson Mandela once said that anyone can rise above their circumstances and achieve success if they are passionate about what they do," Moore said. "This is why we are here today."

Nigeria is hoping to use the Indaba to gain interest in its emerging mining sector. Isaac Okorie, assistant director of the
Nigerian Geological Survey Agency, mans the country's booth.
Moore's sentiments and the obligatory Mandela quote were doubtless meant to dispel some of the creeping gloom that infected many of the delegates. While listeners were inclined to accept his words at face value, they gave a more wary reception to those of Susan Shabangu, South Africa's mineral resources minister.
To say her record in office is mixed would be kind. Shabangu's four-year tenure has been characterized by an almost total breakdown in communication between her department and the industry. At the same time, long-pending legislative changes that will have far-reaching implication for the domestic mining scene have languished under her watch, leading to uncertainty and skittishness among investors at a time when the country can least afford it.
As in previous appearances at the event, Shabangu repeated a pledge to ease mining license applications that now take up to 18 months to process. In 2010, she promised to create a "one-stop shop" for processing mining-license applications that would award prospecting rights in three months, and mining licenses in six months. This year, she posited an "integrated licensing process" that would take up to 300 days. The announcement was greeted with stony silence from within the conference hall.
She also referenced the Mineral and Petroleum Resources Amendment Bill, which is supposed to institute a suite of changes that will bring more certainty and investment to the mining sector. The bill has been in the making for four years, and in her speech, Shabangu promised it would be finalized before the end of the current parliamentary term.
"We are confident it will be concluded during the tenure of the current legislature," she said, adding that the bill would strengthen mining and end uncertainty around legislation.
Shabangu noted that the Mining Charter—legislation that governs obligatory black participation in the industry—was now in its 10th year, and up for review. The charter currently sets targets that include the 26% sale of equity in mining companies to black South Africans, and also sets employment equity targets. Beneficiation is also a pillar of the mining charter.
The implementation of the charter has proved one of the most difficult legal requirements for mining houses to comply with. At least one, Gold Fields, is currently under investigation by the U.S. Securities and Exchange Commission for possible corruption related to the structure it used to take on black partners.
Shabangu has been a critic of the industry's compliance with the charter and said that her department was concluding a detailed audit of their status. The results, she said, would be released toward the end of this year. "By November this year, we will be able to go public," said Shabangu, "We can't go into 2015 without creating uncertainty."
She added that mines were, however, showing willingness to meet the charters' requirements.
"We have seen cooperation that gives us comfort," she said. "We are doing well in terms of moving toward compliance."
She acknowledged that a new round of legislative adjustment could make investors uneasy, but that the process would be handled in such a way that "it does not once more introduce uncertainty."
Shabangu turned to the continent's need for investment, and mining's role in development.
"Africa remains grossly under-explored for its mineral potential. For instance, the exploration expenditure per square meter averages US$65 in Canada, Australia and Latin America, whereas the African equivalent remains below US$5 per square kilometer."
In spite of this, the mineral exploration prospects in Africa remained extremely high, requiring both local and international partners and investment to unearth, she said.
She also touched on a familiar theme of her department: "responsible investment."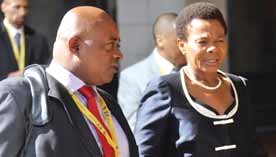 South African Mineral Resources Minister Susan Shabangu, with
aide, arrives at the conference.
"As you know, mining is a long-term investment, and not about quick wins. Those who balance Africa's mineral development with growth will ultimately receive the greatest reward in the long-term," she said.
The minister did offer some good news for companies. At a post-speech press event, she reassured mining operators that they would not be compelled to beneficiate minerals, a source of concern amongst producers. Earlier pronouncements from Shabangu's department had suggested companies would be fined for exporting raw ore, or even barred from doing so. However, her department may now be backing away from such a rigidly prescriptive stance.
"No mining company is either required to beneficiate or is forced to subsidize the manufacturing industry," Shabangu said. The government is confident the law "provides a predictable, stable and globally competitive mining legislation that promotes investment, inclusive growth, development and transformation."
The overall response to Shabangu's statements to the Indaba was unenthusiastic. "Shabangu's address this morning was overly positive, which surprised me a little, particularly if one considers the dramatic losses that the platinum and gold industries have experienced in the recent past," said Lauren Patlansky, managing director at the global legal firm Grant Thornton's Asia Business Services. "They are losing billions due to strike action specifically."
Patlansky said Shabangu's address avoided some of the industry's most pressing issues. "The minister's positive address failed to mention how labor costs continue to rise while commodity prices are simultaneously declining—this paints a clear picture that mines in South Africa are not even breaking even."
Not much was said of the technical challenges mines contend with either. "I'm concerned that the minister failed to mention anything about the issue of power and energy challenges currently being experienced in South Africa, especially when other countries on the African continent—like Nigeria—are privatizing their power industries, which could potentially give Nigeria double digit growth rates in the months and years to come," Patlansky added.
Africa Rising
As in the past few years those seeking cheer had to turn their gaze beyond South Africa, and look to the north. Africa as a whole is demonstrating good prospects and a settling environment that encourages investment.
A heartening development announced at the Indaba is the World Bank's plan to spend upward of a billion dollars mapping Africa's resources.
"There is yet an enormous amount of wealth left to discover," said Tom Butler, global head of mining for the World Bank and International Finance Corp. "Coupled with in-country training and institutional support, and the work of exploration companies, this initiative will unlock the true worth of Africa's mineral endowment."
The institution has already spent more than $200 million over the past decade in developing geological data on the continent, but intends to drastically increase the pace. "Our planes are in the sky above Malawi as we speak, gathering geological data," he said.
Butler added that foreign direct investment was running at $50 billion per year, outpacing aid for the first time in modern history, a direct result of money pouring into the resources sector. He added the warning that in spite of Africa's effervescent economic growth, it needed a lot more if it was to drag itself out of perpetual poverty.
"A good decade of growth does not translate into universal prosperity," Butler said. "We need to increase the pace of investment."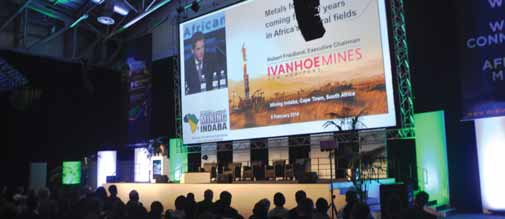 Robert Friedland, the closest thing the mining world has to a rock star, told the conference that the Democratic
Republic of Congo was 'the future.'
Balancing Chinese Interests
It's a good thing, then, that China's pursuit of African resources continues to blaze across the continent. "When Chinese firms consider investment destinations around the world, Africa is always top of mind," said George Fang, the head of mining and metals in Asia for Standard Bank, the largest bank in Africa.
"Africa is usually among the first destinations that are considered by Chinese companies that are looking to expand internationally, not only because of its abundant natural resources but also because of its rich cultural heritage, which in many ways is more similar to Chinese custom than that of the Western world."
He noted that China is still unquestionably Africa's largest single trading partner, with Standard Bank research estimating Sino-African trade to have reached $210 billion in 2013, up 6% from the $198 billion figure that prevailed in 2012. Chinese imports from Africa, which largely comprise hard commodities, reached approximately $115 billion last year while Chinese exports to Africa totaled about $94 billion, according to Standard Bank data.
For individual African countries, resource-driven investment offers some of even the most desperate cases a lifeline— none more so perhaps than the Democratic Republic of Congo, the wounded heart of Africa. Plagued by war and corruption, and with vast tracts of the country with virtually no roads or power, it has an uphill task attracting investment. Yet somehow it is succeeding.
"Our mining sector is flourishing," Bene M'Poko, the DRC's ambassador to South Africa, told the conference. "We are grateful for the interest shown in our country and particularly to those who stuck with us through troubled times."
He ticked off a list of incentives and efforts being made to draw capital—the revamping of war-damaged power stations, while new plants are to be built. The country is also working to improve transparency and end its reputation as a black hole where money disappears into the pockets of the connected few.
The DRC was recently given a pass by the Extractive Industries Transparency Initiative (EITI), a global project that aims to make sure tax and royalty revenue is accounted for. This, said M'Poko, had made lending institutions such as the World Bank less leery when it came to dealing with the country.
"The DRC will encourage any activity that leads to investment in plant, mineral extraction and manufacturing," he added.
A clear indication of the DRC's attraction is probably best illustrated by the continued flag waving for the country by Robert Friedland, chairman of Ivanhoe Capital Corp. Friedland is the closest thing the mining world has to a rock star, having created a multibillion dollar empire by gambling on developing mines in some of the most inhospitable places on earth. He also knows how to entertain an audience.
Friedland is betting big on the DRC, and is using his early success in Alaska and Mongolia to illustrate his penchant for being right. He noted that when he first considered developing the Fort Knox mine near the Arctic Circle he flew over country where "there was nothing down there but rock, ice and wolves."
The resultant mine was the foundation of his fortune. Now, it was the DRC's turn. "The future is coming to you now from the DRC," Friedland said in a tone of voice closer to that of a tentpole preacher than a mining executive. "If you were to come from Mars to earth looking for copper, you'd go first to Katanga."
Friedland plans to develop the Kamoa deposit in the DRC's Katanga province, which he describes with his characteristic lack of restraint as: "the world's highest grade copper deposit, an unparalleled resource the size of Europe."
Other African countries are also hoping to attract that sort of attention. Nigeria is a less familiar player on the African mining scene, something the continent's most populous state hopes to change. This West African nation has drifted rather aimlessly on its oil reserves for decades and now wants to open up mineral development as well, and expand away from its dependency on crude.
"We want to conclusively create an atmosphere for mining," Isaac Okorie, the assistant director of the Nigerian Geological Survey Agency (NGSA), said. Okorie was manning the NGSA's booth in the convention exhibition hall, and was attracting brisk traffic.
He admitted the country still has little by way of actual mining taking place, but was drawing a growing number of explorers. "We don't have big operations yet but have a very good junior explorer network developing," Okorie said. "Most current activity is still being done by artisanal operators but we are looking to draw in formal miners."
The government was aware that it had formidable challenges to overcome, such as rampant corruption and lack of electricity. Nigeria has, however, recently sold off its entire power chain—generation, transmission and distribution to a host of international consortia. This, the country hopes, will draw in much needed investment to the electricity sector and lead to increased power supply.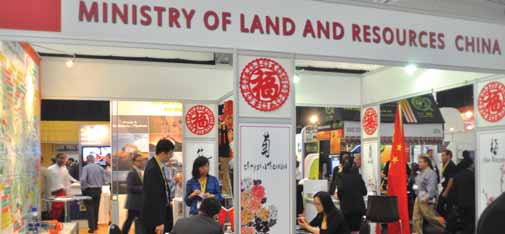 China's looming presence dominated the discussions around the future of mineral demand from Africa.
Okorie added that Nigeria would become a regular feature at the Indaba: "We look at the Indaba as an African event. And we are first and foremost an African country. We have to be here."
For Nigeria to get ahead though, it will have to show that it means to push through with reforms—and tackle corruption. It also faces tough competition from other countries in the region just as hungry for mining related investment.
"Nigeria is unlikely to see the kind of interest that others have in the region," said Roddy Barclay, senior analyst for West Africa at Control Risks (CR), a global risk analysis organization. CR is leaning quite heavily on the mining industry to expand its African business, and has become a regular at the Indaba.
"The 'Africa rising' narrative has become the lead story for the Indaba and we are now seeing some of the historic barriers of doing business being broken down, particularly over the past 10 years," he said.
Barclay pointed out that the cycle of debilitating conflict is on the decline, in spite of several stand-out wars that have grabbed media attention, such as those in South Sudan and the Central African Republic.
"It's important to see the woods for the trees. African economies have developed greater resilience and are better able to weather the ups and downs of international economic events. There are now 18 functioning democracies, whereas there were only three a quarter of a century ago, he said."
That said, it's clear that African countries are looking to gain more from their mineral resources than they did in the past. Niger is mired in a dragging dispute with French energy producer Areva over uranium royalties; in Tanzania, local communities have tried to overrun operations and scoop handfuls of gold-bearing ore, only to be beaten back by security personnel.
The Oxfam-led "alternative Indaba" and a handful of protestors who appeared briefly outside the convention center until they were driven away by the baking sun were hardly needed as a reminder to attendees that the continent was changing.
At almost every turn speakers addressed the touchy subject, to the point it became a theme that threaded its way throughout the event. Yes, the Mining Indaba has raised awareness that community engagement is critical, said Terry Heymann, managing director for development at the World Gold Council, who participated in a discussion on the topic. "Our panel discussion on responsible gold mining and value distribution in Africa highlighted the need for engagement and that the industry will be more impactful when viewed from a shared value point of view. There has been a wide range of similar discussions from like-minded organizations and industry stakeholders."
So prominent has the topic of social engagement become that some noted that the conference had taken a marked turn toward the subject, which reflected the industry's increased awareness of its growing importance.
"It is also interesting to see the move away from technical project presentations at the conference, toward more vital, broader discussions about how Africa's players need to collaborate more effectively in search of shared value in developing the minerals industry," said SRK Consulting Chairman Roger Dixon.
Discussion was more than industry chestbeating—it also provided the industry with a platform to show what they had achieved to make life better for people around them.
"Mines do a lot of good, but are seldom pro-actively telling the world about it," Dixon said. "A few speakers have already made the point that the sector does not 'sell itself' very well—and so this negative image lingers on, fostered by the occasional well-publicized adverse story."
As is characteristic of an industry jamboree of this scale, service providers use the Indaba to display their products to potential clients. It's mostly bean counters and geologists who attend, there's not a whole lot of physical hardware on display—a lone mobile drilling rig in the entrance way to the convention centre was as good as it got.
This does not mean, however, that suppliers were left out in the cold. Many took advantage of the Indaba's matchmaking service, huddling over coffee in a booth, giving their best gameface for whoever they found themselves sitting opposite.
SkyVision, a communications provider specializing in off-grid sites for nongovernmental organizations, contractors and so on, was hoping to raise its profile in the mining industry. "It's our first time here, and it's been good. We've had a lot of interest in our product," said Ofer Farkash, product line manager for SkyVision. "I'm sure we will be back next year."
As the Indaba drew to a close, it attracted the expected criticism of Cape Town as a venue and from many, the price tag of gaining access to the event. The likelihood of the Indaba moving to Johannesburg, or as some would suggest—Nairobi—are slim. In time the Indaba will probably have to endure competition from other would-be mining jamborees, but for now at least, it remains the go to event for anyone who has skin in the African mining game.
---
As featured in Womp 2014 Vol 03 - www.womp-int.com