Rigs, Rods and Bits Review
Increasingly intelligent machines and tougher drill string tools are capable of taking a mine's drilling program to higher levels of performance and economy
By Russell A. Carter, Managing Editor
---
Atlas Copco's newest rotary blasthole drill rig is the Pit Viper PV-311.

Drilling and blasting operations, perhaps more than any other mining activity, illustrate how even the best-laid engineering plans and designs can go amiss in realworld situations.

In an ideal setting, all blastholes in a given pattern are drilled correctly, loaded properly, initiated in exact accordance with timing specs and produce the full intended effect. That's not always the outcome, and unintended results can have significant effects on downstream operations ranging from secondary breakage costs and loading/haulage problems, to processing inefficiency and higher energy costs per ton.

With drilling costs alone reported to account for between one-third and one-half of total D&B costs at many mines, significant economic benefits may be gained by finding solutions that can cut—or at least control—drilling-related expenses and resource demands that arise from operator mistakes, unplanned maintenance and higher-than-expected consumables depletion, to name just a few concerns.

Drilling equipment manufacturers offer a variety of services and options to achieve cost-reduction and productivity objectives, ranging from procedure-based solutions such as operator training and drilling efficiency studies, to hardware options or drillfleet upgrades. New equipment, including many of the recently introduced rigs and tools described below, is generally available with standard or optional features that can help operators avoid drilling errors caused by inexperience, lack of situational awareness or even complex and changeable local geology; and design improvements often make it possible to drill at higher penetration rates—with lower maintenance intervals—and with equal or possibly even less consumables usage.

Rotaries Evolve to Meet Market Demands
Atlas Copco's latest rotary rig, the PV-311, was introduced to the commercial market just as this issue of E&MJwas going to press. The company said it has applied a high proportion of proven technology from previous rigs in the Pit Viper series to this model, furthering progress towards greater energy efficiency, safety and productivity. For example, the popular Pit Viper hydraulic top-head drive rotary head was retained, as well as the automatically tensioned hydraulic cable feed system and hydraulic breakout tools. The elevated cabin of the PV-311 is larger than the PV-351's and has additional improvements over the PV-235's cabin. The live tower is capable of single-pass drilling 65-ft (19.8-m) clean holes, with bit changing above deck. The rig is designed to handle 7-5/8-in. to 10-3/4-in. drill pipe for sinking blastholes up to 12-1/4 in. diameter.

In addition, said Atlas Copco, the new rig offers enhanced serviceability, groundlevel accessibility for components and longer cable and sheave life; as well as design elements focused on higher productivity. These include faster feed/retract speeds, larger fuel and water tanks that result in less time spent refilling, and a comfortable ergonomically designed cab.

Atlas Copco's Rig Control System (RCS) is standard equipment on the PV-311. RCS provides a number of safety and interlock features, and serves as a foundation to build in more technology options if desired in the future, according to the company. Optional RCS packages are offered, including: AutoLevel, Auto-Drill, high precision GPS, and teleremote control.
Joy Global's P&H 285XPC rotary drill.
The PV-311's feed system uses dual hydraulic feed cylinders to raise and lower the rotary head smoothly and positively, using cables for both pulldown and pullback, running on large-diameter sheaves for longer cable life. Bit load capacity is 110,000 lb (50,000 kg). An optional hydraulically operated automatic wet clutch can be configured to perform a variety of drilling operations, and is designed to significantly save on fuel costs.
The standard diesel fuel tank has a capacity of 700 U.S. gallons and provides sufficient fuel for 12 operating hours. An optional 1,200-gal fuel tank makes it possible to drill up to 24 hours before refueling. Various fuel/water tank combinations are available.
Engine options listed by Atlas Copco include EPA Tier III diesels from Caterpillar (C32 - 1,125 hp / 839 kW@1,800 rpm), Cummins (QSK 38 - 1,260 hp / 940 kW @1,800 rpm) and MTU (16V2000 - 1,205 hp / 899 kW@1,800 rpm). Tier IV-compliant engine options include Cat's C32 (1,125 hp / 839 kW) and MTU's 16V2000 (1,300 hp / 969 kW).
In December 2013, Atlas Copco also introduced the latest model in its wellknown Drillmaster (DM) rotary drill line. The DM 30 Mark II, developed using technology taken from the company's workhorse DM 45 and DML rigs, is manufactured in Nanjing, China, and is suited for both rotary and DTH applications, with low- and high-pressure compressor options available. The component layout and electric over hydraulic cab are taken directly from its stable mates in the DM line, employing the same hydraulic system components, feed system and rotary head that have been proven over almost three decades of use on the DM 30.
Design improvements on the Mark II include a robust I-beam frame, expanded decking and easier component access, and improved rod handling and breakout. Standard features now include auto thread lube, head-up tram interlock and grease manifold, plus a wider range of options offered in response to customers' specific requests.
In a related development, Atlas Copco expanded the capabilities of its DM45/50 and DML blasthole drill rigs with a new reverse circulation (RC) kit. The system features a hydraulic upper knife valve and pneumatic lower knife valve for collecting and isolating samples. It has a hydraulic hinge between the dump box and the cone splitter that allows for easy cleaning and a fixed cone splitter with primary and duplicate sample chutes. All cyclone and sample functions are controlled from the operator's cab. The kit can be retrofitted on rigs currently in the field.
Joy Global added a new rig in its rotary drill product line to provide a wider range of solutions for hard-rock applications, filling the gap between its 250XPC and 320XPC models. The new P&H 285XPC provides up to 118,000 lb (53,524 kg) of bit loading, and is designed for sinking 270- and 311-mm (10-5/8- and 12-1⁄4-in.) diameter holes, making it well suited for the majority of copper and iron applications.
The new rig also features the Universal Drill Cab (UDC) utilized on other P&H drills. This commonality of controls, according to Joy Global, will allow experienced operators to quickly and easily transition to a P&H 285XPC. The UDC provides the operator with a clear, unobstructed view of the drilling area and the surrounding environment. Expansive windows and video cameras provide what is claimed to be the best visibility in the industry and ensure that the operator is able to maintain complete situational awareness while drilling and propelling. Additionally, the FOPS Level II certified structure combined with shatter-resistant glass protects the operator from harsh mining conditions.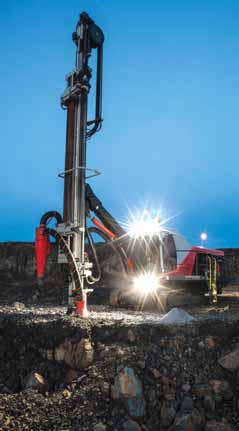 Sandvik's new Pantera track drill platform includes both
DTH and TH models.
Progress in Percussive Drilling
Sandvik Mining has a new Pantera percussive drill platform—designed specifically for mining and available for both DTH and TH applications—that is claimed to deliver increased drilling capacity, lower fuel consumption and improved safety. The new platform has been developed in response to mining industry trends toward fully autonomous operation, with options allowing owners to take advantage of automation technology as needs and mining operations change. The first two new models are the Pantera DI6400 (DTH) and Pantera DP2000 (TH). The Pantera DI6400 was introduced in late 2013, and the DP2000 will be released in 2014.
Designed for wall control, pit development and production drilling, all Pantera variants share the same control system and automation infrastructure, further reducing the cost of training, maintenance and ownership in surface drilling applications. The new Panteras offer an innovative approach to surface drilling with Sandvik's SICA (Sandvik Integrated Control Architecture) control system technology.
The Pantera DI6400 is designed for 115-to 203-mm-diameter blastholes up to 45 m deep, while the Pantera DP2000 can drill 152- to 178-mm-diameter holes 36 m deep. The DI6400 delivers up 35 bar operating pressure in DTH drilling, and also marks an industry first with the introduction of 25-ft (7.5-m) drill pipes, in diameters from 89-140 mm, for boom-based operation.
Sandvik said the Pantera TH configuration, featuring its new RD2045C 45-kW hydraulic rock drill, will offer superior drilling capacity in the 152- to 178-mm range. The Pantera DTH configuration is claimed to offer the industry's highest operating pressures for faster, more efficient drilling.
The new Pantera range also offers increased service life and lower maintenance costs through features such as heavy-duty main frame and boom/feed, with modular layout and improved access available for all components.
Each rig will be available in three configurations—Silver, Gold and Platinum— allowing them to be readily adapted to the needs of customers in different mining markets around the world. The Silver configuration meets the highest global safety and productivity requirements, according to Sandvik, and is designed to deliver outstanding drilling performance, hole precision and quality. Gold models are designed for applications requiring Sandvik precision TIM3D navigation via GPS and data transfer; they also incorporate automated drilling functions and a machine health monitoring system. Platinum, said Sandvik, is for mines looking to take advantage of its AutoMine Surface Drilling automation system. This configuration incorporates all Silver and Gold features, as well as allowing autonomous and teleremote operations.
Sandvik said significantly increased fuel efficiency is available through the proven Sandvik Compressor Management System (CMS), which matches compressor use and output to drilling needs, and advanced clutch technology.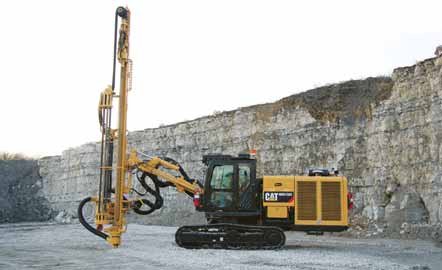 Cat claims its newest track drill model—the MD5150C—has more power, higher compressor performance,
faster tramming speeds and better ground clearance than its predecessor.
Cat Drills Get More Cat Parts
Caterpillar has been busy upgrading its surface-drilling rig line, acquired as part of its purchase of Bucyrus in 2011, and has revamped its manufacturing plant in Denison, Texas, for higher productivity. Its rotary line has been augmented recently with the addition of the "B" Series MD6420, which now includes more Cat components.
Offering a bit load force of 42, 000 kg (92,594 lb) and three different mast lengths (10 m, 13 m, or 16 m) to choose from, the new MD6420B can drill holes as large as 311 mm (12.3 in.) in diameter and as deep as 74.4 m (244 ft). According to Cat, the rig has heavy-duty structures, fewer hydraulic components and hoses with improved hard pipe routing, and a cascading, self-leveling staircase for easier access and exit from the deck among its new features. Cat's 345 excavator undercarriage with GLT is now available on the MD6420B, as is its Terrain for Drilling (formerly AQUILA) machine location and monitoring system.
Cat's largest rotary rig—the MD6640— also features a new undercarriage as standard equipment. Cat claims its 390 excavator-style undercarriage helps minimize downtime and reduces issues involving tramming limitations, turnability and track tensioning. The 340,000-lb (154,224 kg) MD6640 drills holes from 9-5/8 in. to 16 in. diameter (244- to 406-mm) and can angle drill to 25ᴼ. It provides a maximum bit load of 141,000 lb (63,975 kg).
Cat also recently introduced the MD5150C track drill, which is is basically the same rig shown at MINExpo 2012 but with more Cat components and the C Series designation. The MD5150C drills holes from 4 in. (101.6 mm) to 6 in. (152 mm) diameter and comes with a choice of three different rock drills, patented carousel rod changer, ergonomic cab and many other features. Cat said that compared with the MD5125, which the MD5150C will replace, the new drill has 18% more power, a compressor that can deliver 33% more air volume and 40% more air pressure, and has 19% faster tram speed as well as 40% greater ground clearance.
The standard rock drill on the MD5150C is the HPR5128, which uses 51-mm drill steel. Also available is the HPR6832 rock drill, which can use 68-mm speed rod, and the HPR6030 designed for 60-mm drill steel. Cat claims it is the only manufacturer offering rock drills designed to be serviced on site to reduce downtime and control costs. Service doesn't involve a clean room or freight costs to ship the rock drill to the OEM for maintenance or to keep a spare rock drill in stock to accommodate maintenance downtime.
The rig's rod changer and feed assembly have seven patents pending. The system holds six rods and accommodates two lengths and multiple diameters of drill steel. Dual-rod grippers and a unique gate design let the rod and gate move simultaneously, reducing cycle time. The rod changer is supported by a sturdy feed and heavy-duty 9-ft (2.7-m) boom that extends to 11 ft (3.3 m) for larger pattern coverage with fewer setups. Because the carousel rod changer weighs less and holds more rods than linear models, the boom extension can reach farther and drill deeper while maintaining stability. Holes can be drilled within 24 in. (610 mm) of the highwall, which is 50% closer than with a linear rod changer.
A recent entry into the North American hydraulic track drill market is newly formed Junjin America, which offers its Rock Commander line of rock drills. The rigs are available from Larmee Equipment & Supply, of Louisville, Kentucky, USA through a partnership with Junjin CSM of Seoul, South Korea. The JD 1400E Rock Commander, according to the vendor, is the first in a series of dependably built, simply designed drills with proven components and low technology for a reliable, low-cost drilling application.
The JD 1400E is claimed to be capable of drilling holes from 3.5 in. to 5 in. diameter at high penetration rates, with low maintenance requirements. It's powered by a Cummins QSC8.3-C engine. Major components include a GHH Rand air compressor, proven YH135 drifter, and a simple carousel-type rod changer.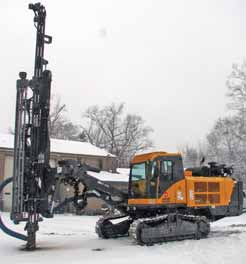 Junjin America's Rock Commander JD 1400E track drill.
Rod System is a Plus
Sandvik just released its new +Range of surface mining drill rods and tubes, featuring a unique steel alloy designed to extend service life and reduce rod changes, while improving safety and cutting costs.
+Range rock tools are based around an exclusive premium grade steel alloy developed by Sandvik Material Technology, which the company said contributes to service life increases well over 30%. The result is fewer rod changes, lower operating, capital and logistics costs, and reduced operator handling requirements.
Designed for bench drilling applications, including production blasthole and pre-split drilling, the +Range is compatible with current industry-standard drilling products. Sizes available include T38+, T45+, T51+ and GT60+, along with top-hammer MF (male/female) rods and drill tubes.
Extensive in-mine tests of the new +Range in Australia, Africa, Europe and the Middle East have shown service life increases of at least 30%—and in many cases significantly more, according to Craig Johnston, Sandvik's business line manager–rock tools. "This increased service life results from Sandvik's new steel alloy, which is far more resistant to heat and thread wear," Johnston said. "With drill rods and tubes representing a significant part of tool cost in bench drilling, a 30% plus increase in tool life allows customers to drill more meters every shift, and reduce drill costs per meter."
Suppliers Expand DTH Bit Horizons
Rockmore International, which manufactures rock drilling tools for DTH and TH drill rigs, planned to introduce its new ROK 250—a 2-in.-class DTH hammer—in March, labeling it as a "breakthrough" for DTH drilling technology. The ROK 250 model, according to the vendor, is considered to be the first DTH hammer in its class to operate under air pressure levels of 350 PSI (24 bar) or more. With a 2.6-in. (66-mm) wear sleeve diameter, the ROK 250 is designed to drill 3- to 3.5-in.-diameter (76-to 89-mm) holes at high penetration rates.
Rockmore said traditional 2-in. DTH hammers suited to drilling 3-in. holes are not designed to withstand higher operating air pressures and are often limited to 145 PSI (10 bar). The low energy values at such pressure levels result in poor hammer performance and low penetration rates, thus increasing overall drilling costs and adversely affecting hole diameter selection. The company said the ROK 250 exhibits excellent drilling performance in DTH applications for smaller diameter blastholes and other applications that demand high drilling efficiency and faster drilling rates by using larger compressors rated up to 350 PSI (24 bar) and beyond.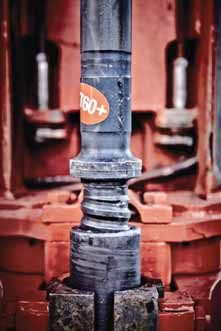 Sandvik's +Range drill rods.

The ROK 250 incorporates Rockmore's patented SonicFlow technology, which optimizes airflow in the hammer by simplifying and streamlining air paths to minimize back flow and turbulence, resulting in maximum energy to the piston. This optimized energy level is transferred to the bit and rock formation to promote enhanced high-performance hammer characteristics, according to the company.

Boart Longyear also expanded its DTH bit options more than a year ago when it introduced 18 new product configurations that it said were compatible with over 26 third-party DTH hammers. Those additions added to an extensive list of Boart Longyear percussive bits that can fit thirdparty DTH hammers.

The DTH bit body incorporates premium hardened steel alloy, which improves shank wear resistance and manages bit body wash. Multiple tungsten carbide button insert designs provide exceptional durability by allowing for multiple re-sharpening while delivering optimized penetration rates.

The new DTH bit shaft configurations offer a combination of different spline counts, diameters and lengths. Optional foot valves can be added when required.

Multiple face designs, including flat, recessed and dome, can be changed to match the various ground conditions for improved productivity. Boart Longyear has developed bits with a wide range of gauge diameters and flushing hole geometries to provide the right design for the application.

"We designed the new DTH bits after receiving an increase in requests for our technology to fit multiple DTH hammers that have recently come into the market," said Jay Klinko, senior product manager.
---
As featured in Womp 2014 Vol 03 - www.womp-int.com