Mining Machines for Small Spaces
E&MJ looks at recent developments in specialist machines for narrow-vein mining
By Simon Walker, European Editor
---
This view of J. H. Fletcher's N3112AD/E bolter highlights the company's "operator-up" design, allowing the operator
to control both bolt drilling and installation from the basket.

In the year that has passed since the last review of equipment designed specifically for narrow-vein mining environments, it has become clear that there is still strong demand from the industry worldwide for these machines. True, lower commodity prices—particularly for gold—have hit producers where it hurts, and this has particularly been the case for companies that work higher-cost narrow-vein operations.

Yet conversely, this is precisely the rationale for equipment manufacturers to develop ranges of machines that answer the needs of narrow-vein deposits, by providing mechanization that helps to improve productivity and reduce the physicality of drilling and mucking in tight spaces. As the vicepresident for domestic sales at J.H. Fletcher & Co., Ben Hardman, told E&MJ, the company is concentrating on helping customers with narrow-vein operations to cut mining dilution rates. "We believe that focusing on roof bolters is the best way to help," he said.

"Our aim is to help operators that are using jackleg drills for installing roof support to mechanize—to get rid of as much of the 'grunt' work as possible," Hardman added. "It's a twopronged approach: making working conditions safer for the mining workforce, and getting better productivity by using specialist machines."

And the rationale does not stop at bolting, of course. Development, stoping, mucking and hauling have traditionally been labor-intensive operations in narrow-vein mining, with each of these operations fair game for mechanization that can make the job lighter and the individual miner more productive.

On the other side of the equation is the investment cost involved in equipping a narrow-vein mine with new machines, and the need for high-quality maintenance to ensure that they work efficiently. Nonetheless, more and more producers are seeing the benefits of this investment, particularly in places where skilled mining labor is in short supply. It is often the case that a good mechanic is easier to find than an experienced driller, with the sophistication designed into today's drill rigs and load haul dumps (LHDs) making the miner's task easier and less physically demanding.

Mechanized Roofbolting Brings Benefits
With a long-standing focus on specialist equipment for roof support, J.H. Fletcher & Co. offers a number of machines that find applications in narrow-vein operations. According to Hardman, Fletcher has recently delivered three new machines to narrowvein operations. The first of two N3112-AD/E bolters ordered by Stillwater Mining Co. started work there at the beginning of the year, while a company in Mexico has taken delivery of a 3116AD/E machine. The third recent supply was an N3117-AD bolter, designed for use in headings from 3-m (10 ft) wide and now in use at Chevron Minerals' Questa molybdenum mine in northern New Mexico.

Using an "operator-up" design, whereby the operator can control bolt drilling and installation from the basket, these machines are designed to get rid of the need for stope backfilling before roof support can be installed, explained Fletcher's business development manager, Bill Goad. "Working with our customers, we have developed these machines to address specific requirements," he said, "and we always try to use existing components wherever possible, to cut development time and ensure parts commonality between different machines.

"Now that they are working, we are getting a lot of interest from narrowvein operations around the world," he said.
The Paus PFL 8 Z loader was developed specifically for the difficult working conditions often encountered in
ultrasmall-scale mining operations.
The N3112 rigs for Stillwater are designed to install side support in narrow headings and stopes in steeply dipping formations. With center articulation, the machine can negotiate turns with as little as 2.5 m (8 ft. 3 in.) inside radius, while the drill unit can reach to a top height of 4.4 m (14 ft. 6 in.). With a length of 10.5 m and just 1.23 m wide (34 ft. 8 in. x 48½ in.), the rig uses a Cummins diesel engine for tramming and electric power for bolting.
Canopies protect the operator in both driving and basket-work positions.
Fletcher's 3113 machine is designed for bolting in stope conditions as narrow as 2 m (6 ft. 6 in.). Drilling, resin insertion and bolting is all done from a boom-mounted, canopy-protected operator's basket. With a 2-m tramming height, the machine is 8.8 m long and 1.2 m wide, yet can install bolts up to 4.6 m above the floor level. Bolts up to 1.8 m long can be drilled and installed in a single pass.
Meanwhile, the 3116-AD/E roofbolter is designed for installing commonly used bolts in the back or either sidewall, in headings from 2.7 m (8 ft. 10 in.) to 5.3 m (17 ft. 6 in.) wide and up to 5.7 m (18 ft.10 in.) high. Again, diesel tramming with electro-hydraulic bolting gives cost-effective operation in an improved working environment, the company said, with the articulated design allowing the rig to tram and set up in tight headings, circular ramps or crosscuts.
Scaling is also an area where Fletcher believes narrow-vein operators can benefit from using its machines, Hardman said. He cited the example of the 3224AD articulated scaler, which measures just 2.1 m wide yet can reach roof heights of up to 7.3 m (24 ft) and has a fully enclosed cab to ensure operator safety.
Paus Introduces High-altitude Loader
The German manufacturer, Hermann Paus Maschinenfabrik, has launched a new generation of compact loader, which, it said, has been developed specifically for use at altitude. The PFL 8 Z production vehicle sets new standards in terms of productivity, maneuverability and performance, the company claims, with the updated model incorporating many years of experience gained in hard-rock mining at altitude.
With an unladen weight of 5.3 metric tons (mt), a maximum bucket volume of 0.8 m3and a maximum payload of 1.8 mt, the PFL 8 Z was developed for the extremely difficult working conditions in ultra-small-scale mining, according to Paus. The loader is equipped with a 69-kW air-cooled Deutz diesel engine, certified to COM II, delivering high torque, good exhaust emission values and low fuel consumption. A new Paus power drive unit automatically adjusts the traction power and speed to the specific loading or hauling requirements, leading to reduced tire and brake wear and significantly reducing operating and maintenance costs.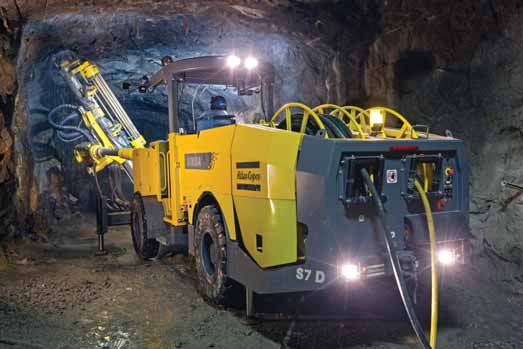 Atlas Copco's Simba S7D, designed for production drilling in narrow-vein applications, is equipped with a singleboom
long-hole drilling module.
A newly developed, high-performance hydraulics concept guarantees maximum breakout force and drive power with minimal power loss, Paus said, with the system being particularly effective where the machine has short trips with lots of reversing. Newly designed Z-kinematics and an optimized bucket shape also allow the operator to fill and empty the bucket faster, making the vehicle more efficient.
Paus noted that it has designed the PFL 8 Z for operator comfort, with simple ergonomic joystick controls that are clearly arranged within the cab and are within easy reach of the operator. In terms of safety equipment, the vehicle is fitted with a ROPS/FOPS protective cab roof, Posi Stop braking system and a dead-man's switch integrated into the operator's door. The loader can be equipped with a semiautomatic or fully automatic fire extinguishing system at the customer's request. Side entry also helps to reduce hazards and to improve comfort. The LED lights on the rear and front ends, which act as flashlights in the event of damage to the machine, are an additional safety feature, and there is also a beacon light to warn other vehicles.
Paus said that, as with all its machines, simple and fast access to service points is a matter of course. A display with a simple CANbus connection is integrated into the display panel for rapid fault analysis, and to transmit key vehicle data and fault codes to the operator or service personnel. The use of a CANbus connection also means that the amount of cabling is reduced, so eliminating potential fault sources. In addition, the PFL 8 Z has an optimized maintenance system with larger access doors for easier access.
Should the hydraulic oil temperature exceed the programmed temperature range, the drive is reduced to half power, giving lower maintenance costs and reduced downtime.
The company said it places great importance on offering its customers individually tailor-made solutions. Alongside the standard version, the new loader is available with a range of different bucket versions for different uses. There is also an optional quickchange system, meaning that it can carry different types of add-on equipment such as fork arms, crane hooks or even a cage, thereby helping to add to its capabilities without incurring the investment cost of buying other standalone machines.
A Full Narrow-vein Range
Atlas Copco's range of equipment suitable for use in narrow-vein applications includes development jumbos, stoping and bolting rigs, and LHDs. The Boomer T1D, for instance, is a singleboom jumbo, equipped with a heavy-duty boom and capable of carrying a range of drill options to suit individual customers' requirements.
For tramming, the machine is powered by a 55-kW (78-hp) Deutz engine, certificated to meet Tier 3/Stage IIIA emission requirements, while drilling power is electro-hydraulic. It carries a cable reel sufficient to hold up to 200 m (219 yd) of power cable, depending on the power requirements of the drill used and the voltage supplied.
With a length of less than 10 m (33 ft) including the boom, and just 1.3 m wide, 40° articulation means that the machine can maneuver around a 3-m inside-radius turn. Its face coverage is up to 4.9 m high by 4.75 m wide, with the capability of drilling down to 1.6 m below floor level—giving a maximum 23 m2 area coverage.
For rockbolting, Atlas Copco offers its Boltec S, a fully mechanized rig for 1.5- to 2.4-m bolt lengths that has an effective roof height of up to 7.5 m (24 ft. 6 in.). Tramming power is provided by a similar Deutz engine to that used on the Boomer T1D, with electrohydraulic bolting functions. The rig's magazine carries 10 bolts, and can handle resin or cement cartridges, as well as Splitset or Swellex bolts.


Aramine's miniDriller, pictured here, is a kit that can be mounted on the company's L130 LHD in place of the bucket.
The rig's control system incorporates both drilling and bolting in a single, color-display operating panel, and can be upgraded to a higher degree of automation, Atlas Copco said. The operator can view all of the information and settings needed on the display, including parameters such as pressure gauges and the hole depth, using a USB card to transfer data and store optimal drill settings. The control panel also includes a diagnostic system.
The company's Simba S7D, designed for production drilling in narrowvein applications, has a similar carrier vehicle to the other rigs, but is equipped with a single-boom long-hole drilling module. Using a hydraulic top-hammer COP-1800 series drill with a 10-plusone-rod carousel, the unit can handle hole depths of up to 20 m (66 ft.) using R32, TC35, T38 or T45 rods to drill holes in the range of 51 mm to 76 mm (2-3 in.).
Each of the drill rigs mentioned here come with a FOPS-compliant, telescopic operator-protection canopy as standard, with the option of a fully enclosed cab.
When it comes to loading and hauling, Atlas Copco's Scooptram ST7 may not be as small as some of the other machines available, but at just 2.1 m wide is still small enough to fit into tight headings. With a standard 3.1 m3 (4 yd 3 ) bucket, it can carry up to 6.8 mt.
The ST7 is powered by a 144-kW (193-hp) Cummins Tier 3-compliant engine requiring a ventilation rate of 241 m3 /minute and giving a fuel consumption of 37 liter/hour at full load. Atlas Copco claims that the machine has the best operator visibility in its class because of its low back end, while the operator has increased legroom in the cabin's footbox. Control is through ergonomic multi-function joysticks.
A Boomer T1D development rig and a Simba S7D are currently working at Norton Gold Fields' Paddington mine, near Kalgoorlie in Western Australia, Atlas Copco said. The underground resource is held in three vertical or nearvertical basalt-hosted veins that can grade up to 32 g/mt gold. Currently working at a depth of around 450 m, the mine has the potential for further resources at depth, according to Norton.
Stoping involves the Simba S7D long-hole drill, which can drill up to 20-m-deep holes using 1.8 m rods. Its COP 1838 rock drill handles hole diameters of 55-89 mm, with Atlas Copco stating that the rig's drilling accuracy allows the precise shape of the vein to be isolated from the surrounding waste, thereby minimizing dilution.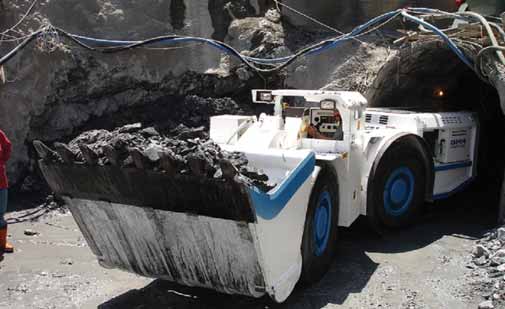 GHH Fahrzeuge's 4.5-mt-payload LF-5 LHD now features a water-cooled, Tier 3-compliant Deutz engine,
with a Tier 4i/f Deutz engine as an option.
Mini-machines from France
From its headquarters in the south of France, Aramine not only offers rebuild services for underground drilling, hauling and utility equipment, but also supplies its own range of machines that are specifically aimed at the narrow-vein market. In addition to the L130D miniLoader, featured on p. 36 of this issue, Aramine's product portfolio includes the D130D miniDriller, the L110E and L130E miniLoaders, and the L150D miniLoader. It also produces the S150D, a mini-scaler version, equipped with a boom-mounted hydraulic hammer.
The miniDriller is, in fact, a kit that can be mounted on an L130 LHD in place of the bucket. Both diesel and electric-powered versions are available, corresponding to the equivalent LHD carriers. With a width of just 1,040 mm (or 1,205 mm with rim extenders), the unit provides face coverage of 1.4 m wide by up to 2.8 m high from one setup, or a maximum of 3.4 m x 3.3 m by moving the machine during the drilling cycle. It can drill holes up to 2.2 m deep at 32- to 45-mm diameter.
The company's smallest LHD, the L110E, is just 880 mm (2 ft. 11 in.) wide. Powered by a 30-kW electric motor, it has a 0.5-m 3bucket and can carry up to 1 mt. At the other end of the range, the 1.2-m-wide, diesel-powered L150D can be fitted with 0.6- to 0.8-m 3 buckets, with a maximum load of 1.4 mt.
New Versions and Special Designs
Since being founded in 1964, the German company GHH Fahrzeuge has developed a product range that includes LHDs and underground dump trucks, plus drills and bolters in cooperation with its subsidiary, MineMaster. The company's managing director, Mortimer Glinz, said its product range includes machinery from simple technology to hydrostatic machines and super-low-profile loaders.
GHH Fahrzeuge's current portfolio includes about 15 different diesel- and electric-driven LHD models as well as various custom-made and special vehicles, such as scaling rigs. Super-lowprofile loaders (its "SLP" product range) with a machine height of down to 1.5 m can operate in heading heights of less than 1.7 m. Glinz said that the African market in particular has shown high demand for its compact LHDs for narrow-vein and low-height applications.
Recent developments have included a new revision of the compact (length 7.7 m, width 1.8 m, height 2.2 m and a 4.5-mt payload) LF-5 LHD, which is currently in production. The design now features a water-cooled Deutz engine complying with Tier 3 emission standards, while a Tier 4i/f Deutz engine is an available option, significantly reducing required ventilation rates.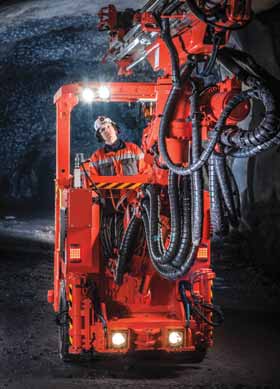 Sandvik's new DD211 is an electro-hydraulic rig for narrow-vein
mining.
Glinz added that besides the MKA15 compact dump truck (15-t payload, 8.3-m length, 1.8-m width and 2.4-m height above the driver's canopy), a new revision of the MK-A20 dump truck (payload 20 t) with different dump box options has recently been developed. It features ROPS/FOPS certification and a Tier 3-compliant, water-cooled Cummins engine, as well as various ergonomic improvements, he said. The MK-A20 shares the same platform as the MK-A5m 3 Mixer, a compact, highly versatile concrete mixer.
According to Glinz, in 2012 GHH faced a new challenge when a Chinese contractor wanted a pair of narrow-vein LHDs for a hydro-power plant in Ecuador. Although the initial design called for a 6 m x 6 m tunnel profile, 16.3 km long, cost pressures resulted in the profile being reduced to 5 m x 5 m. A further constraint was that only two working faces were allowed, without any sidewall niches for loading, so the only option was a narrow-vein LHD equipped with a side-tipping bucket.
In addition, the customer required a super-simple machine, as the conditions on site were somewhat basic. GHH offered LF-5s. With a lead time of only six months, the company delivered the machines to Ecuador, then trained the Chinese operators on site, as well as carrying out on-site modifications necessitated by another change in the project design.
Sandvik's Newest Narrow-vein Rig
As noted in the October 2013 edition of E&MJ (pp. 52-53), Sandvik took the opportunity provided by its customer day the previous month at Tampere, Finland, to introduce its latest development jumbo for the narrow-vein mining market. Tracing its heritage back to the Secoma Quasar of the late 1980s, the new DD211 is an electro-hydraulic rig which, the company said, features safety upgrades from the previous model and more automation for increased production.
Speaking at the launch, Johannes Välivaara, product manager for underground development drills at Sandvik Mining, said that the DD211 has been developed primarily for the Latin America, North America and CIS markets, and has the same key safety and productivity features as the rest of the company's range of drill rigs. "A major feature of this new rig is the Sandvik electro-hydraulic control system, designed to enable accurate drilling performance in a wide range of rock conditions, ensuring efficient control across a variety of operations," he said. "Drilling power is provided through our RD314 rock drill, ensuring not only improved drilling performance and precision, but also reduced drill steel consumption."
Sandvik agreed that dilution control is a key challenge in the economics of narrow-vein mining. One of the main aspects in effective dilution control, the company added, is not only to keep the drilling operation efficient and precise but also to plan the charging and blasting carefully. "The new DD211 provides a high level of accuracy and control for drilling that helps the subsequent process stages to achieve maximum precision with minimized overbreak," Välivaara commented in an article for Sandvik's Solid Ground magazine.
In standard configuration, the DD211 is supplied with a Sandvik SB20 boom, providing maximum coverage up to 26 m 2. An option is to equip it with an SB20NV boom and CFX 6/12 telescopic feed, designed for applications where high levels of maneuverability are required when drilling up-holes and cross-cuts in tight spaces. Measuring 10.7 m long and 2.5 or 2.7 m wide, the carrier has been designed to operate in 2.5 m x 2.5 m headings, with a turning radius of just 2.5 m enabling it to negotiate tight curves.
Drilling is controlled through Sandvik's THC561 electro-hydraulic system, incorporating constant-speed drilling controls, stop-and-return automatics and air-mist flushing with rockdrill return. The company claims that its 110-Hz percussion rate allows the RD314 drill used on the rig to deliver faster penetration and lower consumables usage than previous drills fitted to this size of machine. Higher impact frequencies also lead to more accurate drilling and hence less dilution, Sandvik added. Compact, at just 559 mm long, the shankless drill is designed to allow the use of longer drill steel within restricted spaces, with hole diameters up to 51 mm (2 in.).
"The DD211 incorporates the highest levels of safety, including a fully ROPS/FOPS-compliant canopy, upgraded braking systems, automatic fire suppression and indicator lights for both front and rear jacks," Välivaara said at the launch. "Operator comfort has been further improved through the use of a more ergonomically designed seat, including the ability to turn the seat for drilling. There are also low-effort joystick controls."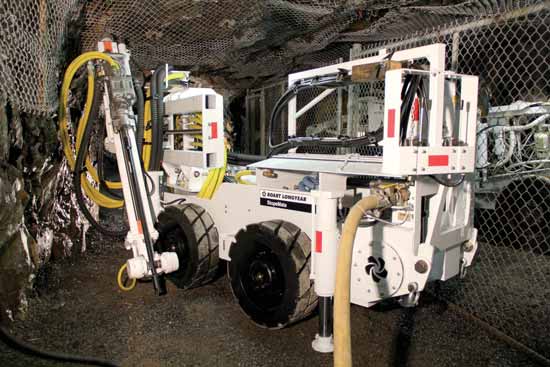 Boart Longyear's StopeMate, which weighs only 3.75 mt, is small enough to fit through a 1.3 x 1.9-m (50 x 75-in.) opening and can
fit into a man cage with no disassembly required.
Boart Longyear's Focus
As noted in last year's review (E&MJ, March 2013, pp. 32-36), Boart Longyear's focus for narrow-vein applications is on long-hole rigs for stoping. Weighing just 3.75 mt, its StopeMate pneumatic production drill is small enough to fit through a 1.3-m x 1.9-m (50 x 75-in.) opening, and can fit into a man cage with no disassembly. It can also be split into six manageable pieces for access into smaller workplaces. The S36 drill can handle drilling depths of 12 to 25 m, with 51- to 76-mm hole diameters.
Meanwhile, the 7.3-mt StopeMaster hydraulic production drill is designed for bulk mining applications. It has depth capabilities of 20-35 m drilling 64- to 106-mm-diameter holes, and has the option of a self-propelled diesel drive. Both rigs have the capability to disengage the final drive wheel ends in order to facilitate towing where required.
Boart Longyear's global product manager, John Nielson, said the company developed its narrow-vein rigs as solutions for niche drilling applications. "The StopeMate and StopeMaster are very well-suited for these captive stope applications," he said, adding that the company sees the narrow-vein market remaining close to its current size, with slow growth potential.
"Our StopeMate and StopeMaster rigs are ideal for the tight and narrow spaces typically seen in underground mining operations," Nielson said. "Each is specifically designed for underground applications allowing for superior access, mobility, flexibility and productivity in tight access locations. Both offer durable and compact solutions for developing underground shafts.
"Both are equipped with 360° rotation for greater flexibility. With a rotating and pivoting traverse, the StopeMate allows for versatile configurations and is better suited for smaller-hole drilling. This configuration ensures precision drilling in both parallel and straight applications, and accurate operator control in drop-raise, cable-bolting, fandrilling, and parallel-drilling applications," Nielson said.
According to Nielson, safety is a key concern for Boart Longyear. Both rigs are equipped with heavy-duty hoses to protect the driller from hose rupture, and guarding for protection from moving parts. Removing the operators from the immediate drilling area, the rigs can be controlled with a remote positioning system up to 25 m away, he said, while noting that the StopeMaster is equipped with an emergency-stop circuit to cut the power to the drill in the event of an incident.
While it is true that narrow-vein deposits are never again going to form a major supply source for the world's mineral commodities, they will continue to represent a significant and geologically interesting target. The challenges are different from, say, open stoping or block caving, and the designs of equipment used clearly recognize this. That the equipment sector includes both the leading manufacturers and smaller, niche suppliers is clear proof of its continuing strength.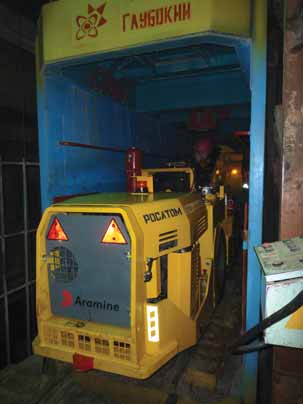 The L130D is small enough for cage transport.
Aramine Loaders Win Russian Uranium
In 2010, the Russian uranium production company, ARMZ, took delivery of a fleet of 11 L130D miniLoaders, supplied by the French company, Aramine. Designed specifically for narrow-vein applications, the machines are just 1,040 mm wide and have a 2,125 mm inside turning radius when equipped with a 0.6-m3 (1.2 mt) rock bucket.
Based on its output in 2012, ARMZ (Rosatom's mining division) is the world's third-largest uranium company, having produced 7,572 metric tons (mt) that year. It has underground and insitu leach operations in Russia, as well as international interests through its subsidiary, Canada's Uranium One Inc. Its largest Russian operation, the Priargunsky Industry Mining and Chemical Union, produces uranium from underground mines at Kraznokamensk in the far southeast of the country, working vein-type resources hosted in the Streltsovskoye caldera.
Discovered in 1963, Streltsovskoye is believed to be the world's largest volcanogenic uranium deposit. Recent estimates give a resource of some 280,000 mt of uranium—equivalent to 330,000 mt of U3O8 , with reserves of 111,100 mt of uranium at the beginning of 2013.
Lying only about 40 km from the Russian-Chinese border, and 110 km from the point where Russia, China and Mongolia meet, the Priargunsky operation began in the late 1960s. Today it encompasses uranium production from four underground mines, with hydrometallurgical and sulphuric acid plants, and other facilities. A fifth mine is now under development. It is also self-sufficient in power supplies, with its own lignite-mining operation. To place the operation in context, its output since 1968 has been more than 130,000 mt of uranium.
No fewer than 19 separate uranium deposits have been identified within the Streltsovskoye caldera structure, with orebodies mainly occurring in steeply dipping fault zones. The ore field was originally explored for its nearsurface fluorite resources, with the uranium mineralization subsequently being discovered below these. The two largest individual deposits are hosted in basement rocks, while the remainder occur in sedimentary and volcanogenic rocks within the caldera; reserves have been estimated only for the five largest, where mining or development is currently under way.
While past production from Priargunsky has been more than 3,500 mt/y, this has fallen back in recent years, with ARMZ now focusing on investments aimed at maintaining output at 2,000 t/y from the mines. Major factors in the downturn have been the exhaustion of the shallower, highergrade deposits that were mined first, and the retirement of a significant proportion of the mining workforce, leaving the company with a major skills shortage.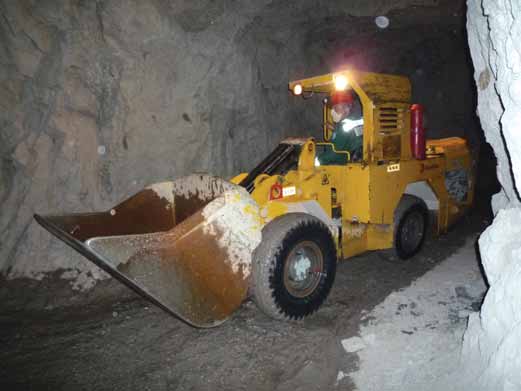 Aramine claims that its L130D is more powerful and productive than competitive LHDs working at Priargunsky.
The upshot of the crisis-management plant now in operation was that the mines produced 2,120 mt of uranium during 2012 from 1.8 million mt of ore, with some 1,600 new employees and apprentices being hired.
Priargunsky's main mining method is cut-and-fill, with the company currently evaluating the use of block insitu leaching as well. The veins are typically 1- to 1.5-m wide, carrying ore grading 0.13% uranium, with operations at depths of between 900 m and 1,300 m (2,950 and 4,265 ft). The Aramine mini-loaders are used in Mines Nos. 1 and 2, and in the Glubokiy ("deep") mine, handling production ore. Typical haul distances range from 150 m to 300 m, with nine hours of production time each day.
Weighing 4.7 mt unloaded, the L130D loader is designed for use in tunnels measuring a minimum of 1.8-m wide and 2.3-m high. Aramine provides a choice of three diesel engines for these machines; a 43-kW Perkins water-cooled unit, or a 50-kW air-cooled Deutz, with a 40-kW Deutz engine available for high-altitude operations up to 4,000 m. The machine's ventilation requirement is 86 m 3 /minute.
The operator's position is sidemounted, with a ROPS/FOPS canopy above. Hydrostatic drive provides tramming speeds of up to 8.5 km/h, with the machine offering a production capacity of between 30 mt/h and 40 mt/h over a 100-m haul distance, down to 15 mt/h at 300 m.
As all of the mines at Priargunsky are shaft-accessed, the Aramine loaders had to be disassembled, lowered in pieces then reassembled underground. Today, all of the maintenance is carried out in underground workshops.
According to Alexei Nevskiy, asset management director for ARMZ, the L-130s have shown good reliability since they were commissioned, not only because of their build quality but also reflecting the after-sales support provided by Aramine's service engineers.
From Aramine's Perspective:
E&MJasked Aramine's area sales manager for Priargunsky, Kirill Tolmatchev, why he thought that the L130 LHDs had proved to be successful in the difficult conditions underground there. "The loaders have proved to be very reliable," he said. "Indeed, during last year there were only two machine failures, and overall the loaders had three times the availability of competitive machines there.
"The working conditions are very tough," he said. "The machines can be overloaded, and the roadway conditions can be both rough and muddy. It is also very humid underground.
"The L130s are being used for both development and production," Tolmatchev explained. "One of the our big selling points is that they have a 20% bigger bucket than competitive machines, so are much more productive than other units of a similar width. They also have a more powerful engine."
Asked about the challenges of supplying service to machines in such a remote location, Tolmatchev said the mine does its own maintenance with support from Aramine. "We have a dedicated spares stock specially for Priagunsky," he added, "which means that spares are available on site."
With the mine developing new underground operations, Tolmatchev is confident of winning more orders for Aramine's LHDs. "We plan to have a long-term relationship with Priargunsky," he said.
---
As featured in Womp 2014 Vol 03 - www.womp-int.com