Cliffs to Cut 2014 Capex and Idle Wabush Mine, Faces Restructuring Call
---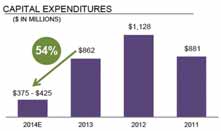 Cliffs Natural Resources made news on multiple fronts in mid-February. On February 11, the company announced a more than 50% year-on-year reduction of its 2014 capital expenditures in comparison with 2013 and said it would idle production at its Wabush Scully iron ore mine in Labrador, Canada, by the end of the first quarter. Two days later, the company reported full-year 2013 net income of $414 million, compared with a net loss of $899 million in 2012. And, on February 14, the company issued a lengthy open letter to shareholders, responding to calls for significant restructuring of the company by Casablanca Capital, an investment company that holds a 5.2% interest in Cliffs.

Cliffs expects its full-year 2014 capital expenditures to be in a range of $375 million to $425 million, down sharply from its full-year 2013 capital spending of $862 million. The decrease is driven by a significant reduction in the company's expansion and tailings and water management capital spending at its Bloom Lake mine in Quebec.

Cliffs expects to produce and sell 5.5 million to 6.5 million mt of iron ore from the Bloom Lake mine's first phase in 2014, which is in line with full-year 2013 results. Cliffs expects Bloom Lake's fullyear 2014 cash costs to be $85 to $90/mt vs. fourth-quarter 2013 results of $89/mt. Cliffs indicated that it would idle Bloom Lake if iron ore pricing significantly decreased for an extended period of time.

With its Phase II Bloom Lake expansion indefinitely suspended, Cliffs has made adjustments to various components of the mine plan, largely in the project's tailings and water management strategy. This has enabled Cliffs to defer and lower its year-over-year capital spending while continuing to operate Phase I. Bloom Lake's full-year 2014 capital expenditures will be approximately $200 million.

In announcing that it is idling the Wabush Scully mine, Cliffs said the mine's costs had become unsustainably high, including fourth-quarter 2013 cash costs of $143/mt.

Cliffs idled the Wabush mine's Pointe Noire pellet plant in June 2013. Approximately 500 employees at both the Wabush Scully mine and the Pointe Noire rail and port operation in Quebec will be impacted by these actions.

Cliffs anticipates incurring idling costs related to the Wabush mine of approximately $100 million in 2014. Cliffs will continue operating the port at Pointe Noire in Sept-Îles, Quebec.

Calling for a Spin-off
Casablanca Capital raised a number of issues regarding Cliffs in a January 27 letter addressed to Cliff's Executive Chairman James Kirsch. Among these issues, Casablanca called for Cliffs to spin-off its international assets and to double its dividend.

Cliff's letter to shareholders responded: "Our board and management team are fully committed to pursuing a course that enhances long-term shareholder value—and we want to accomplish it in a manner that is sustainable and that will benefit all of our shareholders. As we do with any significant investor, Cliffs' Board of Directors and management team have attempted to maintain a constructive dialogue with Casablanca... We are disappointed that Casablanca seems intent on waging a public campaign rather than continuing its private engagement with our chairman and management to address our doubts and concerns relating to Casablanca's proposal."

Cliffs' letter stated that Casablanca's call for a spin-off of Cliff's international assets failed to appreciate that the two contemplated independent entities would require the financial strength to operate and fund capital expenditures throughout the business cycle, and failed to take into account the volatility in the iron ore and coal marketplace. In addition, Casablanca's separation proposal failed to take into account the financial dis-synergies that would result from such a structure, and the letter discussed in detail what those dis-synergies might be.

Regarding Casablanca's proposal for a doubling of Cliffs' dividend, the letter stated, "We believe that Cliffs' dividend should be increased only to the extent that it is sustainable and will not put the company's operations at risk. Casablanca fails to demonstrate that either is the case in their proposal."

The letter also discussed at considerable length problems that Cliffs' management sees with several other suggestions from Casablanca as to how the company should be run.
---
As featured in Womp 2014 Vol 03 - www.womp-int.com