Augusta Board Opposes HudBay Buyout Offer
---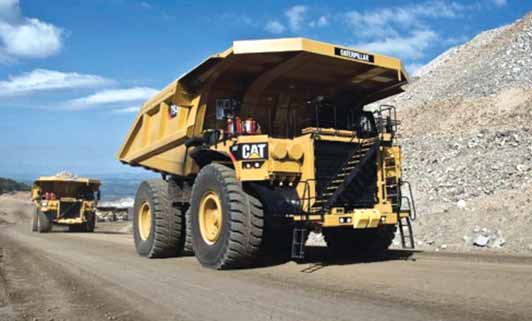 Augusta Resources' flagship project is the Rosemont Cu/Mo property in southeastern Arizona, USA. According to the
Vancouver, Canada-based company, the project is 'construction ready,' having already spent $90 million on equipment—with
most major items procured at fixed-price contracts set in 2008-2009—and having paid for and taken delivery of the project's
grinding mills and drives. (Photo courtesy of Augusta Resources)

Augusta Resource Corp.'s board of directors unanimously recommended on February 24, that the company's shareholders reject an unsolicited offer from HudBay Minerals to acquire all of Augusta's outstanding common shares. HudBay had announced on February 9 plans for an offer to acquire all of the Augusta shares that it did not already own. At that time, HudBay owned about 16% of Augusta. HudBay's all-share offer valued Augusta at about C$540 million.

Augusta's primary asset is its Rosemont copper-molybdenum project 50 km southeast of Tucson, Arizona. The project is based on a large-tonnage coppermolybdenum deposit that is amenable to open-pit mining. Sulphide ore will be processed to produce separate copper and molybdenum concentrates. The project's 2012 feasibility study calls for concentrator throughput to average 75,000 st/d for the first four years of production, ramping up to 90,000 short tons per day (st/d) during the second half of a mine life that is estimated at more than 21 years.

Production of copper in concentrates will average about 243 million lb/y over the life of the mine. Total initial capital costs for construction, commissioning, and mine pre-development are estimated at $1.226 billion.

Regarding the HudBay offer, Augusta's Executive Chairman Richard Warke said, "The unsolicited offer is grossly inadequate and does not come close to recognizing the full and fair value of Augusta and the world-class Rosemont project. It not only is opportunistic, failing to compensate Augusta's shareholders adequately at a time when the company is at an inflection point of significant value creation, but it replaces this lost value with an increased exposure to risk. Our board rejects this low-ball bid and recommends that our shareholders do not tender their common shares."

Augusta has received seven of the eight major permits for the Rosemont project and anticipates that the last major permit, the Clean Water Act 404 permit, will be issued by the end of the second quarter of 2014. Construction is expected to begin in mid-2014.

The Augusta press release stated that directors, officers, and four other shareholders of Augusta holding more than 33% of Augusta's shares had advised that they would not tender to the HudBay offer. Among the offer's conditions is a condition that no less than 66⅔% of Augusta shares, calculated on a fully diluted basis, be tendered to the offer and not withdrawn.

"Given the determination of the directors, officers, and these four shareholders, it is a virtual certainty that, as structured, the unsolicited offer cannot succeed," the Augusta press release concluded.
---
As featured in Womp 2014 Vol 03 - www.womp-int.com