Designing Mines with Data in Mind
The industry's need for 'more iron' is matched by its need for more information
By Russell A. Carter, Managing Editor
---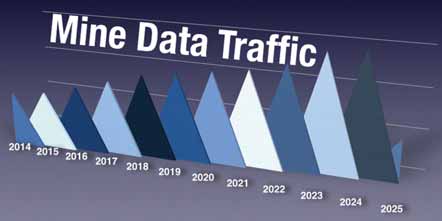 One of the most perplexing challenges facing the global mining industry is how to handle the increasing volume of… everything. As mines mature and stripping ratios increase, as new deposits are found at greater depths, and as rising consumer appetites require more raw materials, the methods, equipment and technological scope of today's industry will have to adapt accordingly to meet tomorrow's demands.

To capsulize the problem, let's just say these challenges involve all phases of mining, from dirt to data. For starters, the typical volume of material that has to be moved from one point to another—either on-site or site to site—as part of normal production activity has increased dramatically in recent years. This trend, for example, puts pressure on the major bulk-materials handling equipment suppliers who are typically chosen to provide systems for large-scale hard-rock mining projects.

Thomas Gramling, managing director/ executive vice president at Tenova TAKRAF in Denver, Colorado, told E&MJthat capacity requirements for the company's overland and yard/plant conveyor systems have increased noticeably every few years for the past decade or more. "Fifteen years ago we commonly saw system capacities in the 7,000 metric-ton-per-hour range; now, 10,000 to 13,000 tons per hour is common," he explained. "It's required us to take a whole new approach when it comes to conveyor and crusher dynamics."

TAKRAF, for instance, has recently been involved in two very large capacity conveyor and bulk-materials handling projects, both in Mexico—a 21-conveyor overland and plant installation at Grupo Mexico's Buena Vista del Cobre mine (formerly Cananea) in Sonora, and a 13,000 mt/h waste rock spreader system at Goldcorp's Peñasquito mine. It has partnered with ABB to develop gearless-drive conveyor applications for several projects, and also is refining its chute and hopper design elements to accommodate anticipated higher crusher throughput requests from customers. It's also finding more instances where extremely high-tension conveyor systems are necessary, demanding belts rated up to ST10,000.

Looking at problems from a new perspective isn't an unfamiliar activity for TAKRAF, said Gramling. "Most of our projects are of a size and nature that don't lend themselves to off-the-shelf solutions. We take a fresh look at each of them. But the scope has changed. In the past, we were mostly focused on getting material from the mine to the yard or stockpile. Now, we have to look at a bigger design picture—basically, getting the right-sized material from the mine to the start of the flotation circuit."

It's a challenge that requires new engineering approaches, and adaptation of the latest technologies, said Gramling.

More Equipment = More Information
The industry's need for "more iron" is matched by its need for more information—to manage and understand the equipment and processes that will allow it to move more material farther, faster and safer. With a mine operator's money riding on the reliability and performance of possibly fewer, but larger-capacity systems, comprehensive operational data and predictive analysis capabilities will continue to grow in importance, and the industry will need to apply sharper focus to future data management demands.

The ever-increasing pace of data collection, analysis and application strategy is a given in today's business environment as banks, retail chains, social networks and other commercial enterprises look for ways to leverage the massive volumes of information harvested from "mining" their transactional data. But inside this global technological whirlwind, the real business of mining—involving rocks and dirt, large machines and often, physical risk—and its growing high-tech sophistication tends to be obscured by consumer-side developments.

Nevertheless, the mining sector is steadily bulldozing ahead through many operational obstacles on its way to becoming an increasingly technology-rich industry. As an example, Rio Tinto's CEO, Sam Walsh, recently commented that the company's growing autonomous truck fleet had moved more than 100 million mt of material at its iron ore operations in Australia's Pilbara and while doing so had provided double-digit improvements in maintenance, tire life, fuel savings and environmental performance. Another report from the Pilbara indicated that Rio Tinto's increasingly autonomous operations there were generating almost 2.5 terabytes of data per minute. A terabyte of data is roughly equal to 1,000 copies of the Encyclopedia Britannica.

For mine operators, whose historical focus has customarily been on the gritty business of finding and exploiting valuable mineral deposits, success requires mastery of the mechanics of minimizing a project's capital costs per ton of product while keeping other related factors, such as labor costs and energy usage, in check. That hasn't changed, but the industry's traditional approach toward the software-based tools needed to achieve those goals has generally involved tailored, often proprietary datacom solutions that sometimes don't play well, or at all, with others, leading to data management inefficiencies.

However, where once these solutions may have been addressed individually, during various phases of project development or commercial production, or by different teams or business groups within the mining organization, the pressures of today's business environment and the opportunities offered by advanced technology and broader interconnectivity are now pushing mine operators to look more closely at planning their projects from the start to include allinclusive, well-integrated strategies and arrangements for managing data effectively. Meanwhile, in recent years, the lingering financial burdens of the Great Recession, weakening investor interest and rising competitive intensity also have forced operators to pay more attention to asset management and optimization solutions for mine and plant projects as well, in order to improve capital efficiency and gain better overall economic performance.

The producer that puts these puzzle pieces into place most quickly—efficiently applying data collection and analysis to support and inform operational and longterm management decisions—may be the first to grab the competitive edge offered by real-time control of the entire mineralproduction process.

That achievement likely begins by developing or adopting the platforms needed to connect existing disparate systems in one location together, moving on to wider integration of systems at multiple locations as dictated by a company's business strategy. That, in turn, would require acceptance and understanding of the "Internet of Things (IoT)," a concept that, right now, has many definitions but few standards. One of the more cogent definitions of IoT is offered by SAP, the German multinational software corporation that makes enterprise software. According to SAP, IoT is: "A world where physical objects are seamlessly integrated into the information network, and where the physical objects can become active participants in business processes. Services are available to interact with these 'smart objects' over the Internet, query and change their state and any information associated with them, taking into account security and privacy issues."

The Road to Interoperability
Schneider Electric, for example, considers the trends of Big Data and modernization emerging within the mining segment as ways to address some of the challenges. "Big Data for Mining" under its integrated mine planning and optimization philosophy implements data collection and analytics across mining operations, emphasizing the importance of integration across disciplines, open architectures, and asset and resources management within mine sites. Big Data extracts value by leveraging data gathering and process analytics onto existing embedded capabilities to identify abnormalities and pinpoint waste.

Schneider Electric also offers "Intelligent Modernization for Mining" as a related approach when consulting with its customers on modernization strategies, focusing on creating efficiency through operations and supply chain that use less energy and water, increase productivity, reduce maintenance costs and increase cost effectiveness. Intelligent modernization focuses on ensuring that capital investments are offset by an increase in efficiency to streamline operations to keep costs low.

E&MJ spoke recently with Greg Magdanz, director of the Mining, Minerals and Metals Competency Center at Schneider Electric, about the opportunities and challenges Big Data and modernization present for the mining industry. Magdanz said, "Schneider Electric sees Big Data Analytics as a tool to assist producers in handling crucial business issues such as skilled labor shortages, rising consumables and energy costs, and problems associated with developing orebodies that are likely to be deeper in the earth, located in more remote locations, and quite probably lower in grade than before."

"If operators can't find ways to get ahead of these issues, they'll likely be facing constantly lower margins and operational problems. Our goal is to provide solutions that easily integrate across the mine and provide the kind of information that leads to better business decisions," Magdanz explained.

He noted that solutions can be implemented as early as the feasibility or even prefeasibility stages of a project, enabling, for example, project team members to simulate and define the scope and components of mine-site logistics—size of haulage fleet, conveyance and storage needs, rail or ship loading capacity, etc.

But according to Magdanz, it's really never too late to incorporate modernization into a project or operating mine: "Customers don't have to go full-bore into a complete modernization program. All of our solutions are based on modular concepts, and because we design them on openarchitecture principles, it doesn't matter so much what specific type or brand of equipment is installed in the mine or plant. The modules can be implemented on a progressive basis to reach the level of data communications and collection required."

Implementing Intelligence
Bentley Systems, a provider of "information mobility" systems to improve asset performance, also offers a roadmap to "intelligent mining," a concept that was explained in a presentation by Bentley's Leslie McHattie, a reliability practitioner, at the 23 rd World Mining Congress in Montreal, Canada.

"Intelligent mining," said McHattie, "implies the application of information technology at every phase of the mining value chain, from exploration and geological modeling to equipment, operations and maintenance, and logistics and transportation. These are really industry-specific, enterprise-class software solutions focused on using information technology to support the business processes of mining and make them more efficient and effective.

"Overlaying the physical world with the digital or virtual world enables us to model and simulate our assets, giving us the ability to effectively design, build, and ultimately optimize the performance and reliability of our assets throughout the lifecycle. The digital asset, often a 3-D model, is created initially during the engineering and construction phase, and is handed over to the operator before the mine goes into operation. Combined with geospatial or geographic information systems, the operator has a complete digital representation of the physical world, which forms the foundation for risk and performance management, along with compliance and regulatory reporting.

"But," she continued, "consider that once the mine is in operation, it throws off an endless stream of data in the form of performance and condition data from sensors and monitoring devices on fixed and mobile assets through networks, servers and services. This 'Big Data' can be processed and analyzed to spot trends, help predict events, and formulate reliability strategies as early as the design stage (e.g., reliability centered design).

"Intelligent mining," McHattie concluded, "implies that massive amounts of data augment the reality of the physical mine, plant and equipment. This embedded intelligence can be used to optimize operational efficiency, increase asset availability and utilization, improve safety and environmental integrity, and maximize return on investment.

Asset Optimization: Lessons to be Learned
Using Big Data as a management cornerstone makes subsequent asset optimization efforts easier and more effective, according to Schneider Electric's Greg Johnson, senior manager, Operations Optimization at the company's Mining & Metals Center of Excellence, who addressed the topic last year with a presentation titled Asset Optimization Systems: Five Lessons from 10 Years in Mining, also at the World Mining Congress.

As Johnson pointed out, mining has its own unique set of problems: "Mining companies are continually looking for ways to use information and systems to address these issues, but typically face problems of many disparate pieces of information, data duplication and time wastage in data gathering and a lack of a global perspective on plant information trends."

Johnson cited a recent typical review at a mining operation, where problems in the operational systems landscape were identified as:
• The software applications landscape is complex and fragmented;
• There are significant data quality issues;
• Considerable effort is spent moving data between applications; and
• Access to data is neither timely nor easy.

Asset performance is critical to production output, energy efficiency, recovery, environmental performance and schedule performance, according to Johnson, who went on to explain that "while it is possible and indeed necessary to work on the overall information systems architecture, the one system that can provide immediate benefits across the complete mining supply chain is the asset optimization system."

Johnson said good asset optimization "ensures the mine or plant is operating at its peak efficiency by identifying where, how and why production losses are occurring. By reporting scheduled and unscheduled events, as well as underperforming equipment, the system enables a complete analysis of causes of losses. This gives you the information you need to prioritize maintenance, improve operating procedures and prioritize capital expenditure."

Johnson's five lessons for achieving success with asset optimization are these:
• An asset optimization system is not just a "fault recording system," but also an identifier of business improvement opportunities.
• Spreadsheets, the traditional tool for recording production-related events, do not work sustainably. Some of the most common problems encountered with spreadsheets are manual entry errors, version control, lack of transparency, and no audit trail for manual changes.
• When implementing asset optimization, take the opportunity to re-integrate the production, maintenance and energy departments.
• Advanced planning and scheduling will not work without reliable capability. While new tools incorporating the latest optimization methods are available to globally optimize schedules, these tools will be less than successful if the assets in the supply chain do not perform reliably.
• New technology can do many things; technology is easy, but organizational change is hard. Implementation of an asset optimization system will change work practices in the organization. There is a need to invest solidly in change management.

Leading miners, said Johnson, are now extending asset optimization systems up and downstream, to provide information on the bottlenecks and losses in the entire mining delivery chain. With a consistent process and consistent system across the value chain, operators, engineers and managers can start identifying and implementing the next round of improvements and productivity gains.

As additional confirmation of this trend, GE Software, which offers predictive analytics software solutions to many industrial sectors, recently reported that Teck Resources and Hatch shared their views of Big Data for mining at GE's Mines+Machines 2013summit, an annual conference held by the company to discuss developments in the Industrial Internet.

Mike Bonneau, general manager for operational excellence at Teck Resources, said, "Our haul trucks have more than 200 different sensors on them, and we've had that capability for the last 15–20 years, but we really haven't taken full advantage of all the data that's coming off those pieces of equipment." Looking ahead, Bonneau saw an opportunity to harness the data to improve reliability and operations uptime and cut maintenance costs. "Ideally we want to establish a culture of continuous improvement across our entire organization," he said.

Similarly, GE customer and partner Hatch sees business transformation ahead for its own operations and for its consulting customers in the mining space. Hatch worked with GE to develop Proficy MaxxMine, a GE solution for mining companies. According to Bruce MacKay, Hatch's managing director for systems and process control, "If you have the MaxxMine solution… somebody is keeping an eye on things for you and can identify where the problem might be and what to do about it…. It allows the clients to plan ahead, the downtime can be organized so that it doesn't cost a lot, and they can minimize any impact to their production schedule."

Data Mining vs. Mining's Big Data: What's the Difference?
When compared with data in other sectors (e.g., government, financial services and retail), industrial data (such as that derived in a mining and processing environment) is different. It's creation and use are faster; safety considerations are more critical; and security environments are more restrictive. Computation requirements are also different. Industrial analytics need to be deployed on machines—sometimes in remote locations—as well as run on massive cloud-based computing environments. As a result, the integration and synchronization of data and analytics, often in real time, are needed more than in other sectors. Industrial businesses require a Big Data platform optimized for these unique characteristics.

The need for a new industrial Big Data platform is also driven by the advent of new and cheaper forms of computing, storage, and sensor technology, as well as the growing complexity of industrial companies themselves. Furthermore, industrial operators are looking for more consumer-like experiences in their workplaces, especially as the current generation retires.

— The Case for an Industrial Big Data Platform: Laying the Groundwork for the New Industrial Age, GE Software, 2013.
---
As featured in Womp 2014 Vol 01 - www.womp-int.com