Guyana Goldfields Commits to Developing Aurora Gold Project
---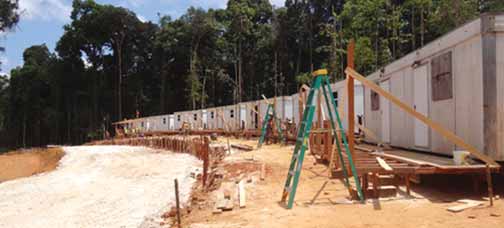 Worker accommodations under construction at Guyana Goldfields' Aurora project in northern Guyana.

Guyana Goldfields Board of Directors has approved a $238 million expenditure to bring the company's Aurora gold project in northern Guyana into commercial production. Mine planning calls for production of 3.29 million oz of gold over an initial 17-year mine life at an operating cash cost, including royalty, of $527/oz.

The capital expenditure for the Aurora project is contingent on successful completion of project financing and other approvals, which the company expects to finalize by the second quarter of 2014. The project is fully licensed and permitted. The infrastructure build is already in progress.

The Aurora project is expected to produce an average of 231,000 oz per year (oz/y) of gold over its first 10 years of operation and 194,000 oz/y over the life of the mine. Current planning calls for initial openpit production of 5,000 metric tons per day (mt/d) from the Rory's Knoll deposit and expansion to 10,000 mt/d in 2018 when underground mining begins. A ball mill will be added to facilitate the expansion.

Gold grades for the Aurora project average 2.74 g/mt. The ore is free milling, with excellent gold recovery of greater than 94%. Extensive additional mineralization has been identified at depth beyond current mine planning, and there is potential to expand the currently planned open pits.

Aurora project construction is anticipated to last 18 months, with commissioning of the mill beginning in the first quarter of 2015. Commercial gold production is targeted for mid-2015.

Guyana Goldfields is examining opportunities to reduce the capital expenditure for the Aurora project, including contract mining and third-party ownership and operation of the power plant. The company is also reviewing the potential of extending open-pit production and deferring the capital required for the planned underground expansion.

Guyana Goldfields has executed a heads of agreement and term sheet with a joint venture of Sedgman Ltd. and Graña y Montero documenting the principal terms and conditions for a full engineering, procurement, and construction contract for the Aurora project's initial processing facility and power plant. The agreement calls for a "notto-exceed" expenditure of $137 million.
---
As featured in Womp 2014 Vol 01 - www.womp-int.com