Metso Prepares Largest Vertimill Order for Chinese Market
---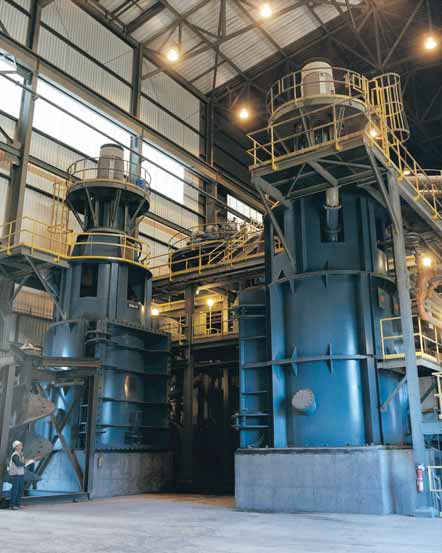 As part of a €33 million contract awarded by Chinese iron ore producer Ansteel, Metso will deliver six of
its largest Vertimills, similar to those shown here, plus six cone crushers and three filter machines.

According to mineral processing equipment supplier Metso, energy-saving vertical grinding mills are gradually replacing ball mills in comminution processes. As an example, Metso reported that it recently signed its largest order involving this technology, to date, for a Chinese customer— Anshan Iron and Steel Group Corp. (Ansteel), one of the country's leading iron ore mining and steel making companies. The Metso equipment will be installed at an Ansteel greenfield iron ore mining project in Liaoning province, China. The total value of the order exceeds €33 million.

"In applications like Ansteel's, Metso's vertical grinding mills provide the right solution for the customer. The mills can generate energy and wear-part savings of at least 35%," said Pouris Huang, senior technical support engineer, mining and construction, Metso. "With traditional ball mills, it would be very hard to achieve the same ore fineness required by magnetic separation," Huang added.

The contract includes six of Metso's largest vertical grinding mills, as well as six large cone crushers and three vertical pressure filters. Metso's delivery is due in March 2014.

The six Vertimill VTM-1500 vertical grinding mills will be fed at an average rate of 653 metric tons per hour. In addition to the mills, Metso's order includes six HP800 cone crushers for secondary crushing and three VPA2050-54 pressure filters for dewatering of the iron ore concentrate.
---
As featured in Womp 2013 Vol 11 - www.womp-int.com