On the Move: Two Russian Producers Turn to Diesel Rigs
Electric rotary drills were the workhorses of the fleet at these vastly different surface mines for years, but diesel rotary and DTH rigs now offer the mobility and performance needed for future mine development
By Russell A. Carter, Managing Editor
---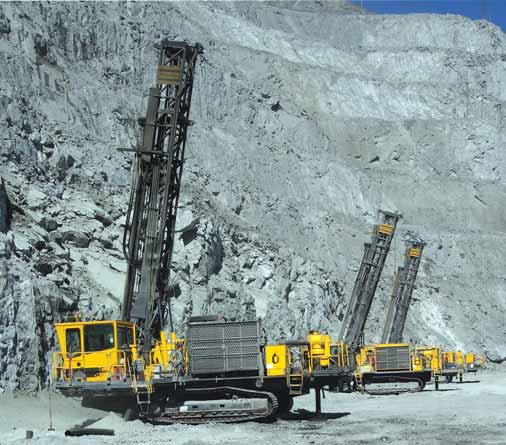 Three Atlas Copco DML HP rigs at work in the Zhelezny pit of Kovdorskiy GOK, one of two major iron ore producers in
Russia's northwestern corner that have increasingly turned to diesel-powered drill rigs—instead of traditional electric
rotary machines—when adding new units to their fleets.

Two of the largest metal mines in far northwestern Russia are separated by hundreds of miles, yet have a number of things in common. They both extract iron ore as a principal product, support company towns that are highly dependent on them for employment and municipal upkeep, and share commercial histories that developed during the final decades of the Soviet system's centrally planned economy.

Karelsky Okatysh (Karelian Pellet) JSC is a multi-pit surface mine and plant complex located near Kostomuksha in the Republic of Karelia—a unit of the Russian Federation that runs parallel to Finland's eastern border and extends east/west from the Gulf of Finland to the White Sea. The mine is owned by Severstal Resources, one of three business groups within OAO Severstal, a vertically integrated Russian steel producer with resource assets in a half-dozen countries around the world.

Just more than 200 miles (332 km) to the north lies the Zhelezny pit of Kovdorskiy GOK, owned by Russia's largest mineral fertilizer producer, EuroChem. It is the only employer of significance in the adjacent town of Kovdor, and like Karelsky Okatysh, survived the economic slump in the aftermath of the Soviet collapse to become an important asset in a distinctly capitalist corporate portfolio.

Both produce significant tonnages of iron ore concentrate intended for pellet production, but that's where most of the similarities end: Karelsky extracts its ore from a series of pits that follow a broad, banded deposit that contains no other significant byproducts; while Kovdorskiy GOK mines a deep, unique deposit yielding magnetite-apatite ore—processed to provide iron and apatite concentrates—as well as baddeleyite, a rare source of zirconium. In fact, Kovdorsky is regarded as the only current source worldwide for baddeleyite (zirconium oxide) crystals.

These are very large operations, each employing thousands of workers and operating extensive loading and haulage fleets that include equipment from Caterpillar, Komatsu and BelAZ, as well as Russianmade shovels and drills. Although their mining methods differ, the two operations also have one more trait in common: They're dependent on extensive drill fleets that traditionally included mostly electricpowered rotary units, but have, in recent years, increasingly turned to diesel-powered rotary and DTH rigs to ensure that the drill-and-blast segments of their production plans stay on track. The diesel rigs at both mines are all Atlas Copco machines, and at both locations, Atlas Copco has set up local support structures to help keep the rigs turning.

Kovdor Goes Deep
The progress of super-deep open-pit mining at Eurochem's Kovdorskiy GOK operation has been a topic of interest in E&MJ (See "Russian Producer Prepares to Go Super-deep, p. 120, December 2011) and elsewhere for several years, as the company advances its program to eventually deepen the Zhelezny pit to 650 m below sea level, while keeping the rim dimensions of the pit basically unchanged.

After initiating the program in 2011 following an extended study and testing phase, the transition to nearly vertical pit walls and increased bench heights is being carried out in stages, with current activity mostly taking place on the pit's lower levels. Once fully implemented, the pit design plan will result in a gradually deepening pit-wall angle starting at 43° at the upper portion of the pit, changing to 55°, 75° and finally 90° in the lower levels.

At present, the pit measures roughly 1.9-km wide by 2.5-km long. The company is currently extracting about 16 million tons of ore and 30 million tons of waste annually from it; future plans call for increasing the annual mining rate to 20 million mt/y of ore over the next few years, then possibly to 25 million mt/y in the longer term. Part of this increase will involve a move in 2014 to begin new mining activities in the southern portion of the pit, containing large reserves of iron and apatite ore. The makeup of this ore will differ from current run-of-mine ore, which averages 6%–7% apatite and more than 23% Fe content; the southern pit reserves grade roughly 12%–16% apatite but only 14% Fe.

Future pit expansion plans also call for removal of an existing waste dump near the western rim to facilitate mining in that area, starting around 2020. This will coincide with construction of a new facility to process and recover iron and apatite values from low-content material, as well as increased blending capabilities to provide a more consistent grade of material to the main plant.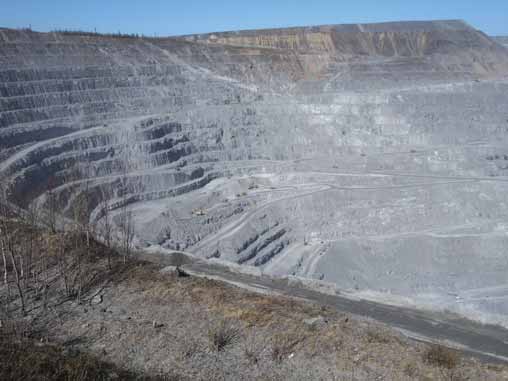 Kovdorskiy GOK plans to remove an existing waste dump near the western rim of the pit to facilitate future mining in that
area. It also plans to build a new plant to process and recover iron and apatite values from lower-grade material.
By 2040, the company expects the surface-recoverable reserves to be depleted and is contemplating an eventual move to underground development.
The nature of the ore—containing iron, apatite and baddeleyite—prompted the technical staff to develop innovative technology during the '70s and '80s that enabled the mine to effectively recover all three components, using magnetic separation for the iron content, flotation for the apatite, and gravity separation for the baddeleyite.
Apatite concentrates from Kovdorskiy GOK are sent to Eurochem's three phosphate facilities: Phosphorit (Leningrad Region, Russia), Lifosa (Lithuania) and EuroChem-BMU (Krasnodar Territory, Russia). The Kovkorskiy plant also is the world's only producer of baddelyite concentrate. In 2012, Kovdorskiy GOK produced 5.5 million mt of iron ore concentrates averaging 23% metal content, 2.3 million mt of apatite concentrates and 8,000 tons of baddeleyite concentrates.
Apart from processing challenges related to the unique deposit, local geology has presented some interesting problems for the mine operator. In order to gain access to a major portion of the main orebody, the mine had to partially drain nearby Kovdor Lake and divert a river. Surface and groundwater remains abundant in the area—"We move more water [out of here] than material," joked one of Kovdorsky's engineers—and must be pumped out of the mine by an elaborate dewatering system. Much of that system was completed in 2011, when the mine carried out a project involving construction of a pipeline, pump station and groundwater storage facility that made it possible to stop drawing water from Kovdor Lake—an environmentally protected site—for the needs of its processing and cogeneration power plants.
In the pit, however, blastholes still must be cased down to 15-m depth to avoid water-related hole integrity problems, and emulsion explosives are also necessary for water resistance.
As the pit deepens and pit walls become steeper, the company is prepared to apply a number of ground-control techniques to maintain bench-wall stability: these include use of wire mesh and cement grout injection, if necessary. It has installed seismic sensors to monitor slope movement and plans to soon implement radar-based monitoring capabilities for additional safety.
Pre-splitting Performance
For the present, however, the most important implement in its ground-control toolbox is accurate and well-planned pre-split drilling and blasting. This is handled by a fleet of Atlas Copco rigs including a DM45, five DML's and two ROC L8 rigs owned by Kovdorskiy GOK, and four other rigs—two DM45's and two DML's—belonging to drilling contractor Technobur. In the coming years, the mine plans to expand its drill fleet by acquiring additional high-pressure DML and DM45 rigs, and possibly adding one or more Pit Viper 275's for production blasthole drilling. All of the units in the mine's existing fleet are configured for multipass drilling.
The benefits of properly drilled and loaded pre-split holes are exactly the properties needed to maintain wall stability in this deep pit: straight, parallel holes; face angles that are close to the specified final pit-wall angle; and smooth bench walls that remain stable. Mikhail B. Togunov, chief mining expert for drilling and blasting at Kovdorsky GOK, said the mine will soon install GPS machine location and guidance equipment on its drills to achieve even higher compliance with the drill plan.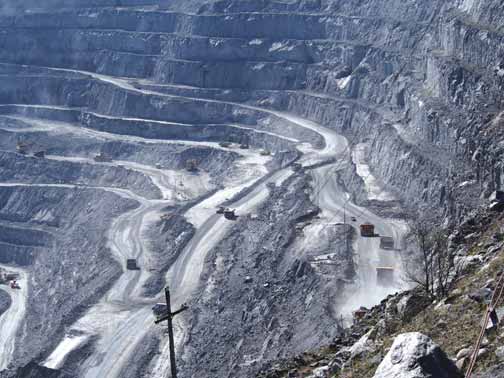 Current production from the Zhelezny pit is about 16 million tons of ore and 30 million tons of waste per year, but that rate
will likely increase to 20 million mt/y of ore in the very near future and to 25 million mt/y in the longer term.
At Kovdor, pre-split holes are drilled 16-to 17-m deep, at an angle of 80o. They are one element in a formula of hole depths, diameters and spacing calculated to provide the most effective blasting results at this site. Pre-split holes are 140- to 165-mm in diameter; stepping out from these holes, the next rows of buffer holes range from 165 mm to 200 mm, with production holes 250 mm in diameter. Inclined holes are subdrilled 3 m; the first row of vertical holes 3.5 m, and all of the rest by 2 m. Hole and row spacing is staggered, measuring 6 m between rows and 5 m between holes.
Currently, the mine's D&B program generates about 15.8 million m 3 of blasted material per year, requiring 2,300 mt of emulsion-based explosives and another 1,250 mt of non-emulsion products. The powder factor is 1.47 kg/m3 .
During 2012, according to Togunov, the mine carried out 65 blasts, encompassing 213 ore blocks. The average explosive consumption per block was 102 mt; however, more than one block is usually loaded at a time, raising the average amount of explosive used per blast to 337 mt. An average of 226 holes are drilled per block.
Togunov noted that the mine set a site record last year, drilling 130 million m in total. Budgeted drill productivity per machine for 2012 was set at 10,000 m per month; however, the actual figure was closer to 13,000 m per month. This, said Togunov, translates into about 700 m of drilling per machine over each day's two, 12-hour shifts. Average bit life, using Atlas Copco drilling products for both DTH and rotary applications, is 400–500 m.
Currently, Moscow-based Technobur performs about 40% of the mine's overall drilling activities. The contractor has 40 employees on site at Kovdor, of which 27 are drill operators. Its experience at Kovdorskiy GOK dates back to 2005, when the mine expanded its drill fleet to include two diesel-powered ROC L8's after many years of using exclusively Russian SBSH electric rotary rigs. After noting the mobility and flexibility offered by the diesel rigs, particularly in drilling the smaller-diameter holes required to implement the steep-wall pit plan, the mine sought a contractor that could offer similar rig versatility and in 2007 hired Technobur, which had worked at a nearby mine and operated an Atlas Copco fleet comprising both DTH and rotary diesel rigs.
According to Kovdorskiy GOK management, Technobur's portion of the drill program may increase substantially in the future. The expansion of the contractor's responsibilities may take place in tandem with the mine's intention to enlarge both its mobile fleet and its in-pit ore handling and crushing facilities. Currently composed of 22 shovels, ranging in bucket capacity from 5 m 3to 17 m 3, and 71 haul trucks that include models from Caterpillar, Komatsu and Belaz ranging in payload capacity from 120 mt to 144 mt, the mine plans to augment the fleet over the coming years, but will also reduce average haul distance by building another inpit crusher station to go along with the two existing crusher plants inside the pit, each comprising four primary crushers, with three crushers in service at any given time and one on standby. The new crusher plant will be similar in configuration.
The drill fleet seems quite capable of keeping up with the mine's current pre-split and production-blasthole drilling requirements, but the physical assets are only one link in the D&B chain of operations—maintenance is equally crucial. The mine's and contractor's Atlas Copco rigs are maintained by four factory service engineers, in cooperation with Technobur's maintenance staff, under a service contract that was initiated in 2012 and is reviewed on a yearly basis. The region's long, bitterly cold winters are tough on machines, according to the service staff, but interestingly, the larger variations in temperatures experienced in the late fall and early spring months are harder on the equipment than protracted, steady cold spells.
Accurate pre-split drilling is a crucial factor in Kovdorskiy GOK's plan to drastically steepen the pit walls at Zhelzny.
Advances in mechanical and electronic technology enable rigs from a number of manufacturers to offer similar performance, Evgeny Perevozchikov, Technobur's director of technical drilling, pointed out— but a rig that's out of service for any significant length of time, particularly in a remote location such as Kovdor, can be more of a liability than an asset.
"The quality of service is extremely important when it comes to selecting and operating drill rigs in this type of environment," he said. With drill-rig availability figures solidly at 85% or more for this demanding site, it appears that the support provided by Kovdor's Atlas Copco service center, under the direction of manager ValentinTanasyuk, combined with the reliability of the various Atlas Copco rigs, are equal to the challenge.
Karelsky Pellet Spreads Out—And Digs In
Severstal Resources' expansive Karelsky Okatysh complex is located just inside Russia's border with Finland, and consequently, the mine, and the adjacent town of Kostomuksha, have ongoing ties with Finnish businesses and workers. The campus-like town was built in the late 1970s, mostly by Finnish contractors, and Finnish business ventures are active in the area today.
The mine was opened in 1982 and currently accounts for about 30% of Russia's iron pellet production. The main consumer of Karelsky's products is Severstal's steel operation in Cherepovets, Russia. Other customers are located in the Netherlands, Great Britain, Italy and Finland. With production from the Karelsky and Olkon openpit operations and the Vorkutaugol underground mine, Severstal has grown to become the second largest producer of pellets in the country, behind Metalloinvest.
Karelsky extracts ore from two magnetite-quartzite deposits—Kostomuksha and Korpanga—and currently has four active pits. The largest of these, the 2- x 5-km wide, 300-m deep Central pit, is also the oldest and will be the first to become ore-depleted. Korpanga, the newest, lies 5 km to the north of the Central pit and began producing in 2007. The North and South pits are much smaller operations, with combined annual ore production amounting to roughly 25% of the annual tonnage extracted from the two larger pits.
In an interview that took place in a topfloor office that overlooked the busy expanse of Karelsky's central administration and plant facilities, Mine Manager Zakhar Pavlov and Chief Mining Engineer Denis Golubnichy outlined the mine's near-term roadmap. Currently, mine life is estimated to be 34 years, based on the company's reported JORC reserves of 480 million mt, plus the expected future conversion of some 1.2 billion mt of resources into reserves. Iron content of reserves at Karelsky Okatysh ranges from 22% to 25% Fe. It also has two additional prospective mining areas that may be brought into production by 2017.
Although the existing pits are relatively close to each other, there are no current plans to merge any of them into a larger, consolidated mining area.
The Karelsky complex has consistently increased its output volumes over the last few years. In 2011, pellet output exceeded 10 million mt for the first time in the mine's history, accompanied by a record 45 million m3of mined rock production. In 2013, the mine is on target to extract almost 52.5 million m 3 of material, of which approximately half will come from the Central pit and another 16 million m 3 from Korpanga, while the much smaller North and South pits will contribute a combined total of about 11 million m3.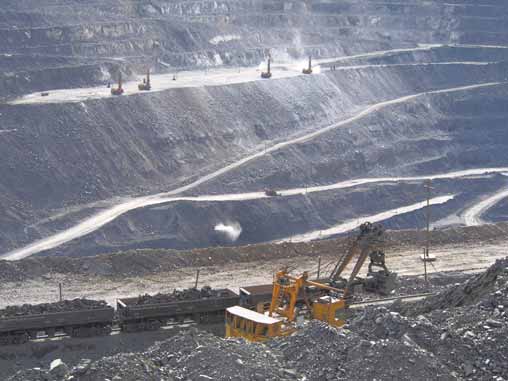 This view of Karelsky Okatysh's Central pit shows several of the mine's older electric rotary rigs drilling in the
background, while a shovel in the foreground loads high-grade, stockpiled ore into railcars.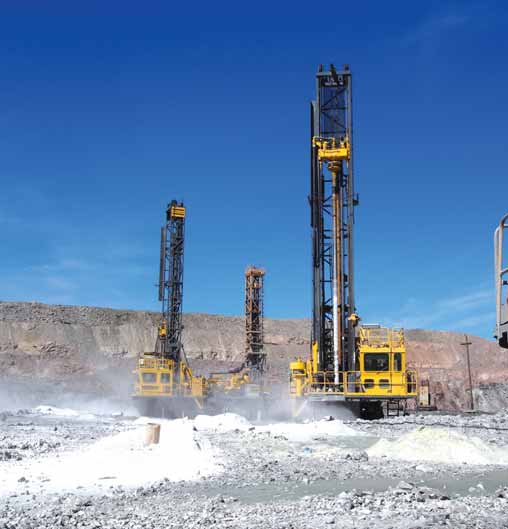 Three Atlas Copco DM-M3 drills sink production blastholes at the Karelsky mine.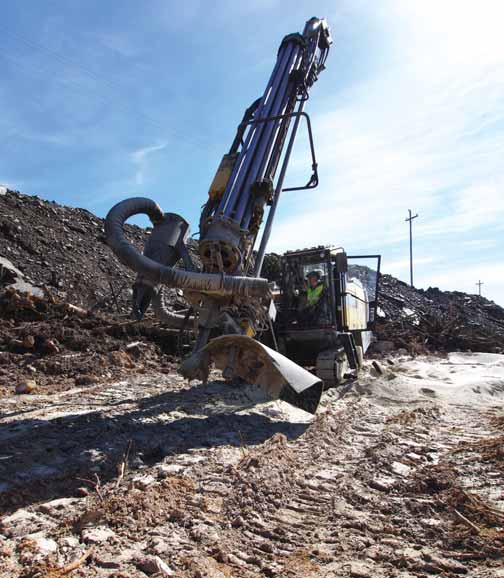 A FlexiROC tophammer rig provides the mobility and flexibility needed for utility drilling at Karelsky.
Severstal Resources has invested steadily in upgrading various segments of Karelsky's fleet and infrastructure. Recognizing the challenges of current economic trends, the company said its 2013 capital expenditure target has been adjusted to the market environment, to preserve positive free cash flow while still ensuring that it continues progress toward key development and optimization projects.
Severstal also has carried out continuous improvement programs for mine operations, such as gradually replacing older fleet equipment with newer, more efficient models. Accordingly, truck productivity is up by a reported 16% since 2010—equivalent to savings of about $20 million a year, according to the company—while train productivity is up 5%. The company said its focus on shift-related efficiency has resulted in just 40 minutes of scheduled downtime each day for shift changeovers, refueling and operational checks. This, according to Severstal, has added about 400,000 mt of pellet production annually without additional expense.
Karelsky employs about 4,500 workers, of which 700 work in mine operations. One of the benefits of the company's ongoing productivity-improvement efforts has been a steady drop in employee head count, from a peak of more than 6,600 in 2003.
Maintaining the Pace
Until August of this year, Karelsky's drill fleet included 18 Russian-made SBSH electric rotary rigs, along with four Atlas Copco DM-M3 diesel-powered, multipass rotary drills—all set up to drill 311-mmdiameter vertical blastholes; two Atlas Copco ROC L6H high-pressure DTH rigs for drilling inclined holes, and an Atlas Copco FlexiROC tophammer rig for utility drill duties. All of these machines are owned by the mine, along with a Christensen core drilling rig used for step-out exploration drilling. In August, the mine commissioned a new Atlas Copco PV275, fitted with the Rig Control automation system, to augment its fleet. In addition, drilling contractor Technobur also has two Atlas Copco Pit Viper 275's on site for production drilling.
Atlas Copco signed a maintenance agreement with Severstal in early 2012 to support the Atlas Copco drills at Karelsky, and the local support team—comprising eight service technicians under project manager Alexey Korobchenko and technical manager Evgeny Zhdanov—was on-site and functioning by mid-year 2012. At the time of E&MJ's visit earlier this year, the Atlas Copco team had completed almost a year under the contract, handling all rig maintenance and repairs except for any enginerelated problems involving the Caterpillar or Cummins diesels powering the drills. According to Atlas Copco's Korobchenko, few problems out of the ordinary have affected the rigs other than the stress imposed on the machines' hydraulic systems during the extremely cold winters common to the region. The DM-M3s generally rack up an average of 600 engine operating hours per month, at 87%–90% availability, and drill between 100 and 200 m per shift, significantly outperforming the electric rigs in both availability and drilling productivity, according to mine management. Fuel consumption for the rotary rigs is about 1,500 liters per shift and 750 liters for the smaller, high-pressure ROC rigs.
The mine began testing the Secoroc PARD system on the DM-M3s earlier this year with great success, according to Maxim Maklakov, Atlas Copco's blasthole product specialist based in Moscow. PARD, introduced in 2010, combines a high-frequency, low-impact DTH hammer and a specially designed tricone drill bit that can be mounted onto a standard rotary drill string. The system is designed to operate on air pressure ranging from 50–110 psi— low, compared with standard DTH hammers—but optimal airflow is achieved with a unique parallel flow system that distributes the air proportionately between the hammer and the bit.
Atlas Copco has indicated that the system can provide up to a ~50% increase in penetration rate, and the results at Karelsky support that claim: The PARDequipped DM-M3s average from 165 m to 180 m per shift, compared with standard rig setups that have average 110 m to 120 m per shift. The mine's electric SBSH rigs average 80 m per shift.
Karelsky plans to buy about five new drills over the next five years, as well as another shovel. It's not clear whether the mine will buy additional PV275's or another model, but management noted that the Pit Vipers already on site, although somewhat lighter and smaller than the DMM3's—which were originally introduced to the market almost 20 years ago—offer the latest in drilling technology and have performed well in the hard ore encountered in the Central pit.
According to drill operators interviewed during E&MJ's visit, ground conditions at Karelsky are fairly consistent, comprising about 2 m of fractured rock on the surface, transitioning to 20 m or more of solid, hard material below. Holes are drilled to 20-m depth, using Russian-built tri-cone bits on the DM-M3's and Atlas Copco bits on the ROCs. Blast patterns generally adhere to an 8- x 7-m spacing plan and can include up to 500 holes, although about 120 holes per blast is closer to average. Holes are loaded with emulsion due to wet ground conditions throughout the mine, and blasts are scheduled twice weekly.
The current mining plan includes an estimated 1.4 million m of blasthole drilling in 2013, including almost 700,000 m in the Central pit and another 425,000 m in Korpanga. Blasting will provide an estimated 52.45 million m3 of broken material. The engineering staff uses Blast Maker, a software product available from Blast Maker Co. Ltd. in the Kyrgyz Republic, for designing its drill and blast plans based on a system that employs ore-block models. In addition, the mine is in the process of installing Modular Mining Systems' ProVision GPSbased machine location and guidance solution on its drills and shovels to improve efficiency and increase compliance with the mine's blast design goals.
From Pit to Pellets
The mine's haulage fleet comprises a number of different truck brands and sizes, including BelAZ, Caterpillar and Komatsu rigid-body haulers ranging in payload capacity from 135 mt to 250 mt. Loading equipment includes Komatsu WA900 wheel loaders, Cat 6060 hydraulic excavators and a number of Russian-built electric rope shovels.
Blasted ore is loaded and hauled according to its iron content: material containing less than 10% Fe is considered waste and trucked to a dump; and lowgrade ore, containing 10%–20% Fe, is hauled to a pit-side, multi-stage crushing and screening plant that reduces the ore to a size range that can be efficiently handled by the mine's two dry magnetic separation stations. The higher-grade product from the dry separation process is conveyed to the main plant for pellet production, and the waste material is transported to the dumps. High-grade ore—containing more than 20% Fe—is hauled by truck to railside stockpiles inside the pit, where it is then transferred by shovel or wheel loader into railcars for transportation directly to the plant.
The mine's second dry magnetic separation unit (DMS), located at the edge of the Korpanga pit, was commissioned earlier this year. Severstal drew on experience with the mine's first DMS unit and built the second DMS with a larger coarseore bin to facilitate dumping from highercapacity haul trucks. This and other innovations involving ore fragmentation and sorting have significantly raised the new system's productivity by roughly 25% over the original unit's 3 million mt/y output, according to the company.
Looking Ahead
Severstal is bullish on Karelsky Okatysh's future prospects, noting that its central location between a major export shipping terminal (Kokkola, Finland) and its major customer (Cherepovets, Russia), and the quality of its pellets—in both iron and SiO2 content, for example—makes it highly competitive with other Russian producers. Supported by ample reserves and a steadily rising rate of worker productivity that has seen output grow from 2 mt of pellet output per employee in 2007 to 2.6 mt, the company is confident of reaching the mine's anticipated annual pellet production goal of 10.8 million mt/y by 2015.
---
As featured in Womp 2013 Vol 11 - www.womp-int.com