Sierra Mojada has 18-year Potential
---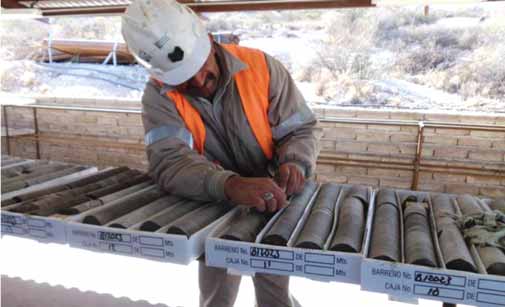 Ore at Silver Bull Resources' Sierra Mojada project in Mexico is expected to contain an average of 73.4 g/mt silver and
2.79% zinc. (Photo courtesy of Silver Bull Resources)

Silver Bull Resources has reported positive results for a preliminary economic assessment (PEA) of its Sierra Mojada silver-zinc project in Coahuila state, north-central Mexico. The PEA describes an open-pit project having an 18-year mine life, mining and processing 55.9 million mt of ore averaging 73.4 g/mt silver and 2.79% zinc at a processing rate of 8,500 mt/d. Pre-production capital cost is estimated at $297.2 million, including a 15% contingency.

Life-of-mine payable silver production would average 5.5 million oz/y at a cash cost of $6.58/oz of silver produced, net of by-product credits. Production during years two to six would average 7 million oz/y, with peak production of 9.3 million oz of silver in year two.

The base case study assumes metal prices of $23.50/oz for silver and $0.95/lb for zinc. The study does not take into account the potential mining of an additional 37 million mt of lower-grade ore that lies immediately outside of the pit and has the potential to extend the current projected mine life.

The Sierra Mojada PEA was prepared by JDS Energy and Mining Inc. of Vancouver, British Columbia.

The PEA assumes use of standard open-pit mining methods, incorporating drilling, blasting, and material movement using shovels and trucks. The primary fleet would include Caterpillar 777G trucks, 992K wheel loaders, D10T and D9T track dozers, and MD6290 and MD6540 rotary drills, and Komatsu PC2000 front shovels.

The base case economics assume a leased mining fleet over the life of mine.

The processing plant would include crushing, grinding, agitation leaching for silver recovery, and a Bio-SART (sulphidization-acidification-recycle-thickening) plant to produce a high-grade zinc concentrate and recover an estimated 95% of cyanide used in leaching for re-use. The processing plant would operate two shifts/day, 365 days/year, with an overall availability of 92%. The plant would produce silver doré and zinc concentrate as separate saleable products.

The Sierra Mojada project is accessible by paved highway, and a rail line is in use nearby that could be extended to the plant site for delivery of bulk supplies and transport of zinc concentrates.

Silver Bull Resources is a junior Canadian company headquartered in Vancouver, British Columbia. The Sierra Mojada project is 100% owned and operated by the company and is part of a large land package consisting of 40 mining concessions totaling 21,167 ha, located in a historical, high-grade, silver-lead-zinc mining district discovered in 1879. The main zone of mineralization at Sierra Mojada extends across 5.5 km in an east-west direction along the base of the Sierra Mojada range.
---
As featured in Womp 2013 Vol 11 - www.womp-int.com