Low-clearance Lifting System for Mine Locos
---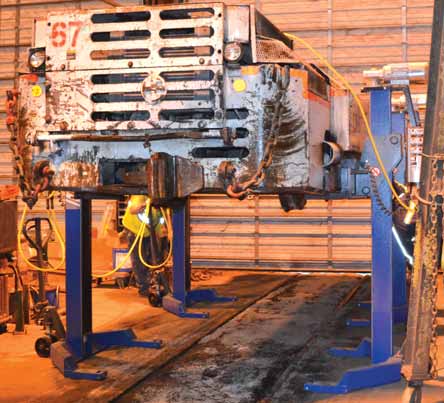 Mobile column lifts have been used in industrial maintenance shops for decades to lift heavy transportation equipment. MAHA's recently developed low-profile columns have now extended the equipment's lifting capabilities to include mine locomotives as well. With a 32-ton rated capacity, MAHA claims a four-column mobile lifting system can lift most, if not all locomotives used by the mining industry. Lifting is done by frame engagement, requiring only 2 in. of ground clearance. With 69 in. of lift height, the lifts can raise mine locomotives high enough for personnel to work comfortably beneath them. They can be stopped at any convenient location within normal travel to accommodate individual needs.

Their mechanical ball screw lifting mechanisms provide an inching capability that enables the lifts to aid in the replacement of components that are installed from below. In addition to an extended service life and an inching capability, the ball screw enables the lifts to be lowered without power. Seldom needed, this capability eliminates the potential for locomotives to become stranded on the lifts due to a power failure or malfunction.

The electrically operated lifts can be cable connected or wireless. Wireless lifts are battery powered and radio controlled. Cabled lifts operate on three-phase power and have interconnecting cables between columns. Batteries used in the lifts are the deep cycle type and can make up to 25 full capacity lifts on a single charge.

In new repair shops, the capacity of overhead cranes or other lifting devices can be minimized when mobile lifts are used. Cribbing can also be eliminated since locomotives can remain on the lifts until repairs are complete. When a mine is idled or eventually closed, the lifts can be easily moved to another location.
---
As featured in Womp 2013 Vol 10 - www.womp-int.com