BAS/Volvo Combination Strikes Gold at Gounkoto
---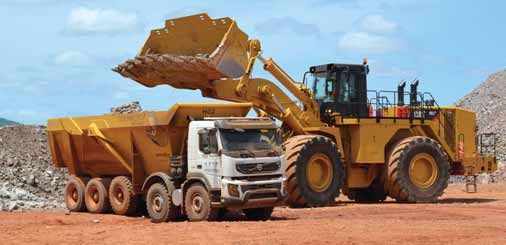 BAS Mining Trucks has supplied an entire fleet of modified Volvo FMX 10 x 4 haulers to a Randgold Resources gold mine
in western Mali. Starting with four initial units, the Gounkoto mine fleet has grown to 30.

Africa's Randgold Resources first became a customer of BAS Mining Trucks in 2011 and, according to the Netherlands-based truck supplier, collaboration between the two has steadily grown since then.

BAS initially delivered eight Volvo FMX 10 x 4 dump trucks for startup of the Gounkoto operation of Randgold's Loulo-Gounkoto gold mining complex in western Mali. The fleet at Gounkoto has now grown to almost 30 vehicles. The trucks transport ore from the Gounkoto mine to the plant at Loulo, 30 km away. The Volvo trucks were modified by BAS before delivery, gaining a fifth axle and additional wear plating for the truck bed.

"This dedicated fleet will greatly reduce the cost per ton of ore delivered to Loulo as a result of the increased hauling capacity and efficient fuel consumption. At 14.2 liters per hour, consumption is very low," said Tahirou Ballo, general manager of the Gounkoto mine, following the arrival of the first units.

The Volvo fleet at Gounkoto is covered by a MARC agreement with BAS that runs seven years. "Together with BAS, we continually improve our current range and we develop new applications," Ballo said, noting that BAS set up a workshop on site and assigned a technician with extended knowledge of the Volvo trucks. The technician is permanently based at the mining site to train and support the local mechanics. "This way, we don't have to concern ourselves about the transport facilities, which gives us the opportunity to focus on our main business—gold mining," Ballo added.

BAS Mining Trucks is part of EXA, a family-owned enterprise that holds a number of independent, diverse companies focused on the needs of transport operations. EXA has an annual turnover of €300 million and has sold trucks to customers in more than 100 countries.

BAS Mining Trucks started in 2009, furnishing trucks for material haulage at the Maas river basin flood project in the south of The Netherlands. In collaboration with their specialized partners, they have developed various vehicles suited for the mining industry, such as the Volvo FMX Watercannon, a service truck and a road train with a maximum payload of 173 mt. In 2013, BAS delivered four new Volvo FMX haulers to Boskalis B.V. in Surinam for transporting bauxite. To overcome dumping problems possible with the "sticky" bauxite, BAS treated the truck bodies beforehand with a special anti-adherent coating.

One of its most recent innovations is the Volvo FMX Pusher, a variant designed to eject ore from the body in just 30 seconds. After unloading, the driver can pull away immediately, as the ejector automatically retracts while the truck is in motion. Offloading is elevation-free, making it suitable for use in underground mines.
---
As featured in Womp 2013 Vol 10 - www.womp-int.com