Here to Serve You
Network components are becoming as important to mining enterprise success as haul trucks, loaders and other traditional 'big iron'
By Russell A. Carter, Managing Editor
---
Unreliable Wi-Fi coverage at the vast Sierra Gorda project site, shown here in the early construction
stage, led to wasted man-hours of cross-site travel for engineers and supervisors. Management turned
to Cisco for a solution, which included site-wide installation of the latest generation in Wi-Fi access
points (inset) and other network components.

Without reliable performance from an ever-increasing array of network-related routers, servers and switches, the crucial person-toperson, person-to-machine and machine-to-machine communications and control demanded by modern mining practices isn't possible. In fact, the size and scope of current multibillion-dollar mining projects—often sited in remote areas with little or no physical or electronic infrastructure—make it almost mandatory that reliable networking solutions be in place at project startup. An example from Cisco, the San Jose, California-based networking giant, illustrates the point.

A Solution for Sierra Gorda
The Sierra Gorda open-pit copper/moly project is a joint venture between KGHM International Ltd., Sumitomo Metal Mining and Sumitomo Corp. Located in Chile's Atacama Desert region, the $3.9-billion project began preliminary physical construction and pre-stripping in 2011 in preparation for startup in 2014. Estimated production from current reserves will average about 483 million lb of copper, 25 million lb of molybdenum and 64,000 oz of gold per year. In order to effectively execute this project, more than 2,000 permanent employees will be hired, as well as nearly 7,000 contracted positions.

The complex site preparation process and construction of a copper concentrator involves varying numbers of field construction engineers and superintendents—ranging from about 30 to 120, depending on the stage of the project—leading work teams from remote office quarters spread out across the large site.

Travel between these quarters and the mine's central office block is complicated not only by the topography of the terrain, but also by the fact that blasting and re-routing are commonplace amid the construction activities on the site. As a result, round trips to the central block to file reports and review plans and emails, for example, could easily take a couple of hours a day, as well as adding to vehicle fuel expenses and employee fatigue.

Project management was concerned about the volume of such trips because they hindered productivity and decision-making, which could lead to further delays to the mine's construction schedule. Connecting remote quarters with wired or fiber-optic connections was not an option, because of the danger of the cables being damaged by site excavation activities. In a nutshell, Sierra Gorda was unable to provide its field engineers with the WiFi coverage they needed.

It had originally built a point-to-point system using radio receivers connected to switches at each remote location. Having two technologies per location increased the chances of a failure of one of them, however, as the number of end-user devices (including laptops and smartphones) in each remote base increased, the point-to-point connections became congested.

To address this, in 2012, Sierra Gorda started using a wireless mesh system. Implemented by a third party, this system was not able to manage the VLANs that the mine needed for communication across the site and with its parent companies. The project moved to another wireless mesh network, but the problem persisted. Management realized that achieving acceptable network performance was dependent on ruggedized routers that could be deployed in harsh environments where high daytime temperatures, low nighttime temperatures, dusty conditions, and lack of humidity were prevalent. In desperation, it turned to Cisco.

In February, Cisco responded by replicating the Sierra Gorda communications setup within a laboratory in Santiago, Chile, and working on different access point configurations in an effort to overcome the mining company's issues. After three days, the Cisco team solved the problem in the laboratory and went to the mine for field testing.

Some further configuration tweaks followed, then the team spent three days of scouting to determine the optimum positioning of access points around the site. Finally, the WLAN was put together within a day. From start to finish, Cisco took about two weeks to solve a problem that had affected Sierra Gorda for years.

The mine has implemented full Wi-Fi access with Cisco Aironet 1550 Series outdoor access points mounted on poles above the remote offices and managed via a Cisco 5508 Series Wireless LAN controller. The WLAN connects to a core network built on Cisco Catalyst 3750X and 3560X Series switches. These systems complement a range of other Cisco technologies in use around the mine between teams and for communications with Sierra Gorda parent companies.

Project engineers discovered the access points were able to deliver coverage within the remote office units, despite the fact that these were usually metal storage containers. The setup allows the WLAN to deliver essentially the same level of connectivity and application delivery at remote sites as that available in the central office.

The infrastructure supports all Sierra Gorda core offices, planning, and operations services, as well as mobility and collaboration applications. According to Cisco, assuming a savings of two hours per field engineer per day, each person would save about 36 hours a month under the mine's shift arrangement of nine days on and five days off at a time. For an average field engineering force of around 20 people, that works out to 720 man-hours a month saved.

Mining's Unique Requirements
Marc Van Hoof, global lead for mining at Cisco, told E&MJthat the company realized it could draw from a number of synergistic technologies in its enterprise networking group to serve the communications needs of the mining industry—but the often harsh, remote and unique site conditions commonly encountered in mining applications pose unique issues. To provide the focus needed to meet these challenges, Cisco created an "Internet of Things" (IOT) group within its enterprise-technology business organization; the group can leverage the products within Cisco's huge portfolio of enterprise solutions to meet many of the industry's needs, but also has the capability to devise and develop unique solutions when necessary.

Van Hoof, based in Melbourne, Australia, pointed out that Cisco has a long history of developing technologies that have eventually evolved into industry standards, and predicted that Cisco's mining customers will increasingly benefit from that reservoir of experience. He said he has "no doubt that we will see a lot more convergence, going forward, between IT environments and operational-technology environments to gain the kind of efficiencies that mining companies are asking for."

The company's mining-related solutions encompass everything from telecom products used to connect head offices to mine sites; hardened versions of its 800 Series routers for mobile applications to provide Wi-Fi, 3G/4G or wired connectivity onboard; ruggedized access points for its wireless and wireless mesh networks; and unified communications systems that include video transmission technology for both security and operational functions such as remote-expert capabilities. Interestingly, one of its divisions has developed an Embedded Service Router (ESR) and switch—circuit board-level components designed for inclusion into third-party products that provide the features of Cisco's routing engine technology and allow easy integration of those products into the Cisco network environment. Van Hoof said the ESR is currently being used by one of its partner OEMs to develop an advanced radio component for a wireless mesh network, and the embedded switch has been integrated into an IP67-level package for underground networking applications.

Although the mine environment can be unique in many ways, Van Hoof said Cisco's approach is to develop hardened and ruggedized products that can potentially be used in plant and field operations across many markets. This approach, he explained, allows both the customer and the company to benefit from a wider point of view regarding the features, potential applicability and capabilities of the products in the overall industrial environment.

He said Cisco views the current state and direction of networking technology within the mining industry as similar to that of the enterprise network environment in the 1980s—populated by a rapidly growing number of diverse systems that often couldn't talk to each other but were nevertheless essential at the time. As an example of a related current problem facing the industry, he pointed to the need to merge the growing number of onboard monitoring systems that are commonly installed in large mining machines (see below and E&MJ, August 2013, "Curing the Crowded Cab: Research for a Unified Shovel Operator Interface, p. 98) into a unified, understandable and more user-friendly format. Van Hoof said the only clear solution for better data integration in this area is to move away from an application-centric view of the data flow and adopt a broader approach based on "elements, not apps."

Key to solving this problem will be the ability of the network to determine which information has priority over other types—a truck dispatch assignment vs. routine radio chatter, for example—and correctly route that information in a timely manner. This requires adequate Quality of Service (QoS) performance—managing the delay, delay variation (jitter), bandwidth and packet loss parameters over the network—and it's a capability that Cisco has developed over the past 20 years or so in the enterprise networking sector. "This is where we can apply our strengths, taking the experience we've developed in this area and making it specifically relevant to a mining environment," said Van Hoof.

The next "game changing" challenge for network technology, he said, is development of better systems and equipment for handling the rapidly increasing video-image traffic at the mine site, as well as to and from the site during sessions with remote participants. "There are three major areas we're looking at now—handling of video surveillance from closed circuit TV and other sources, autonomous and tele-remote operation of equipment, and 'remote expert' capabilities, which could include anything from an office-based video conference to a 'virtual visit' where outside experts could be taken to any point in the mine or plant by personnel carrying handheld tablets that have built-in high-definition video cameras.

"This capability could contribute to a centralization effort on the part of mining companies that wish to consolidate their experts in whatever field—geology, mining or maintenance, for example— in one location, perhaps at a video 'call center' environment, and using video and other unified communications services place them anywhere in the mine to get their advice on a situation, in real time. This way, mines can gain on-site expert functionality without incurring the costs and inefficiencies of physical travel."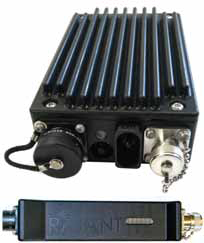 All of Rajant's BreadCrumb wireless mesh nodes,
from the small JR model (bottom) to the larger
ME-3 (top) and others, use InstaMesh technology
for efficient routing.
Mining companies intent upon using remote and autonomous methods to reduce operational costs and improve worker safety need to keep in mind the importance of solid network design and reliability, Van Hoof emphasized. "We preach this to everyone who will listen. When a mining process has access to human intervention, there's always the possibility of devising a new solution, changing the course of events or working around a problem," Van Hoff said. "When the possibility of human intervention is removed and processes are being controlled via networked links, the network itself cannot be a source of problems—it must be designed for the highest attainable levels of reliability, resiliency and predictability in order to gain the benefits of the remote and autonomous methods."
Expanding Network Portfolios
Several other network solution providers that serve the mining industry have been busy updating their product and services portfolio as well. Trimble and Rajant Corp., for example, announced in August that Trimble will now offer Rajant's Kinetic Mesh wireless networking solutions as part of Trimble's mining portfolio.
According to the two companies, Rajant's wireless communications combined with Trimble's positioning solutions—the Trimble Terralite XPS GNSS and Trimble 4D Control slope monitoring system, as well as third-party productivity and safety applications—will provide the technology infrastructure needed to support mining productivity and safety applications from fleet management and grade control for road construction to collision avoidance and slope monitoring. With Rajant's Kinetic Mesh technology, Trimble can provide a complete communications and positioning infrastructure solution for mining.
Rajant said its BreadCrumb wireless, portable mesh networking nodes with InstaMesh software enable continuous and instantaneous routing of wireless and wired connections. This dynamic frequency utilization capability allows for network mobility with robust fault tolerance, high throughput and low latency. Rajant's technology is used currently in mining operations to provide reliable networking for remote monitoring, tracking assets, voice and data communications, and video feeds.
"The increase in precision and automation across mining processes requires advanced positioning and communication technology to build a reliable geospatial infrastructure at the mine site. Rajant's mesh networking technologies complement our positioning technologies to deliver this complete infrastructure solution," said Nathan Pugh, business area director of Mining at Trimble.
A New Family for Extreme Duty
Earlier this year, ABB Tropos Wireless Communication Systems announced the Tropos XA family of mobile and outdoor wireless mesh routers for extreme application environments. The company said its Tropos 7320-XA outdoor wireless mesh routers provide a reliable, fixed broadband wireless communications platform for mining and other applications, operating from -40°C to 70°C and survivable in winds more than 200 mph. The routers are housed in castings made from 360 alloy aluminum, formulated for use in marine environments and plated with SAE AMS-C-26074 highphosphorus nickel to provide resistance to salt fog corrosion.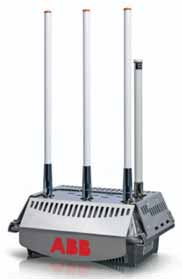 Tropos 7320-XA wiress mesh router.
The other new member of the XA family, the Tropos 4310-XA mobile mesh routers for extreme applications, provide data, video, and voice connectivity for mobile machine-to-machine (M2M) and mobile workforce automation applications. At vehicular speeds, they support reliable communications with a fixed Tropos infrastructure at mines where the mobile mesh routers may be subjected to extremes in temperature and humidity as wells as shock and vibration. Tropos 4310-XA mobile mesh routers conform to IP67, permitting them to be mounted on vehicle exteriors as well as interiors. They support a DC-power input range of 11 to 55 VDC, allowing them to be powered by the electrical system of virtually any kind of vehicle, while their small, lightweight package is suitable for almost any physical mounting scenario. They employ industrial Ethernet M-12 connectors, which are designed to withstand harsh industrial conditions including extreme shock and vibration, assuring reliable connections. For their auxiliary port and power inputs, the XA family mobile mesh routers use industrial-type locking connectors, also designed to provide reliable operation in harsh industrial environments.
Tropos 7320-XA wireless mesh routers feature one 2.4 GHz and one 5 GHz radio. The Tropos 4310-XA contains one 2.4 GHz radio. Both products will initially be available in FCC and ETSI versions.
Clearing Away the Clutter
In August, Arizona, USA-based Guardvant Inc. released its Guardvant Mobile Server (GMS), which was described by the company as expressly aimed at reducing in-cab clutter and operational costs of multiple hardware platforms and displays installed on mining equipment. The GMS, according to Guardvant, provides the computing power, sophisticated system architecture, redundant storage, and a robust quantity and variety of inputs needed to operate multiple, concurrent on-board software applications.
The GMS simultaneously hosts Guardvant's OpGuard and ProxGuard products and third-party applications including fleet management, fire suppression alarm communications, vehicle health monitoring and biometric access systems. With the GMS installed in the cab plus a single touch screen display, the operator, said Guardvant, can easily control multiple on-board applications. Guardvant claims the GMS also streamlines installation of multiple applications and reduces maintenance downtime.
"We developed the GMS because we saw the need to support the mine's increasing use of on-board applications to improve efficiency and productivity, while streamlining implementation and operation of those applications in the cab. As mines continue to invest in on-board technology, they are looking for a solution, like GMS, to provide the support needed in one piece of hardware," said Sergio Blacutt, Guardvant's CEO.
The GMS was demonstrated at the World Mining Congress (WMC) and 30 th International Symposium on Automation and Robotics in Construction and Mining (ISARC) held August 11-15 in Montreal, Canada. The demonstration was part of the Unified Shovel Display hosted by the Global Mining Standards and Guidelines Situation Awareness Working Group (www.globalminingstandards.org) as a proof of concept demonstration of multiple third-party applications sharing a common on-board hardware platform and display. The GMS was used as the common on-board server platform hosting multiple application demos and was interfaced with a Unified Shovel Display screen with four viewing panes showing application demos of fleet management, proximity detection, bucket tooth monitoring, and a presentation of the companies providing the hardware and software for the demonstration, including Guardvant, Wenco, Motion Metrics and Azonics.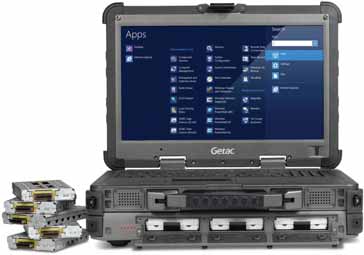 Getac's rugged X500 combines the capabilities of a laptop and server.
Secure Service and Storage in the Field
Getac, a manufacturer of rugged mobile technology, released its X500 rugged mobile server, designed to provide highly portable, secure data storage in the field when access to a secure network is not possible. The new unit, according to the company, offers high-speed performance thanks to an Intel Core i7 quad-core processor. Heavy multiple-application demands are accommodated with 16GB of RAM.
The server's expansion chassis holds up to five shock-protected disk drives, offering up to 5 TB of storage; a cluster of three or four X500 units will equal the power of one rack-mount server, according to Getac. The unit is MIL-STD-810G certified and IP65 rated. The multiple RAID level 0, 1, 5 configurations optimize data storage capacity and prevent data loss while handling data in any harsh environment.
"The X500 Rugged Mobile Server has been designed and manufactured in response to customer demands and offers a solution for those who require a commercial off-the-shelf (COTS), high-performance, mobile rugged server that can be deployed quickly in the field," said Antonio Carotenuto, business development manager of Getac.
"It specifically meets operational requirements and packs an immense amount of storage capability. The device weighs in at just 8.6 kg and provides a portable solution for those who need high performance network capabilities with secure data storage to operate in difficult environments," he added.
Getac pointed out that, with a diversified I/O interface, the X500 is capable of simultaneously supporting multiple transmission interfaces and conducting multitask processing, which enables maintenance personnel, for example, to perform comprehensive equipment diagnosis on site by connecting related external devices.
---
As featured in Womp 2013 Vol 10 - www.womp-int.com