Australian Election Results Favor Mining Industry
---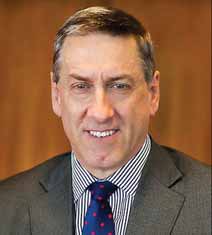 Chief Executive of Minerals Council of Australia
Mitchell Hooke: Looking forward to economic reform.

Tony Abbott and his Liberal and National Party Coalition were clear winners in Australia's September 7 federal election. Abbott was sworn in as prime minister on September 18. During his campaign, Abbott said he would work to repeal the nation's carbon tax and Minerals Resource Rent Tax, which have weighed on minerals industry development.

However, accomplishing those goals may not be easy. The new government will have a clear majority in the Parliament's lower house, the House of Representatives, when its members are seated in July 2014. However, the government may face obstacles in the upper house, the Senate, where it won only 33 seats. The Senate has 76 seats, and 39 are required for a clear majority. The remaining seats are held by Labor (25), the Greens (10), and various other independents and minor parties (8). Getting the Senate to approve legislation passed in the House may prove challenging.

Nevertheless, the new government will be more favorable to Australia's mining industry than the outgoing government.

On September 8, Mitchell Hooke, chief executive of the Minerals Council of Australia, issued a statement saying, "The minerals industry looks forward to the Coalition government refiring the engines of economic reform in Australia.

"The industry strongly supports the new government's agenda to boost Australia's productivity and competitiveness. Abolishing the carbon tax and Minerals Resource Rent Tax (MRRT) will be a positive first step in an industry where our international competitors face no such comparable imposts.

"The carbon tax has been a dead-weight on the economy that has failed to achieve its environmental objective while adding massive new costs on the minerals sector. The industry will engage actively with the Coalition's white paper process in the further development and implementation of the Direct Action climate change policy.

"The MRRT was founded on the falsehood that the mining industry was not paying a fair share of tax and that a further new tax was necessary for Australians to share in the benefits of the Millennium mining boom. Both assertions were wrong in 2010, and they remain so today.

"The minerals industry has paid an average effective tax rate in excess of 40% over the past decade, even before the introduction of the MRRT and the carbon tax. Repeal of the MRRT will make a material difference to industry confidence," Hooke said.
---
As featured in Womp 2013 Vol 10 - www.womp-int.com