Atlas Copco Goes 'Green' for Improved Underground Air Quality
---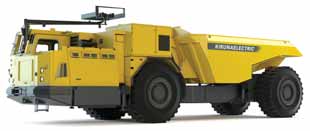 Atlas Copco's Green Line of electrically powered underground vehicles
includes two truck models: the Electric Minetruck EMT35 and EMT50,
with 35- and 50-ton payload capacities, respectively.

Mining equipment supplier Atlas Copco recently noted that energy supply is one of the biggest challenges currently facing the underground mining industry as mines all over the world step up their efforts to cut costs and increase efficiency. The spiraling price of diesel to fuel underground equipment is the biggest "villain," closely followed by the soaring cost of energy to power largescale ventilation systems which commonly represent as much as 30% of a mine's total running costs.

LHD vehicles and mine trucks traditionally account for the greatest proportion of these energy needs, but the future is looking decidedly greener with the availability of electric powered vehicles, slashing costs and improving the environment, both below and above ground.

Underground miners are dependent on a constant supply of clean air in order to breathe and carry out their duties underground without risking their health. This means the toxic emissions from diesel powered equipment have to be constantly evacuated by ventilation systems, which require significant amounts of energy, irrespective of the size and complexity of the mine structure.

By replacing diesel powered equipment with electric powered equivalents, mines can realize huge potential savings at the same time as they improve the environment, not to mention the spin-off effect of increased job satisfaction and reduced personnel turnover.

Atlas Copco is the first, and so far only supplier, to introduce a complete family of electric powered underground loaders and trucks, according to the company. Known as the Green Line, the new family was launched in April 2013 and includes seven products: two trucks, four LHDs and a trailer-mounted generator.

The LHDs were designed and produced by the company's division for Underground Rock Excavation in Örebro, Sweden, while the trucks are based on the Kiruna electric truck, developed by GIA, an Atlas Copco subsidiary since 2012.

The four LHD models in the Green Line are supported by a portable, trailer-mounted
generator that is towed behind the LHD as it trams from one location to another in
the mine, providing motive power to the Scooptram for as long as it's needed.
According to David Shellhammer, president of the division, the Green Line represents a major step toward a significantly better environment for all underground miners.
"At present, the underground mining industry is facing numerous challenges regarding energy efficiency, carbon emissions and environmental footprints," he said. "We are the only supplier of underground electric trucks in the world and together with our range of electric loaders we have compiled a family of green alternatives that will change the future of underground mining."
He emphasized that field tests, as well as products in operation in Canada, the U.S., China and Sweden, conclusively prove the use of electricity instead of diesel to power loading and haulage equipment substantially increases productivity and lowers overall running costs.
Trucking with Trolleys
The two trucks in the Green Line family are Electric Minetruck EMT35 and EMT50, with payload capacity of 35 and 50 tons, respectively. During normal operations the trucks are powered up and down the ramp by an overhead, electrified trolley rail. Where there is no access to an overhead trolley rail, for example at the loading and dumping station, the truck disengages itself from the trolley and automatically activates a small, onboard diesel engine.
This unit, with an output of just 80 kW (107 hp), uses only 10% of the fuel used by a large diesel engine but is powerful enough to move the truck into the correct position for loading or dumping and then move it to be re-engaged with the trolley rail. This system results in a minimum of diesel emissions and exhaust fumes in the mine.
In addition, a clever contribution to the overall green result is that empty trucks traveling down the ramp regenerate electric power, replenishing the mine's electricity grid. This is accomplished by the truck's high efficiency electric motors, which drive the axles directly, thereby minimizing transmission losses, together with a regenerative braking system. In this way, approximately 30% of the energy that is consumed by fully loaded trucks driving up the ramp is regenerated by the empty trucks driving down.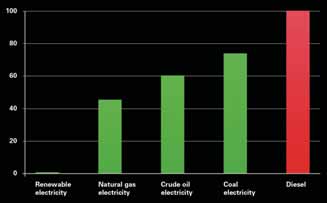 A global reduction in CO2 emisisons depends on how the electricity is produced
and the "mix" of energy sources used. The diagram shows an average reduction
of 50% in CO2 emissions when producing electricity from coal and natural gas,
compared to diesel. Using only coal, emissions are reduced by 36%.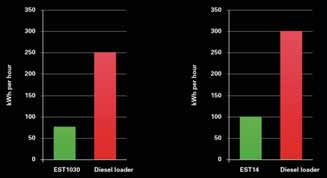 The diagram shows the energy consumption of an electric loader vs. a diesel
loader for an identical running cycle. Diesel consumption is expressed as kWh
(1 liter = 10 kWh of energy).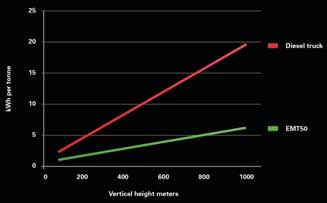 This diagram shows the volume of energy required transporting 1 metric ton of
ore from different depths with electric and diesel powered trucks. Diesel
consumption is expressed as kWh (1 liter = 10 kWh of energy).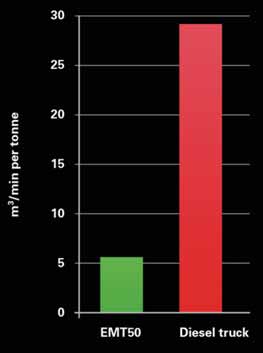 The diagram shows the amount of ventilation required for diesel
vs. electric vehicles in accordance with the British Standard.
The ventilation requirement for the use of a diesel vehicle is
directly related to the power of the engine.
In terms of ventilation, Atlas Copco said the extremely low level of emissions in an electrically mobile mine reduces the energy cost for ventilation by up to 90% while still keeping ventilation rates at the mining standards.
Apart from these environmental improvements and the cost savings associated with an all-electric haulage fleet, there is also another major advantage that will appeal to all efficiency conscious mines. Due to the trucks' impressive speed on ramps—fully loaded on a 15% gradient they are twice as fast as any diesel powered equivalent—it means that fewer trucks are required to transport the same volume of material, according to the company. This translates into an opportunity for significant productivity gains, typically 20% or higher.
Great Depth? Great Benefits
Electrically powered haulage vehicles such as Atlas Copco's Electric Minetruck EMT35 and EMT50 are ideally suited for deep mines with steep ramps, multiple ore bodies and production operations located below the bottom of the main shaft, a point which Erik Svedlund, Atlas Copco's product manager–electric vehicles, sees as a significant economic factor.
"Mines are continuously looking for new orebodies and this often means that they have to go deeper. When that happens, they have to decide how to solve their haulage needs. They can either choose to extend the main shaft, which is a big undertaking and an enormous expense for any mine, or they can decide to extend the ramp and prepare it for electric trucks. The latter is much less costly," Svedlund said.
The deeper the mine, the more savings can be realized. This is mainly due to ventilation costs, which increase exponentially with depth. In fact, only slight increases in depth result in much greater energy consumption. For example, Svedlund calculated that if a mine 1,000 m deep decides to increase its depth by only 100 m to 1,100 m, it will require a 10% increase in ventilation but a 33% increase in energy.
On top of this, the mine may also need to add a cooling system or some form of air conditioning into the equation to deal with increased temperatures, which will further increase energy costs.
A typical case in point is a mine in the Sudbury area of Canada. The mine decided to go in search of new ore below its 1,000-m main level and is now trucking ore from 1,700 m using Atlas Copco electric trucks. As a result, the mine has avoided the huge expense of installing a new shaft and has saved energy costs of extending its ventilation system to cope with diesel powered vehicles.
The trucks carry a 50-mt payload and are able to tram fully loaded at speeds of up to 18 km/h up a 16% gradient, compared to 8 or 9 km/h for a conventional diesel truck. The trucks receive power from a series of overhead trolley lines extending 8 km, serving several levels of the mine, and disengage from the line for loading, dumping and entering the service bay.
When it comes to the loaders, the LHDs in the new Green Line family are based on the successful Scooptram platform but with one essential difference; instead of diesel engines, they are powered entirely by highly efficient electric motors.
Consequently, these loaders, which range in capacity from 3.5 to 14 mt, consume less energy, generate less heat and create less noise than their diesel counterparts. The result is lower running costs, less environmental impact and a better working environment.
At the same time, the Electric Scooptram EST2D, EST3.5, EST1030 and EST14 all share a large number of components with their diesel equivalents, which ensures the availability of spare parts and support.
Atlas Copco estimates that these 100% emission-free vehicles reduce energy consumption by about 70% compared with comparable diesel powered loaders and can also be run on renewable energy such as wind or hydro power. Maintenance is also greatly reduced, which gives further savings.
Portable Generator
Transporting the loaders to wherever they need to be in the mine is no problem thanks to a unique trailer-mounted generator system. The Gentrail GT325, which is specially designed for the harsh underground environment, hooks up behind the loader and provides all the power the loader needs in order to tram to different load/dump sites or the service workshop. It provides this power for as long as necessary. Once a loader has reached its destination, the generator can be unhooked, parked or towed away. A single generator is normally enough to support a fleet of loaders and can also do double duty as an emergency power source for the mine.
Cable Management
The most innovative part of the LHD package, according to the company, is the Scooptram's unique cable reel management system. Cable is expensive and is exposed to high wear and tear on conventional electric loaders in underground mines. The Green Line loaders solve this problem with a patented Low Tension System, which makes it possible to keep a 300- to 400-m cable constantly under control—not too tight, which would increase the risk of damage on walls and corners or restrict the mobility of the vehicle, and not too slack, so that it will avoid the risk of being run over or becoming snagged beneath the vehicle.
As the loader moves away from the electric power point, the cable extends at a controlled speed, and as the loader backs up, it is automatically reeled back in again on to the drum. This technology means the tension is minimized at all times, which extends the life of the cable, and the driver does not have to worry about it while maneuvering the vehicle.
Global Perspective
In introducing the Green Line, Atlas Copco claimed that the advantages offered by this range go far beyond individual mining operations and urges its customers to see it from a global environmental perspective.
"To reduce energy consumption and energy costs is naturally a very important issue for all of our customers, but it is also important for the planet. We have to consider how energy is produced in the first place and an electric vehicle, even when powered with electricity made by coal, will reduce CO2 emissions by about 25% compared with the equivalent vehicle powered by diesel," Svedlund said.
---
As featured in Womp 2017 Vol 07 - www.womp-int.com