AIMEX Returns to Sydney in 2013
Vendors from around the world gather at Olympic Park to showcase new tools and services for Australian miners
By John Miller, Australian Editor
---

The busy dome at the Sydney Showground during AIMEX 2011.

The Asia Pacific's premier mining exhibition AIMEX is returning to Sydney's Olympic Park in August, with a focus on innovation to help delegates make efficiency improvements and lift productivity in the face of softening global resources prices. Organizers are expecting more than 600 exhibitors to showcase the latest in mining equipment, products and services from August 20-23.

According to Reed Mining Events, the show is growing exponentially with more than 17,000 visitors going through the turnstiles for the 2011 event, an increase of 40% over the previous exhibition. The 2013 event is the first biennial event with previous versions held every four years.

"The mining industry is going through a very rapid rate of change and innovation, with a correspondingly fast pace of product development. In the two years since our last AIMEX, the industry has also really focused on productivity and efficiency, and the need to reduce costs," said Reed's Exhibition Director Paul Baker. "In response to this, the emphasis among exhibitors and displays at AIMEX 2013 will really be all about innovation; how the very latest processes, systems, services and products can really meet miners' demands for productivity and efficiency gains."

Exhibitors will include a wide range of suppliers of innovative equipment, products and services aimed at lowering costs per ton and increasing production and mining efficiency. "These include suppliers of large items of capital equipment, such as ultra-class dump trucks, underground loaders and trucks, and longwall equipment and drill rigs, through processing equipment and systems, as well as training, safety and information management solutions.

It is very much a national exhibition. We will have new products and services covering metalliferous and hard rock mining, as well as coal mining—in both surface and underground applications," Baker said.

Product development among suppliers to the mining industry means visitors to AIMEX 2013 are guaranteed to learn about innovative products, services, processes and solutions they have not previously encountered.

"This exhibition will truly offer something for everyone involved in the mining industry across all regions of Australia— whether they are from the central Queensland coalfields, the Far North Queensland hard rock mines, the Pilbara iron ore operations or WA's Eastern Goldfields, or whether they are closer to home in the NSW Hunter and Illawarra coalfields, or the gold, coal and other operations in the NSW Central West," Baker said. "For long-term participants in the industry, there will definitely be new products and services they have not seen before, as well as the chance to network and catch up with colleagues and suppliers, and make new contacts. For new entrants to the industry—at any level—it is an unmatched opportunity to very quickly get up to speed on what makes the industry tick, and what are the key products, trends and developments."

Theme Days Build Industry Engagement
AIMEX 2013 will maintain its deep engagement across the mining industry with the return of its industry "theme days", covering the key issues of women in mining, mine site safety and new ways to increase industry productivity. High-profile speakers during the three theme days include the Australian Coal Association's Dr. Nikki Williams and Beaconsfield mine tragedy survivor Brant Webb.

The Women in Mining Day will be on Wednesday, August 21, the Mining Safety Day on Thursday, August 22, and the Industry Productivity Day on Friday, August 23. "Across these three days, we will provide information and knowledge-sharing opportunities covering some of the major issues and challenges facing the industry," Baker said. "Increasing female participation in mining is a key issue for both the industry and governments; safety is a major ongoing concern for the mining sector; and ongoing productivity improvements are essential for its ongoing success. Visitors will have unique opportunities for valuable insights into all three of these."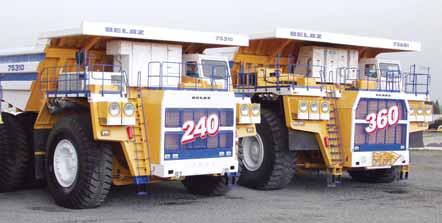 BelAZ haul trucks are now offered in Australia through the Australasian Pacific Engineering Group.
Starting with a keynote address by Dr. Williams, one of the most influential women in Australia's mining industry, the Women in Mining Day will not only celebrate the increasingly important role women are playing in mining, but also highlight the challenges and opportunities it offers.
A highlight of the Mining Safety Day will be a presentation by Brant Webb, survivor of the Beaconsfield Mining tragedy in 2006. He will share his experiences of being trapped underground for 13 days before being rescued, as well as talking about the impact of such an event on himself, his family and his community after he was rescued. Also speaking will be Dean McSporran from Safety or Sorrow, who lost his arm in a mining accident and is now a motivational speaker and industry consultant on safety issues.
APEG to Launch BelAZ in Australia
Australasian Pacific Engineering Group (APEG) will launch BelAZ, one of the world's largest manufacturers of mining dump trucks, onto the Australian market at stand R090. BelAZ recently began offering its trucks in Australia, with the opening of a new distribution and support facility near Newcastle, gateway to the coal-rich Hunter Valley.
Based in Belarus, BelAZ began manufacturing mining equipment in 1948, moving into truck design and manufacturing in the early 1960s. It has supplied more than 130,000 trucks to markets including the former Soviet Union, the CIS and other regions, including Eastern Europe, South America, Mongolia, Kazakhstan and China.
It manufactures the largest mining trucks outside of the U.S. and during 2013 plans to release a 450-metric ton-capacity truck, which will be the world's largest. In Australia, BelAZ recently appointed APEG as its distribution and support partner.
"We see this as a big development for the Australian resources sector," said APEG Director Shane Halliwell. "BelAZ views the Australian market as being very solid in the medium- to long-term, and this move is a key part of a global expansion program by the company."
With more than 14,000 employees in operations covering 33 countries, Shane Halliwell said, "Around the globe, one in three operating dump trucks is manufactured by BelAZ—giving an idea of the size and reach of the company."
The Vermeer T1655 Terrain Leveler SEM in action.
BelAZ trucks are designed and built in a modern manufacturing center in Zhodino, Belarus, which is producing 2,000 units a year. Halliwell said the BelAZ range offers mining companies and contractors a number of benefits. "While the initial purchase price certainly delivers significant savings over better-known brands, independent studies conducted over a 10-year operating cycle have shown that BelAZ trucks are considerably cheaper to operate.
"Our delivery times are typically significantly shorter than some other brands. For example, a 240-ton dump truck can be assembled in our factory and be ready to go within four days—giving delivery times between three and five months. For some competitive product there's up to an 18-month wait," Halliwell said.
APEG recently supplied BelAZ dump trucks to one of Australia's leading mining houses and since April 2013 has had five units operating on a "hire-to-buy" basis while being evaluated against its existing fleet.
Halliwell said initially APEG will supply two models in Australia—the 240- and 360-mt-capacity trucks. "These are all built to ISO standards and specced to meet the stringent mine site requirements of our client. Due to our flexible production line, the factory is capable of making changes to the trucks as required to ensure they meet Australian mining spec standards. This ensures there is no need for re-engineering when the unit gets here, something that is both costly for the client and can dramatically affects delivery times."
Sharps Heavy Equipment Repairs will perform service and repairs on BelAZ trucks in Australia. Sharps has facilities in Mackay and Dalby in central Queensland, and recently opened a new facility in Rutherford, in the upper Hunter Valley.
The Changing Face of Mining Suppliers
Some previously unknown names and makes will be seen for the first time at AIMEX. New names will include GE Mining (which recently acquired Industrea), underground coal mining specialist CME (part of China Coal), and XEMC, which has signed an agreement with Rio Tinto to supply a fleet of 230-ton haul trucks to the Mount Tom Pr ice mine in t he Pilbar a. Her e is a small sampling of what AIMEX delegates can expect to see at the exposition.
Engineering Services for Ports
BMT WBM is collaborating with Adani Mining on the detailed design of an expansion at its Abbot Point coal terminal in north Queensland. The agreement involves BMT engineers from Australia and India working with Adani's head office team in Ahmedabad, India. BMT WBM representatives will be on stand 5825 at AIMEX.
The proposed expansion will result in the coal terminal having annual capacity of 70 million mt of product coal, and coupled with the existing T1 terminal, will annually deliver a total 120 million mt. The Abbot Point terminals will support the new Carmichael mine in the Galilee Basin, northwest of Clermont.
BMT WBM's Tony McAlister said, "The market reputation BMT has carved over the past 40 years as a leader in mining and port infrastructure development and support services in Australia positioned us as the partner of choice for Adani Mining. In collaboration with our Indian offices, we have forged a strong relationship with Adani, to cover all aspects of civil infrastructure, mechanical and electrical design for the proposed port facility."
BMT has a comprehensive knowledge of design principles, standards and quality assurance systems, making it well placed to provide expert advice and guidance to help deliver a large-scale project such as this in Australia.
"We also promise attention to detail, knowledge of specific Australia standards, as well as adherence to quality control practices that will play an integral role in ensuring the successful delivery of the detailed design phase," said Tony McAlister. "We're hard at work with the assembled teams to refine the initial designs in order to create the most energy efficient systems and designs which will help to minimize initial capital expenditure and ongoing operational costs for this important project for both Australia and India."
BMT WBM is a leading edge consultancy in mechanical, water and environmental engineering and hydraulics.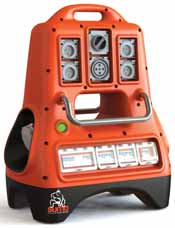 A Sumo electrical distribution board will be
displayed by Redstar Equipment at AIMEX
Complete Mine Operator Training System
Immersive Technologies will display what it describes as the world's first complete mine operator training system. The new system incorporates the company's advanced equipment simulators. Features of the new training system include:
•A training model blending eLearning, instructor-led training, and medium and high fidelity simulators with a customized content and curriculum—designed to ensure high levels of staff readiness, operational improvement and trainee output in a cost-effective manner.
•SimCloud technology offering mining operations complete visibility of local or global simulation training programs via a secure website.
•Global operator benchmarking tools so mining operations can benchmark their equipment operators against global norms based on data captured from more than 23,000 operators.
•A trainer productivity station designed to alleviate the industry shortage of experienced trainers.
•SimDesktop, allowing trainers and managers to use, anywhere and anytime, their Immersive Technologies' simulator data analysis and scenario configuration tools.
•SimMentor facilities for briefing before simulation training sessions, and debriefing afterward to help increase training effectiveness and free up simulator time.
"This is the mining industry's most advanced, complete and scalable solution for mining equipment operator development," said Immersive Technologies' Global Events Manager Ashley Mullaney. "AIMEX attendees will be able to experience the results of years of dedicated R&D, collaboration with hundreds of users of the industry's largest installed fleet of advanced equipment simulators, and exclusive partnerships with leading OEMs, including Caterpillar, Hitachi, Komatsu, Liebherr and P&H Mining."
The new system is supported by Immersive Technologies' training consultants, backed by a mining operator development best practice R&D team. Immersive Technologies will be at stand 3120.
Continuous Surface Mining
The first Terrain Leveler SEM was developed when Vermeer took a rock trencher, removed the trencher attachment, and added a patented tilt-head milling attachment with top-down cutting action. Topdown cutting allowed the cutter teeth to gain penetration without using the machine's tractive effort to drive the teeth into the minerals. As the unit travels forward and the drum rotates, the teeth on top of the drum advance over the top of the mineral surface. As the teeth come down toward the mineral surface, they make contact to instantly cut the material into uniform-sized product.
Producing material in a uniform configuration allows minerals to be handled more efficiently than product produced by drilling and blasting. The uniform product size also allows more efficient settings on secondary and tertiary crushing systems, savings that can continue well past the primary crushing stage.
Precision excavation with the use of a Vermeer Terrain Leveler SEM produces a smooth floor that can minimize wear and tear on mine trucks and loaders, especially on machines with rubber tires. This can also allow the use of off-road trucks in place of mine trucks in many cases.
Vermeer offers two Terrain Leveler SEM models—the T1255 and the T1655—helping mine, quarry and civil work operations bring more precision to their excavation projects. Vermeer staff will be available at stand 0300.
Conveyor Alarm System
Fenner Dunlop Australia will unveil a new 24/7 conveyor diagnostic and alert system at stand 0616. The round-the-clock alarm system is designed to alert users the instant any significant steel cord damage or splice damage is detected—and the nature of the problem. It also incorporates a splice monitoring system for the remote measurement of splice elongation.
"This can help prevent a common form of splice failure in fabric and solid woven belting," said the company's sales and marketing representative, Alana Beaton.
Other new Fenner Dunlop products on display at AIMEX will be:
•Ultra Tuff belting for high wear applications;
•High impact utility belting;
•A mine approved fire-resistant and anti-static (FRAS) heavy duty, lightweight nylon roller; and
•Hi-Integrity Splicing (HIS) technology, which Fenner Dunlop introduced into Australian mining operations for rubber-plied belts.
Beaton said Fenner Dunlop aimed to provide innovative, valueadding conveyor system solutions with measurable, sustainable results and an emphasis on safety.
In Australia, the Fenner Dunlop Group consists of Fenner Dunlop, Australian Conveyor Engineering (ACE) (acquired in October 2012), Leading Edge Conveyor Services (LECS) and Statewide Belting.
"This merger of expertise and capability is a key step in the rollout of Fenner Dunlop's engineered conveyor solutions strategy," Beaton said. "It provides our customers with the benefits of integrated solution packages comprising system design, equipment supply and installation, as well as complete after-market support covering condition monitoring, diagnostics and ongoing service."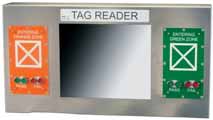 An example of an APC tagging system made for a
large mining company.
Electrical Distribution Board
Redstar Equipment will showcase a new Australian-designed Sumo Jumbo electrical distribution board at stand B1074. A new Denyo generator for prime fixed and prime mobile applications will be another highlight of the Redstar stand.
Redstar said its Sumo range of distribution boards are designed to provide mine spec electrical distribution capability in a compact, lightweight design. They can run from mains or generator power and can be cascaded or daisy-chained together if required.
"The Sumo Jumbo model includes both three-phase and single-phase outlets, all individually RCD and MCB protected with a main isolating switch for overall protection," said Redstar National Sales Manager Paul Sass. The boards are manufactured using the highest-quality European electrical components and are assembled in Australia," he said. "Sumo Boards combine state-of-theart functionality and performance with superior safety standards compliance."
Sumo Boards also include lightweight alloy tie-off rails that double as convenient, certified lift points, enabling the units to be moved around a site with ease and safely by hand, forklift or crane. Portability was further enhanced by a briefcase-style design.
Sass said initial customer feedback about the practicality and efficiency of the Sumo Jumbo design has resulted in the doubling of initial production estimates for the Australian market. Redstar is looking at establishing international distribution channels. The Sumo Jumbo is the latest addition to Redstar's Sumo range, which includes the Sumo Half Squat and Squat. A Super Jumbo board will be added to the range later this year.
Redstar will also use AIMEX to promote its range of generators, welders, compressors and fuel tanks, including new Denyo Series 2 machines. One of the largest fixed speed diesel distributors in Australia, Redstar services many of Australia's largest mining companies.
Customized Tagging System
APC Technology will be exhibiting a range of rugged computing solutions designed to survive in the harshest locations, whether above or below ground, at stand H119 at AIMEX. A featured product will be a customized tagging system, which has been designed and manufactured at the Adelaide factory for a large Australian mining company.
"This tagging solution met a range of requirements, as specified by the client," said APC's Regional Sales Manager Ken Duldig. These included the incorporation of a radio-frequency identification (RFID) card reader system; connectivity and integration from the unit to existing systems on location; plus meeting the budget and additional scope of work as set by the company.
At AIMEX APC will also be demonstrating some of its latest rugged mobile solutions and International Electrotechnical Commission (IEC) certified solutions, including input devices, touchscreen displays and panel PCs.
---
As featured in Womp 2013 Vol 07 - www.womp-int.com