Highlighting Diesel Technology
This year's bauma trade show in Munich, Germany, offered engine builders a showcase for the latest technologies, ready to meet the next stage in emissions-control requirements.
By Simon Walker, European Editor
---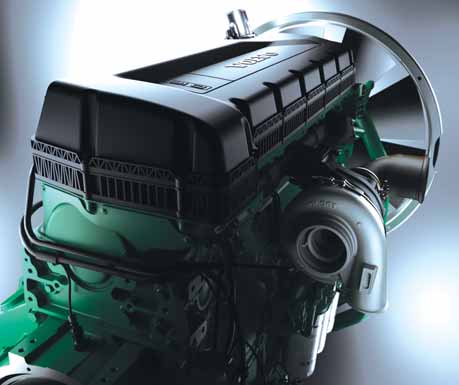 Diesel engine builders have taken different approaches to solve a technological paradox posed by increasingly
stringent standards for diesel exhaust emissions: Focusing on reductions in NO x results in increased diesel
particulate matter (PM), while lowering PM levels will result in higher NOx concentrations in the exhaust.
(Photo courtesy of Volvo Penta)

With the latest deadline in the current round of emissions-control tightening just around the corner, the world's dieselengine manufacturers have been working to develop and verify the technologies needed to meet the new requirements. Not, of course, that this is a bad thing—the hazards posed to health and safety (and from time to time, visibility) by "dirty diesels" are largely a thing of the past. Modern technology produces engines that are much cleaner and, most importantly in an environment where fuel prices continue to rise, much more fuel-efficient.

It is perhaps natural for industry-watchers to focus on the top end of the market when looking at engine technology. After all, big haulers, loaders and dozers need big engines, and it is easy to be carried away by the sheer size and power capabilities of a piece of machinery that can output upward of 3,000 kW. However, that view does a disservice to the much larger engine-market segment that powers mid-range equipment such as hydraulic excavators, mobile crushing and screening plant, drill rigs, graders, wheel loaders, and trucks of a more modest capacity. In volume terms, this generates much more demand than the ultra-class segment ever can, with equipment manufacturers able to follow two main routes for powering their products: either developing and building increasingly sophisticated engines themselves or relying on specialist engine suppliers to do so.

To give an idea of t he size and longevity of the third-party supply system, at bauma, German engine manufacturer Deutz took the opportunity to highlight its remarkable relationship with Atlas Copco. This year, the company will deliver the 500,000th Deutz engine to Atlas Copco in a relationship that goes back to 1956. Typical applicat ions include power unit s f or compressors, gensets, construction equipment and mining equipment, with the various applications making use of virtually the entire Deutz product range: both waterand air-cooled, the company said.

While bauma's principal focus is on construction, the bauma mining section of the show continues to grow as manufacturers give greater recognition to mining's importance in the equipment marketplace. Diesel-engine exhibitors included OEMs such as Caterpillar, Liebherr and Volvo, as well as specialist engine suppliers, Cummins, Deutz and MTU. Each had plenty to say about their products, and their suitability for meeting the new generation of emission-control requirements.

The Road to Emissions Control
At this stage, it is perhaps worth a reminder of exactly what has been involved in the introduction of emissions-control regulations for the off-highway market since it first began in the 1990s. In the United States, Tier 1 standards for new offroad diesel engines more than 37 kW (50 hp) were phased in between 1996 and 2000, with Tiers 2 and 3 being introduced between 2000 and 2008. In general, up to now these standards have been met through advanced engine design, with only limited use of exhaust-gas after-treatment by oxidation catalysts.

Tier 4, however, scheduled for introduction between 2008 and 2015, has much more stringent requirements for emissions of both nitrogen oxides (NOx ) and particulate matter (PM). Tier 4i (interim) preceded the Tier 4f (final) requirements, with new engines producing less than 560 kW required to meet Tier 4i by 2011 and Tier 4f by 2014. Manufacturers have had an additional year to bring their larger engines into compliance.

The exception to the U.S. Environmental Protection Agency's requirements is for diesel engines used in underground equipment, for which the Mine Safety and Health Administration has the responsibility for setting PM emission standards.

European Union (EU) requirements are broadly similar in approach to those in the U.S. market, with Stages I and II introduced between 1999 and 2004, then Stages IIIA and IIIB becoming mandatory for new engines during 2006-2008 and 2011–2012, respectively. The final EU requirement, Stage IV, comes into play next year for off-highway engines with an output above 56 kW.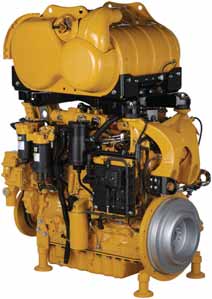 Cat C7.1. (Photo courtesy of Caterpillar)
Tognum gr oup specialist engine supplier MTU told E&MJthat from January 2015, off-highway engines with rated outputs more than 560 kW will be subject to Tier 4f emissions standards of 3.5 g/kWh for NOx , 0.19 g/kWh for hydrocarbons, 3.5 g/kWh for carbon monoxide and 0.04 g/kWh for PM.
However, Volvo Penta pointed out there is a paradox in relation to achieving these reductions. Focusing on reductions in NOx results in increased PM, while lowering PM levels will result in higher NOx concentrations in the exhaust. Different engine manufacturers have followed different routes to achieve the goal. Some (like Volvo Penta) have opted exclusively for selective catalytic reduction and exhaust gas recirculation as their main abatement mechanism, while others have preferred to use diesel particulate filter technology as well, to ensure a catch-all solution.
Caterpillar: Wider Range of Rebuild Kits
Aside from powering its own products, Caterpillar is a major supplier of industrial engines to other equipment manufacturers. The company reported it is now offering a new generation of Tier 4f/Stage IV engines from 25.2 to 895 kW (34– 1,200 hp) that give good fuel efficiency and component life, with significantly reduced emissions. Units on display at bauma included the C1.5, C7.1 ACERT and C18 ACERT engines, as well as the C4.4 ACERT, C13 ACERT and C7.1 ACERT power units.
Cat equips every Stage IV/Tier 4f engine with a combination of electronic, fuel, air, and after-treatment components based on engine size, the type of application, and the geographic location in which it will work. The technologies offered include a diesel oxidation catalyst (DOC), diesel particulate filter (DPF) and selective catalytic reduction (SCR), with a "No DPF" after-treatment package available for some applications.
"As we designed our Stage IV/Tier 4 Final engines, we did so with the end in mind in order to make integration as simple as possible for our OEM customers," said Mike Reinhart, Caterpillar industrial marketing manager. "We've been able to meet emission legislative standards while delivering value to our customers. As a result, we have the strongest, most complete product range available for customers and manufacturers looking for a robust, fuel efficient industrial engine solution."
The larger engines on display were the C13 and C18 ACERT units. The C13 is a six-cylinder, 12.5-liter engine that delivers 287–388 kW (385–520 bhp) and is used in a wide variety of applications such as crushing, drilling, materials handling and pumps. Meanwhile, the C18 industrial engine is a six-cylinder, 18.1-liter unit that is similarly sized to its Stage IIIB/Tier 4i predecessor, with twin DOCs fitted to the 563–597 kW (755–800 bhp) ratings to comply with Tier 4f emission standards, Cat said.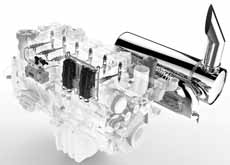 "X-ray" view of Liebherr's Tier 4f-compliant engine
design. (Photo courtesy of Liebherr)
In April, Cat also announced an extension to the availability of its Precious Metals engine-rebuild kits for some of its machines. Available in four levels (Bronze, Silver, Gold and Platinum), the kits are now available for C9-powered equipment as well as machines powered by 3406, 3306 and 3176 engines.
Bronze kits provide basic components such as gaskets, seals, oil and fuel filters, camshaft bearings, exhaust manifold sleeves, etc. Silver kits include the Bronze kit, plus new, unassembled pistons, piston rings, retainers and cylinder liners, while Gold kits include the Bronze kit and six Cat Reman (remanufactured) pre-assembled cylinder packs. Platinum kits include the Bronze kit, plus the cylinder packs, a cylinder head, fuel injectors or fuel nozzles, a water pump and an oil pump.
The types of equipment covered by these kits include motor graders, excavators, mid-range tracked dozers, wheel dozers, wheel loaders and articulated trucks.
Liebherr: In-house Systems Design
Since 1985, Liebherr has produced diesel engines for use in its own machines as well as to supply other equipment manufacturers. Its extensive stand at bauma showcased some of its current 11-model basic range, which offer power outputs from 130 to 750 kW (174–1,005 hp). All of its fourand six-cylinder in-line engines, as well as its V8 and V12 units, comply with the Stage IV/Tier 4f emission regulations, the company said.
Liebherr explained that in order to meet the new criteria, it has intensively optimized the complete combustion process with the aim of minimizing the level of particulates generated inside the engine. One of the major factors in coordinating the various parameters involved has been the inhouse development of a common-rail fuel injection system, together with a Liebherrdesigned electronic engine management control unit.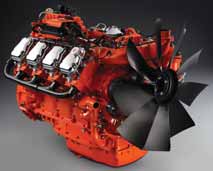 Scania's Tier 4f engine design includes EGR.
(Photo courtesy of Scania)
To keep t he syst em simple and opt imize exhaust emission control in even the toughest operating conditions, Liebherr decided to concentrate on SCR technology. This has economic benefits for the customer and also simplifies machinery design, the company said. Since particulate emissions are already below the statutory limits, no measures are needed to reduce them further. The SCR catalytic converter, and its associated system components reduce NOx emissions by around 98%, Liebherr added.
Focusing on reducing particulates formed inside the engine, Liebherr has increased the injection pressure and compression and reduced internal friction. Other features of the new engines include stable multiple injection, optimized combustion chamber geometry and efficient forced aspiration. Meanwhile, the common-rail principle ensures efficient, accurate fuel injection. Soot particles inside the combustion chambers are reduced to a minimum, with lower fuel consumption.
Scania: Building on Road-vehicle Technology
The Swedish engine and vehicle manufacturer, Scania, exhibited its 9-, 13- and 16-liter industrial engine families at bauma, all of which are ready for 2014. The three ranges offer power outputs of 202–294 kW, 257–405 kW and 404– 566 kW, respectively, with the 9-liter units based on a five-cylinder in-line format, the 13-liter as an in-line six, and the 16-liter as a compact V8. Each range features Scania's common-rail, extra-high-pressure XPI fuel injection, charge cooling, exhaustgas recirculation (EGR) and SCR.
The difference from its previous engine ranges, which complied with Tier 4i/Stage IIIB, is the addition of EGR systems, the company said, while pointing out that each of the three engine ranges has the same installation dimensions irrespective of the emission level. Installation remains unaffected, it added, which significantly reduces the efforts required from OEMs that are active on the global market.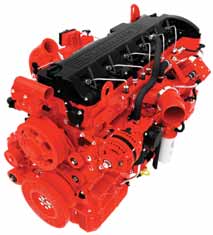 Cummins QSM12. (Photo courtesy of Cummins)
Scania pointed out that its industrial engines have been developed in parallel with engines for trucks and buses, thereby complying with new emissions legislation several years before it takes effect. Clean, refined combustion technology means that it manages the very stringent Tier 4f/Stage IV regulations without the need for a particulate filter, the company having gained many years of experience with EGR and SCR from its trucks and buses.
Scania has also implemented a modular philosophy throughout its engine ranges. This greatly facilitates servicing, repairs and parts supply, since the engines all share the same cylinder design, the company said. They have cylinders with replaceable liners and many common moving parts. "If you know one Scania, you know them all, regardless of its configuration—in-line or V8," the company said.
With EGR, a small amount of exhaust gas is returned to the engine intake, diluting the intake air and reducing the oxygen concentration. This reduces the combustion temperature and the emissions of both particulates and NOx . The main function of the SCR system, meanwhile, is to further reduce NOx emissions. SCR is based on the injection of a urea solution in the exhaust system, with solution consumption running at around 5% of fuel consumption for Tier 4f/Stage IV NOx levels.
Cummins: New, Small Mining Engine
At the smaller end of the mining engine range, Cummins launched a new Tier 4fcompliant 12-liter engine, the QSM12. However, some of its larger engines were also featured prominently at bauma. The two largest pieces of mining equipment on show in Munich, Liebherr's T264 truck and R9400 mining shovel, are both powered by Cummins engines, while Cummins exhibited its top-of-the-range 3,132-kW (4,200-hp) QSK95 mining diesel on its own stand.
The company said the QSM12 provides a compact configuration and offers 382 kW (512 hp) peak output. This makes it suitable for powering equipment such as wheel loaders and excavators with a bucket capacity of up to 7 yd 3 , Cummins added, as well as for LHDs with capacities up to 20 tons.
MTU 1000-1500 family. (Photos courtesy of Tognum MTU)
With a six-cylinder in-line configuration, the QSM12 provides more than 30% higher power density than the class average for engines with a similar power range, while meeting the new emission limits without the use of EGR, Cummins claimed. Instead, higher-efficiency air handling and advanced combustion enable it to return to the simplicity of a waste-gated turbocharger, then combining a diesel particulate filter (DPF) with SCR to achieve ultra-clean exhaust.
"For Tier 4 Final, the QSM12 sets a new benchmark for heavy-duty engines with its ability to outperform any comparable engine, while providing a smaller, lighter and simpler engine package to install," said Hugh Foden, executive director for Cummins Off-Highway Business. "The new QSM12 provides an ideal opportunity for equipment manufacturers to downsize to a far more productive and economic 12-liter engine, with all the heavy-duty durability and performance they need."
The SCR system developed by Cummins for Tier 4fl/Stage IV is a nextgeneration design with a copper zeolitebased catalyst capable of more than 95% NOx conversion. Diesel exhaust fluid (DEF) dosing is minimized by the use of a highprecision injection spray pattern. When the cost of the DEF is combined with the cost of fuel consumed, the overall fluid operating cost of the Tier 4f QSM12 is lower than that of the previous Tier 4i QSX11.9 engine, the company claimed. The company said that its experience of integrating DPF and SCR technology as a single system is unmatched in the industry, with almost 450,000 Cummins engines produced with this combined after-treatment.
Deutz: Opportunities to Down-size
For old-timers in the mining industry, the name Deutz was synonymous with the aircooled diesels used in LHDs and other mobile equipment. Not any more—today the company offers a wide range of both air- and water-cooled units, and took the opportunity provided by bauma to launch its new generation of Tier 4f/Stage IV-compliant engines. These illustrate the current trends in innovative engine construction, Deutz said: adaptation to the latest emissions standards, downsizing and economy.
While several of the new engines on show were best suited for lighter-weight applications than would normally be found in mining, the TCD 7.8 is the company's most powerful mid-class engine. Its maximum output of 250 kW (335 hp) and top torque of 1,400 Nm advances this six-cylinder engine to a class that used to be dominated by 9-liter engines, Deutz said. The engine has a long service life, long service intervals and 3%–5% lower fuel consumption than its Tier 3 predecessor, it added.
The company's V-engines also offer robust design and low operating costs, with a compact and light weight design. They can fit into small spaces, so there is more room for other components, it added. The six-cylinder TCD 12.0 delivers a maximum output of 390 kW (523 hp) while the eight-cylinder TCD 16.0 is the company's largest unit with a 520 kW (697 hp) rating.
The TCD 12.0/16.0 engines conform to Tier 4/St age I V wit h an SCR- only concept , using two SCR systems in series. Developed from the DVERT SCR concept for these engines at Tier 4i/Stage IIIB, this makes it possible to dispense with EGR for V-engines.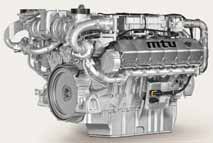 MTU 1600. (Photos courtesy of Tognum MTU)
Deutz claims that its new generation of engines can reduce fuel consumption by 3%-5%, depending on the application, the load profile and the output, having already gained 5%-10% better fuel economy in the transition to Tier 4i/Stage IIIB. All of its new designs are compact and produce low noise levels, with minimal effort needed for installation.
MTU: Combustion Optimization Focus
As noted in E&MJ's bauma report (See June, pp.98-109), MTU presented its fourand six-cylinder Series 1000 in-line engines and six-cylinder Series 1100, 1300 and 1500 in-line engines at the show. Designed for power outputs under 560 kW and equipped with SCR, these engines comply with the EU Tier 4f/Stage IV, with typical applications including haul trucks, wheel loaders, mobile cranes, excavators and underground mining vehicles. For countries with less stringent emissions rules, MTU said it will continue to supply its Series 900, 460 and 500 units.
From 2014, MTU's 10- and 12-cylinder Series 1600 units will be extending the engine range available up to 730 kW. Launched in 2009, the Series 1600 engines are suitable for use in haul trucks, wheel loaders, pump drives and drill rigs, meeting Tier 4f requirements through the use of high-pressure common-rail fuel injection, two-stage turbocharging and EGR with a cooling system. To keep fuel consumption as low as possible, MTU has focused on optimizing the combustion processes.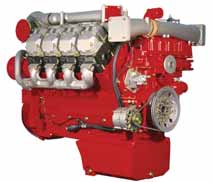 Deutz TCD 16 V-8. (Photo courtesy of Deutz)
The Series 1600 now covers power outputs from 567 to 730 kW (760–979 bhp), with a displacement volume of 1.75 liters per cylinder. Unlike the smaller engine models that are based on truck engines, MTU developed Series 1600 as an autonomous off-highway engine family.
MTU pointed out that in mobile machinery applications, engines must not only satisfy emissions legislation, but also be specifically optimized to reduce their space claim, weight and fuel consumption. By building to a modular principle and equipping them with a large number of interchangeable options, MTU claims to have designed engines that are specially optimized for industrial applications.
Their few interface connections, such as those for coolant, electronics and air-intake piping, make Series 1600 installation quick and inexpensive, the company added. The charge-air coolers are directly mounted on the engine, for example, with the straightforward installation features translating into low overhaul and operating costs. MTU pointed out that, as with all its engine families, most components on the V10 and V12 versions of the engine are identical, helping to simplify spare-parts logistics and providing a wide range of options.
MTU's primary approach to achieving compliance with Tier 4f requirements has been to reduce the pollutants generated by combustion, by focusing on internal engine emissions-reduction solutions. It has also ensured that all EGR components are integrated into the engine in a compact way so the size of the engine and the exhaust piping are not significantly affected. The twostage turbocharging system engine is equipped with low- and high-level turbochargers at each cylinder bank, meaning the engine can deliver power consistently at all speeds, even at high altitude. This is an ideal solution for off-highway vehicles, which need high torque, even at low speeds.
All of the engine and turbocharger functions are controlled, regulated and monitored centrally by MTU's advanced diesel engine control unit (ADEC). By fine-tuning high-pressure fuel injection to precisely suit the given load status, this plays a major role in efficient, low-emission engine operation. For easy integration by OEMs, ADEC is equipped with an integrated SAE J1939 interface and several inputs and outputs, ready for customization, MTU added.
Volvo Penta's mid-range diesel lineup will offer automatic start/stop capability. (Photo courtesy of Volvo Penta)
Volvo Penta: Underground Mining Range
Swedish specialist engine manufacturer Volvo Penta aims to release its full line of Tier 4f - compliant indust r ial engines next year. Its exhibit at bauma, meanwhile, gave the industry a preview of these new units, as well as the company's new automatic start/stop technology (See E&MJ June 2013).
Volvo Penta has focused specifically on SCR technology to meet Tier 4f requirements, with the added advantage that by doing so, it makes life easier for all the equipment manufacturers already employing this technology. David Hanngren, the company's manager for industrial product planning, said, "With our new Tier 4 Final engine r ange, we will meet our customers' primary objectives: no regeneration, limited installation challenges, continuous optimized fuel consumption and low operating costs. With as few and as simple changes as possible, we aim to make our customers' job as easy as possible," he said. "This is probably the best EGR system in the world."
This "light" EGR system not only provides further emission reductions but also helps to keep the SCR catalyst operating at an optimal temperature, Volvo Penta noted, while installation is greatly simplified by avoiding a costly DOC.
Volvo Penta will be offering a range of five basic Tier 4f-compliant engine platforms. Sharing a common design concept to ease OEM design and installation, they will include 5-, 8-, 11-, 13- and 16-liter units, covering a power output range from 105 to 515 kW (141–690 hp).
In the meantime, the company currently offers an 18-model range of engines approved for underground mining applications: nine compliant with Tier 2 and nine with Tier 4i. Power outputs range from 224 to 522 kW (300–700 hp), with all of the Tier 4i- compliant unit s using SCR t echnology. Volvo Penta points out since they require a ventilation rate of around 30 cfm/hp, these deliver the maximum ventilation rate available for a conventional diesel engine—helping to cut ventilation volumes and costs (See Ventilation p. 66).
As the company notes, while Tier 4f represents a major step forward, the process of lowering emissions in off-road engines is far from over, with more stringent regulations in the pipeline. At the moment, there is a clear divide between those parts of the world where emissions control is tightly regulated and those where older standards still apply. As a result, manufacturers have to be able to offer engines that meet the requirements of each individual market, regardless of whether or not that is the most efficient use of manufacturing resources.
If nothing else, what the phased introduction of increasingly tight emission-control requirements has done is drive the world's engine companies to greater ingenuity in terms of the technology being applied. And, at the end of the day, better fuel efficiency and improved working conditions can only be of benefit to mining companies and the individual alike.
---
As featured in Womp 2013 Vol 07 - www.womp-int.com