Nevsun Adds Copper Flotation Circuit to Bisha Mine in Eritrea
---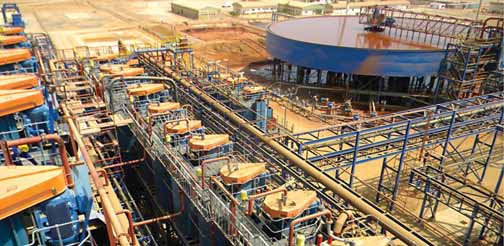 Nevsun Resources' new $100-million flotation circuit at its Bisha copper/gold mine will begin producing highgrade copper
concentrate later this year. (Photo courtesy of Nevsun Resources)

Nevsun Resources has completed construction of the copper flotation circuit at its Bisha mine 150 km west of Asmara, Eritrea. Nevsun initiated gold production at Bisha in December 2011, processing ore from the project's oxide cap, and the new flotation plant is initially processing pyrite sand through the rougher flotation circuit to produce a precious metals concentrate.

In September, the plant is scheduled to convert to production of high-grade copper concentrate from ore from the Bisha deposit's supergene zone. The plant's cleaner flotation cells and regrind mills, while complete and in place, will only be commissioned using supergene ore starting in September, after completion of pyrite sand processing.

Bisha mine production during 2013 is forecast at 110,000 oz of gold and 30 million to 50 million lb of copper in concentrate. The copper flotation circuit is expected to reach its design production of 200 million lb/y of copper in concentrate in the first quarter of 2014 at cash costs of less than $1/lb.

Bisha's crushing and grinding circuit and the tails disposal infrastructure remain the same as for the carbon-in-leach gold plant. The carbon-in-leach plant will be on care and maintenance in a condition that will allow it to be re-commissioned if additional gold oxides are found at or near Bisha.

Capital cost to complete the Bisha flotation circuit came in under its budgeted $100 million for on-site facilities and $25 million for off-site concentrate export infrastructure.
---
As featured in Womp 2013 Vol 07 - www.womp-int.com