Pumps and Pipelines Keep Mines on the Move
From dewatering their workings to handling tailings from the mill, mines rely on pumps and pipework to keep fluids flowing.
By Simon Walker, European Editor
---
KWH Pipe supplied 37 km of slurry and water pipeline to Boliden during the recent expansion at the Aitik copper
mine in Sweden. The pipes' flexibility allows them to bend and absorb stress caused by ground movement.

Mines canít function without pumps and pipework. Period. At the front end of an operation, dewatering is key to maintaining production, be it from underground or an open pit. By the time ore enters the processing plant, slurries need transporting. Even in the rare instance of gravity mills where the flow-sheet runs sequentially downhill, there will be some need for recycling material, involving both pipework and pumping. Within the plant, reagents have to be handled, separated flows directed to the appropriate next treatment stage, and at the end of the whole proceedings, tailings deposited and reclaimed water recycled. Things get even more compli-cated once backfill plants are in use, with further demands on equipment that is capable of handling abrasive slurries over long periods without requiring exces-sive maintenance.

Each of the components involved in handling fluids that can be corrosive as well as abrasive has specific requirements in terms of the materials used in their con-struction, while the aim is always to keep maintenance and repair costs to a mini-mum. Manufacturers today offer pumps, pipework and valves made of materials that are appropriate to the duty required, with heavy investment having gone into devel-oping new metallurgy that can provide bet-ter service at lower overall cost. Lighter-weight plastics are also playing an increas-ingly important role, especially in pipe-work, while the reliability of valves has improved over the years, giving more pre-cise control over fluid flows of all types.

E&MJ asked a number of the leading international suppliers of fluids-handling equipment for an update on their current product offerings. Here are some of their responses.
A KSB 8-in. UPA 200 submersible borehole pump. The selection of
the correct dewatering pump can give big energy savings, the
company says.
Efficiency Optimization Can Pay Dividends
According the German manufacturer of pumps and valves, KSB, the economic effi-ciency of groundwater extraction—as is often needed in open-pit and opencast mining—hinges on the overall efficiency of the submersible borehole pump employed. Poor efficiency costs lots of energy, so investing in a new, more efficient pump can pay for itself in less than a year by slashing energy expenditure.
KSB states that one-third of all sub-mersible borehole pumps work inefficient-ly. Since the late 1980s, it has examined the efficiency of more than 2,700 well pumps, with the results from these studies showing that 37% of the pumps it exam-ined had an overall efficiency of less than 40%. For the user, this translates into excessively high operating costs.
KSB points out that—assuming that the original choice of pump was correct— poor efficiency is often the consequence of a change in the pump's duty point. The most frequent causes are a deterioration of the well inflow distance (the well's filtra-tion properties have changed and the pores of the gravel filter pack or layer are plugged up); changes in the groundwater level, since this can rise or fall over time; reduc-tions in the pipe diameter; and pump wear.
If the pump is responsible for poor effi-ciency, the most likely cause is wear. This can usually be traced to the pump's casing wear rings, which can be gradually abraded by sand entrained in the fluid pumped.
Incrustation in the pump, the piping or both is another potential cause for a loss of pump performance, this being the accu-mulation of iron oxide, calcium or man-ganese on the inside surfaces.
Having the wrong duty point means a waste of energy. In a real example, a 30-kW submersible borehole pump was designed to deliver 150 m3/h at a dis-charge head of 53 m. Because of licensing constraints, the operator had to limit the pump's operating time to 5,000 hours per year and throttle the flow rate to approxi-mately 100 m3/h. While the unthrottled pump achieved better than 50% efficien-cy, throttling reduced this to below 40%. Analysis showed that this pump needed an energy input of around 151,000 kWh/y under these conditions.
However, KSB says, by replacing this pump with a new unit, correctly designed for the duty and with a lower-resistance power cable, the energy demand fell to just 93,600 kWh/y, representing a saving of 57,400 kWh/y to achieve the same capacity.
To summarize, the viability of investing in a new, more efficient pump depends not only on the size of the pump set itself, but also on the anticipated number of annual operating hours and the price of electricity. Since most submersible borehole pumps can be expected to run many thousand hours a year, a gain in efficiency amounting to just a few percentage points can translate into major savings, justifying the purchase of a new pump, the company states.

Putzmeister Solid Pumps recently supplied four units to Randgold Resources' operations in Mali.
Tailings Pumps for Mali's Gold Mines
Putzmeister Solid Pumps is part of the larger Putzmeister group, which specializes in areas such as concrete pumps for con-struction, and shotcreting systems for underground mining and tunneling. A key area of expertise is in the design of oil-hydraulic high-pressure piston pumps that are used for transporting and storing sludges and high-density solids such as mine tailings and concentrates.
The company recently completed an order to supply pumps to Randgold Resources' Loulo and Gounkoto gold mines. Located in the west of Mali, the mines are situated within the Kedougou-Kenieba inlier of Birmian rocks that host a number of major gold deposits, including Sadiola, Gara, Yalea and Gounkoto.
In mid-2012, Putzmeister Solid Pumps received an order from Randgold for the design and fabrication of four hydraulically driven piston pumps with a flow rate of 150 m3/h and a delivery pressure of 90 bar. The pumps were designed for backfill operations using material from the treatment plants.
Following a design, fabrication and test phase totaling 37 weeks, the four pumps were shipped to the mine site in December. Putzmeister reports that the type KOS 25.100 HPS pumps, with HMC-S valves and an 800-kW hydraulic power pack, will be in operation at the end of this year.
Each of the pumps has two, 2,500-mm-long, 360-mm-diameter (98-in. long, 14-in. diameter) delivery cylinders, while the hydraulic power pack is equipped with sound-protection panels and a special cooling system.
The KOS pump type is a valveless, two-cylinder piston pump that is suitable for conveying all kinds of thick media with a high solids content. The KOS 25.100 HPS consists of a hopper with two agitators, two hardened delivery cylinders with one deliv-ery piston each, and a so-called S-transfer tube, connecting the delivery cylinder to the output flange. The changeover of the S-tube during operation is carried out by two plunger cylinders.
Two hydraulic cylinders are used as the driving unit for the delivery cylinders. An intermediate water box (between the hydraulic and material cylinders) allows the cylinders to be flushed and cooled, as well as giving access for quick replacement of a piston during maintenance.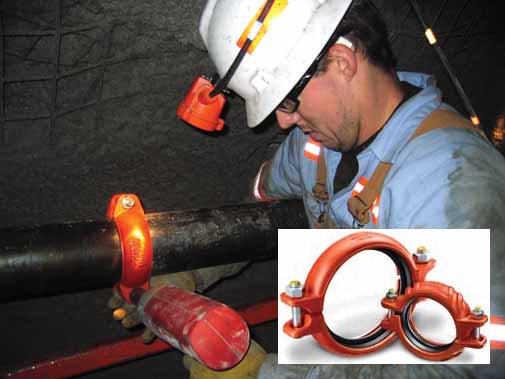 Victaulic says that installing its couplings is quick and easy, using standard tools.
Quick-fit Pipes with a Long History
Victaulic manufactures a range of pipe-joining solutions for the mining market that, it says, offer faster, safer and more efficient assembly of piping systems. From a mine owner's perspective, using Victaulic pipe can cut installed costs by up to 50%, it claims, while its products are safer and faster to install, reducing the opportunity for injuries. This type of pipe system can also cut maintenance times significantly, keeping plants running more efficiently. For piping installers, they have the advantage of faster installation with-out the need for special tools, while the availability of reusable parts speeds up maintenance.
The company notes that in the U.S. and Canada, grooved mechanical piping is the generally accepted method for joining pipe in the mining industry. The mechanical joint consists of four elements: grooved-end pipe, a gasket, coupling housing, and nuts and bolts. The primary and perhaps best-known benefit of these systems is that they are three to five times faster to install than other methods of pipe joining, while the couplings can be orientated in any direction during installation, making it eas-ier to install pipe ranges in tight spaces.
Another benefit of Victaulic grooved products is the ease in rerouting and expanding piping systems, the company says. Where piping systems need to be repositioned and extended, the ability to disassemble and reassemble piping com-ponents quickly and easily means that sys-tem retrofits and expansions can be completed fast.
Victaulic products include its original groove system, introduced in the 1920s, the advance groove system, and the Vic-Ring system for large-diameter slurry and tailings lines, as well as high-pressure and fire-protection systems.
The company reports that its products are now in use at De Beers' Snap Lake oper-ation in northern Canada on dewatering, water, compressed air and slurry pipelines. Underground, the mine uses installation-ready Style 177 flexible couplings that greatly reduce the risk of pinched gaskets— compressed air leaks can cost thousands of dollars a year in additional energy costs. In the process plant, rigid and flexible advanced groove system couplings are used on abrasive slurry pipelines, using the Victaulic Vic-Ring piping method to main-tain the full pipe-wall thickness.
In Australia, meanwhile, a recently installed conveyor structure at Rio Tinto's Tom Price mine has been equipped with Victaulic FireLock products on its 6 in. and 8 in. (152- and 203-mm) fire-protection pipelines. The company notes that these were chosen to provide an approved rigid joint that could be installed easily without the need for on-site welding. It also helped minimize the time that the installation crews spent exposed to the extreme out-door heat conditions of the Pilbara.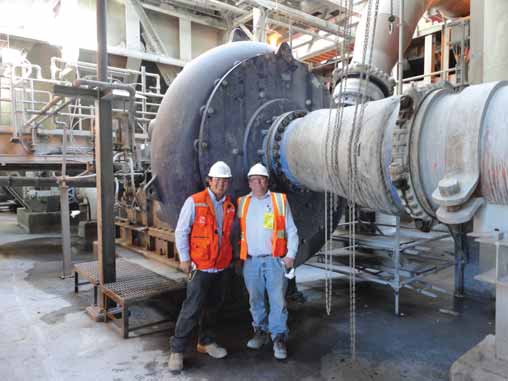 FLSmidth's millMAX centrifugal slurry pumps feature a patented adjustable suction-side sealing system.
Designed to Cut Internal Recirculation
A member of the FLSmidth group since 2007, FLSmidth Krebs is a major world supplier of hydrocyclones, centrifugal slur-ry pumps and knife-gate valves.
FLSmidth offers its millMAX pump range of centrifugal slurry pumps in sizes from 2- to 34-in. (51- to 864-mm) suction diameters. The company says the millMAX pump has a unique patented design devel-oped exclusively for mill discharge duties and adapted for other severe abrasive slurries. The same wet-end components can be offered as a conversion kit to existing pumps, without the need to dis-turb the foundation or existing bearing frame assembly.
Within the millMAX product family there is a wide range of designs, including rubber lined, dredging, vertical, high-head and high-pressure pumps. With the excep-tion of the vertical pumps, all have a patented millMAX adjustable suction-side sealing system. This stops suction-side recirculation within the pump, while main-taining a large gap between the suction liner and the impeller. Adjustments to this system can be made while the pump is running to ensure continued consistent performance through the life of the pump, the company adds.
Conventional pumps reduce suction-side recirculation by adjusting the suction liner and impeller closer together. However, FLSmidth points out, this causes particles to be trapped and ground between the two, decreasing the wear life and efficiency of the pump. The newest addition to the millMAX product family is the Ultimate Mill Discharge (UMD) pump, which is designed specifically for the most abrasive mill-discharge applica-tions. The UMD design minimizes hydraulic turbulent wear within the pump while still maintaining all of the advantages of the suc-tion-side sealing system.
Meanwhile, FLSmidth Krebs' Techne-gate knife gate valve is a bi-directional, packingless, on-off slurry knife gate valve that has been designed for harsh service. Its open body design ejects material from the bottom and prevents the gate from jam-ming. Available in sizes from 3 to 30 in. (76 to 762 mm), these valves feature a stainless steel gate running within a cast ductile iron body, while the sleeve design allows for unobstructed full-port opening, the company says.
Pinch-valve Design Minimizes Internal Erosion
U.S.-based Red Valve Co. has been build-ing valves since 1953, when it developed the pinch valve for the world's first coal slurry pipeline. Since then, the company says, use of its equipment has spread world-wide, with its valves featuring full-port openings, non-clogging designs and the use of abrasion-resistant materials in their construction.
Red Valve claims to be able to offer solutions to every valve application found within a tailings-disposal system, for instance, with both its pinch valves and Flexgate valves finding applications for this use. For slurry applications, the company points out that rubber is tougher than metal, so in the wide-open position, there is virtually no wear or turbulence on the sleeves of its pinch valves. Unlike the flow patterns in conventional valves, which cre-ate a deflection that causes wear, the flow pattern in a Red Valve pinch valve is streamlined even when throttled.
Red Valve adds that since the operat-ing mechanism is isolated from the flow, a manual pinch valve can be left in the open or closed position for years without affecting the operating torques, which remain constant.
Meanwhile, its Flexgate valves are com-monly found on tailings systems, especial-ly in larger-diameter sizes. The Flexgate valve provides the best features of a pinch valve and a knife gate valve. A knife blade passes through two full-port elastomer seats, opening or closing the valve.
Pinch valves are also used for controlling the level in thickeners, where the underflow contains a high solids content that quickly destroys ball, butterfly and plug valves. Red Valve says that its pinch valves have a patented cone sleeve trim that is sized to match any application's exact control requirements, so its pinch valves provide precise repeatable control across a wide range of pressure and flow conditions.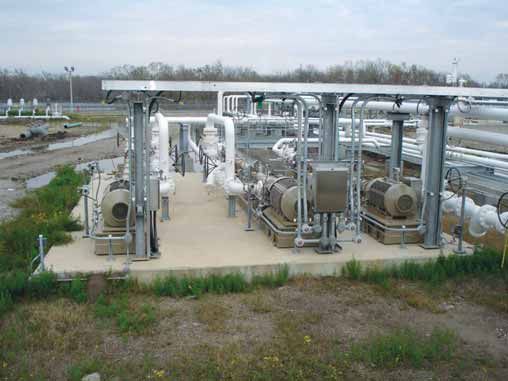 GE's surface pumping systems for mine dewatering, as well as salt dome leaching and injection operations, are multistage
centrifugal units available as portable skid-mounted units, trailer-mounted units or multiple pumps in fixed installations at
main pump stations.
Multi-stage Centrifugal Pumps for Mining
At the heart of a GE Oil & Gas Surface Pumping Systems (SPS) unit is a multi-stage centrifugal pump that can typically handle up to 125 liter/s (2,000 U.S. gal-lons/minute) and discharge pressures rang-ing up to 410 bar (6,000 psi). Offering a low surface profile coupled with quiet vibration-free operation, SPS units are available in electric-, gas- or diesel-pow-ered versions. Their modular design makes the units suitable for a wide variety of applications, including mine dewatering and leaching operations.
GE says its SPS pumps provide a ver-satile, low-maintenance alternative to many multi-stage split-case centrifugal, positive displacement and vertical turbine pump models. SPS pumps are delivered to the job site pre-assembled. The frame assembly is pre-wired with instrumentation and cabling, so the suction and discharge flanges and power hookups are typically the only connections needed.
The company notes that effective water management is critical in mining and salt-dome leaching operations, and claims that its SPS pumps provide low initial and whole-life costs, high pump efficiencies, minimal routine maintenance, flexibility for changing operating conditions, and easy repair. They are available as portable skid-mounted units, trailer-mounted units or multiple pumps in fixed installations at main pump stations.
SPS units are used in many cavern leaching and/or formation jetting (borehole mining) applications. In leaching process-es, SPS pumps are frequently used to cir-culate water in a salt dome, with the cav-ern formed then being used to store oil, natural gas or other materials. The storage process also requires properly matched SPS injection pumps, GE points out.
According to GE, the SPS pump is designed for years of trouble-free opera-tion. There are no V-belts or packing to service, and routine maintenance consists of a quarterly lubricant change and com-ponent check.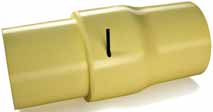 Joints on CertainTeed Yelomine pipe lock in place,
making the system suitable for use where gasketed
joints might pull apart.
PVC Piping Systems for Mining
A Saint Gobain group member, U.S.-based CertainTeed Corp. reports that it helped to pioneer the development of PVC pipe more than 30 years ago. Today, the company offers piping products for underground coal mining and above-ground leach-pad sys-tems that feature the Certa-Lok Yelomine restrained-joint pressure piping system.
Engineered with high-impact strength, ultraviolet protection and ease of assembly, the Yelomine system comes in standard 20-ft. (6.1-m) laying lengths, with other lengths available. Yelomine pipe is manufactured with IPS outside diameters, in pressure classes from 90 to 315 psi (6 to 22 bar). The system utilizes precision-machined grooves which, when aligned, permit the insertion of a high-strength, thermoplastic spline to create a fully circumferential, securely locked restrained joint. Teflon-coat-ed O-rings provide a hydraulic pressure seal.
CertainTeed offers the Yelomine piping system in versions suitable for both perma-nent and non-permanent applications, with a wide range of fittings available for changes of direction, branching and so on. The pipe can also be supplied with a series of drilled and tapped threaded holes to facilitate connection to spray systems.
The company says that Yelomine is suitable for above-ground and buried appli-cations, and with its easy-to-assemble, high-strength restrained-joint design, can be used in applications where convention-al gasketed joints would pull apart. Certa-Lok products are optimized to withstand tensile and compressive forces as well as to maintain pressure, are quick and easy to assemble in all weather conditions, and are corrosion-resistant and require no solvent cements for assembly.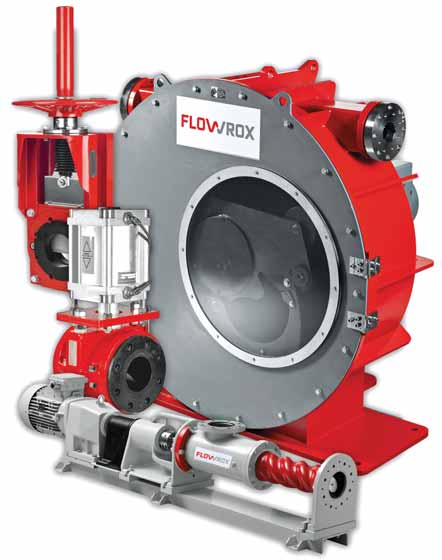 Cut-away of a Flowrox peristaltic pump for high-solids slurries.
Valves for Precise Flow Control
For mining and minerals processing, Flowrox states that its valves and pumps offer reduced total cost of ownership, sub-stantial savings through improved process performance and uptime, long service life-time, low maintenance costs, fast payback and superior quality, reliability and wear resistance.
Flowrox adds that its automatic and manual pinch valves are an excellent choice for applications where extreme abra-sion and scaling are present. The valve's construction ensures that it closes tightly, even if coarse particles remain inside the closing device, while in the open position, the valve is actually a part of the pipeline.
The company points out that in some cases, the initial purchase cost for high-quality pinch valves may seem high, but the low maintenance costs will quickly turn the purchase decision into profit. In fact, in an ideal situation, compared to conven-tional valves used in mining and mineral processing, Flowrox claims its valves pay back their initial purchase cost in a matter of months.
Its pinch valves are built from three main components: the sleeve, the body with mechanical closing bars, and the actuator, of which only the sleeve is in contact with the process medium. They are available in sizes from 25 to 1,200 mm (1 to 47 in.), can operate at tempera-tures from -40° to 160°C, and can handle pressures from full vacuum to 120 bar (1,740 psi).
Meanwhile, Flowrox's heavy-duty knife gate valves are engineered to be used in shut-off applications involving abrasive or corrosive slurries, powders or coarse sub-stances, giving 100% zero-leakage down-stream. Available in sizes of 50–600 mm (2–24 in.), they can work at temperatures of -40° to 135°C, and at pressures up to 20 bar.
Benefits of both these types of valves include their good wear- and corrosion-resistance, no jamming or clogging during operation, their self-cleaning ability, trouble-free operation and long service inter-vals, Flowrox says.
Turning to pumping requirements, the company notes that an increasing number of mine operators are discovering the ben-efits of peristaltic hose pumps as they endeavor to reduce water, energy and chemical consumption, and improve slurry transport reliability. While mining-sector pumping applications often involve abra-sive, corrosive, shear-sensitive and viscous liquid products, solids present the real challenge, it adds, and pump systems must be able to accommodate the variations in the solids content and composition.
In addition, they must be capable of withstanding high operating pressures and flow rates to ensure smooth fluid transport, and deny the opportunity for the product to settle. Other required features should include repeatable and reliable delivery performance, self-priming functionality and low and easy maintenance.
In peristaltic hose pumps, only the hose is in contact with the medium. No gland water or gland packing is needed, there is full vacuum capability, and no back-flow or slip. Materials are moved by positive dis-placement, with the pumps capable of reversible rotation. In terms of perform-ance, these pumps have low wear and cor-rosion characteristics, can run dry, and are self-priming in suction-lift situations, with no risk of cavitation. They also produce an exact flow each revolution, with low shear forces on the material being pumped.
Weir Secures Mine Pump-supply Deals
Weir Minerals has won a $6.5-million process equipment supply order for the Bozshakol copper mine in Kazakhstan, which is now being developed by Kazakh-mys as a 40-year operation capable of pro-ducing an average of 75,000 mt/y copper concentrates from 2015. As well as a wide range of process pumps and tailings pumps, the order includes Warman 650 MCR pump units—the largest mill-circuit pumps ever to be sold on the European market at 3.5 m (11.5 ft) in diameter— along with a complete replacement wet-end assembly.
Earlier this year, Weir Minerals also secured a $2-million deal to supply pumps and equipment for Boliden's new processing plant at its Garpenberg mine in Sweden. The new plant is a replacement for an existing facility—an upgrade that will double capacity from 1.3 million to 2.5 million mt/y of ore. Weir will supply the majority of pumps for every applica-tion across the plant, requiring a wide range of types and sizes of units to handle the full spectrum of flow rates, pressure requirements and slurry consistencies. Installation and commissioning of the new equipment is scheduled to take place dur-ing the middle of this year.
Weir claims its Warman WBH centrifugal slurry pump offers lower maintenance, lower power usage, longer wear life and higher performance when compared with previous horizontal slurry-pump technology. A key feature is its one-point adjustment device, used to minimize the front impeller gap. Recirculation is reduced, leading to extended wear life while performance is maintained, the company states.
In terms of pipelines, Weir says its Linatex rubber hoses offer superior wear resistance and extended wear life when handling abrasive or corrosive materials. Its range includes soft- and hard-wall slurry and chemical mining hoses, dredge hoses and a wide variety of preformed bends, reducers and T-pieces. It also offers preformed hose bends that provide a replace-ment option for standard metal piping or for use in confined spaces when a standard hose cannot be curved, especially when abrasion wear and vibration are an issue.
Meanwhile, the company's Isogate pinch and gate valves are designed for use on pipelines carrying abrasive or corrosive materials. Sleeves are available in a variety of materials, including natural rubber, EPDM, nitrile, neoprene and others, and Weir notes that all of the valve wear parts are easily replaced in the field, reducing downtime and ownership costs.
Pipes Produced to Suit the Project
A wholly-owned subsidiary of the KWH Group of Finland, KWH Pipe is a pipe-sys-tems provider with a wide range of solutions for the mining industry. Its WehoPipe HDPE pressure pipes are available in outside diameters of between 63 and 1,600 mm (25 and 63 in.), while its WehoSlurry wear-resistant polymer piping system comes in diameters from 63 to 1,200 mm. Other company products include WehoLite gravity pipes (300-3,000 mm diameter), and HDPE tanks and manholes.
According to KWH, HDPE pipes offer excellent resistance against abrasion and corrosive chemicals. They are also light-weight, while their flexibility allows them to bend naturally and to absorb stresses caused by soil or ground movement.
WehoSlurry pipe has been developed specifically for carrying slurry and solid abrasive material, with pipe lengths being joined either by using special mechanical flange connections or by conventional butt-welding. Butt fusion makes the welded joints as strong as the pipe itself, the company points out.
Although it has production units in Europe, Southeast Asia and North America, KWH Pipe understands that since mines are increasingly being devel-oped in remote areas, pipe transport costs can be very high. Its solution to this prob-lem is to manufacture pipes on site using a mobile plant, an approach which, it says, has a number of advantages. These include reduced installation and transport costs, simplified storage and handling on site, reduced risk of pipe damage during transport and handling, and greater pro-duction flexibility to meet specific project requirements.
Diesel-driven Dewatering from Japan
Japanese pump producer Tsurumi is using this year's bauma exhibition to launch one of its largest engine-driven pumps and a life-extending kit for its products. The new 4TBA82D135 automatic, self-priming diesel pump has been designed for demanding dewatering applications, the company says, offering a maximum flow of 2,250 liter/minute and a maximum head of 18 m (60 ft).
The life-extending part set for its KTV and KTVE range of light-weight alu-minum pumps consists of a new pump casing, wear ring and protection plate that can give a pump three times longer life, Tsurumi says. The kit is particularly aimed at tunneling and mine-develop-ment projects where pumps work in severe conditions.
Also on show at bauma will be the com-pany's KRS range of heavy-duty pumps that are suitable for sludge, slurry or con-taminated liquids, together with its patent-ed oil lifter—a lubricating device that improves the performance of the mechani-cal shaft seal that sits at the heart of all submersible pumps.
---
As featured in Womp 2013 Vol 04 - www.womp-int.com