Endeavour Targeting Q1 2014 Start at Agbaou Gold
---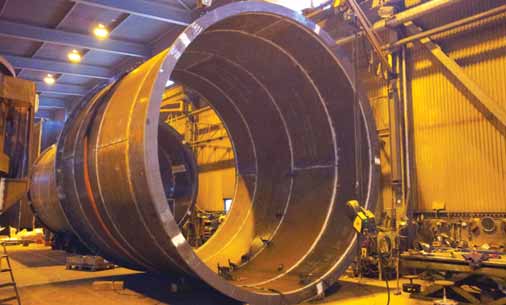 A SAG mill shell is one of the major mill components already on site as Endeavour Mining advances its Agbaou
gold project for a proposed 2014 startup. (Photo courtesy Endeavour Mining)

Endeavour Mining reports that construc-tion of its Agbaou gold mine in Côte d'Ivoire is on budget and on schedule for production to begin during the first quar-ter of 2014. Gold production is expected to average 103,000 oz/y over an eight-year mine life. The open-pit mine and gold plant are designed to mine and treat 1.6 million mt/y of saprolite ore or 1.34 million mt/y of bedrock ore. The plant design incorporates a conventional gravi-ty and CIL circuit for a gold recovery rate of 92.5%.

Steel deliveries for the Agbaou plant have begun and will continue over the next several months. Major concrete pours are complete, and CIL tank construction is in progress. As of mid-March 2013, approxi-mately 62% of the $159 million con-struction budget had been committed, with $45 million spent. The project was 52% physically complete overall.

All major contracts, including an EPCM contract with Lycopodium and a mining contract with BCM International have been finalized and are within the cost estimates of the project's June 2012 feasibility study. Major component deliv-eries for the SAG and ball mills were on schedule. Camp construction was nearly complete, with approximately 900 workers on site.

Preparations for connection of Agbaou operations to the Côte d'Ivoire power grid were well advanced, with transformer delivery expected in July 2013. Con-struction of the high voltage sub-station began on March 1.

Endeavour has begun recruiting key operations personnel. Gerald Boting was recently appointed general manager of Agbaou. He was instrumental in the development of the Skorpion Zinc project in Namibia and served as the general manager of that mine for seven years.

Endeavour reports that community support for Agbaou is solid, with crop compensation 100% complete, reloca-tion construction for 250 residents near-ing completion, and several major com-munity development projects completed.

The Agbaou project is located about 200 km northwest of the port city of Abidjan, Côte d'Ivoire. Endeavour has an 85% interest in the mining company established to develop the project, and the government of Côte d'Ivoire holds the remaining 15%.
---
As featured in Womp 2013 Vol 04 - www.womp-int.com