Ivanhoe Starts Stope Production at Starra 276
---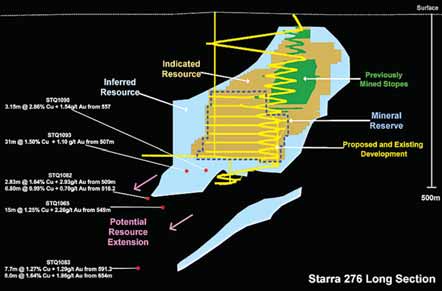 Ivanhoe Australia began stope blasting and production at its Starra 276 under-ground mine south of Cloncurry in north-west Queensland in March 2013. Starra 276 is the third underground mine that Ivanhoe Australia has successfully re-commissioned at its Osborne copper-gold project, the others being the Osborne and Kulthor mines. Mining at Starra 276 will ramp to its full production rate of approx-imately 650,000 mt/y of ore in the sec-ond quarter of 2013.

Ivanhoe Australia began producing copper and gold concentrate at its Osborne processing facilities in February 2012. The company acquired the Osborne mine and concentrator from Barrick Australia in September 2010. Commissioning of the concentrator began in late January 2012, and first concentrate was shipped to Townsville Port in March.

The Osborne plant began processing development ore from Starra 276 in February 2013 at blends of between 20% and 50% with ore from the Osborne and Kulthor mines. Recoveries and con-centrate grades are being maintained with the addition of Starra ore, and efforts are now focused on optimizing the mill's ongoing performance.

Starra 276 ore is being trucked to Osborne via the new Mount Dore-Osborne haul road. The road is meeting expecta-tions, with daily truck movements ramp-ing up to a capacity of 2,400 mt/d.

Bob Vassie, Ivanhoe Australia CEO, said, "This is another milestone for the company's Osborne copper-gold story. The Starra 276 mine contains another two to three years of ore that we will be able to exploit at current rates, with our expectation being that further ore will be identified, potentially increasing the mine's life."

The 222, 244, 251, 257 and 276 deposits on the Starra Line were previ-ously mined from four open pits and five underground mines. The mines exploited the high-grade gold portions of the min-eralized system and produced approxi-mately 6.8 million mt grading 2.1% cop-per and 4.6 g/mt gold.

At the close of the mines in early 2003, significant resources remained at the Starra 276 mine, where Ivanhoe Australia recommenced development in 2012. Significant resources also remain within the Starra 222 deposit, which is being evaluated for potential mill feed to the Osborne mill.
---
As featured in Womp 2013 Vol 04 - www.womp-int.com