Hanlong's Bid for Sundance Jeopardized by Murder Investigation
---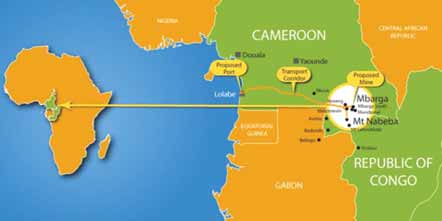 Australia-based Sundance Resources' most valuable asset is its Mbalam project, strategically located in an
emerging iron ore province in southeast Cameroon. Sundance's announced takeover by Chinese company
Hanlong Group has been hampered by legal problems involving Hanlong's CEO, Liu Han.

Sundance Resources announced its pending takeover by the Hanlong Group is in peril as CEO Liu Han has been detained by Chinese authorities amid a murder investigation.

Officials of the Australian company could not say why the chairman of the Sichuan-based private company had been arrested. Chinese media, however, are reporting Liu was being held for har-boring his brother—who himself had since been arrested for murder.

In August, Sundance Resources said it accepted a revised takeover bid from Hanlong, valuing the deal at $1.4 bil-lion. The acquisition would have given Hanlong control over the Mbalam iron ore mine, straddling the border between Cameroon and the Republic of Congo. (See related story on p. 14.)

Having presided over the world's second-biggest economy since 2009— and likely to beat the U.S. as No. 1 soon—the Chinese government has encouraged companies to secure energy and raw materials worldwide.

Hanlong is a diversified company with minerals and assets of more than $3.2 billion, according to its website. Sundance and Hanlong had previously entered into a consultation period wherein either party was eligible to withdraw; the arrest stalled the process.
---
As featured in Womp 2013 Vol 04 - www.womp-int.com