First Concentrates Produced at Northland's Swedish Iron Ore Project
---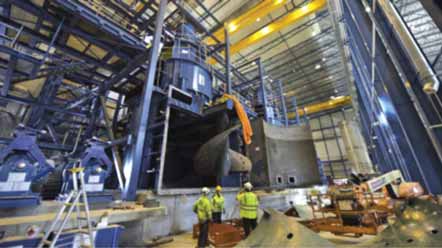 Two Metso vertical grinding mills, shown here during installation, are among the major processing
equipment items at Northland's iron ore plant, which recently began producing concentrates.

Northland Resources reported that the first iron concentrate was produced at its Kaunisvaara, Sweden, process plant in early December.

Karl-Axel Waplan, president and CEO of Northland Resources, noted that the com-pany was able to execute the processes leading to startup of the Kaunisvaara pro-ject in less than two years. During this peri-od the company constructed the industrial area, removed more than 4,500,000 m 3 of overburden from the Tapuli mine site, and installed a primary crusher, conveyor belts, grizzly building and ore sheds.

"This is truly a remarkable achieve-ment by the Northland team together with our key suppliers Metso, Peab and Pon CAT in Kaunisvaara. Northland has, all along, been able to keep up with the time schedule that we set up three years ago," said Waplan.

Metso supplied and installed the min-eral processing equipment for the first process line at the Kaunisvaara process plant, consisting of a primary gyratory crusher, a semi-autogenous/autogenous (SAG/AG) grinding mill, two VTM3000 ver-tical grinding mills, magnetic separators and two VPA press filters.

Northland said it will continue to work toward its next goal which is to begin ship-ping concentrate to customers early in the first quarter of 2013. Northland plans to produce 1.4 million dry metric tons of high-grade (69%) iron ore concentrate in 2013 and 3 million dmt in 2014. It expects to reach rated production capacity of 4 mil-lion dmt/y in the third quarter of 2014.
---
As featured in Womp 2013 Vol 01 - www.womp-int.com