New F-Class Screen's Modular Design Offers Multi-unit Configuration Flexibility
---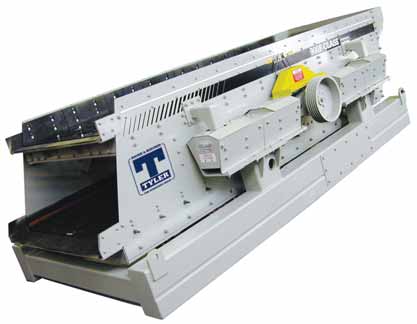 A 10-ft-wide (3.05-m) version of W.S. Tyler's F-Class screen is now available.

W.S. Tyler has developed a 10-ft-wide (3.05-m) version of its F-Class vibrating screen, describing it as an innovative, double eccentric screening solution for challenging applications that require minimal vibration transmission during operation. This, according to the compa-ny, allows for the use of multiple machines within the same building or structure without the reinforcing meas-ures required to house traditional vibrat-ing screens. Due to its consistent G-force, the F-Class has improved ability to keep screen openings clean, avoiding pegging and making the processing of sticky material possible.

W.S. Tyler President Florian Festge said, "Our double eccentric technology has been so effective that customers expressed the need for larger screens as their operations grew. We answered with the largest double eccentric screen to date, the 10-foot-wide F-Class. Its size, paired with its versatility, make the F-Class a viable option for customers who were previously forced to invest in much more expensive technologies, such as exciter driven screens. For these clients, the F-Class offers reduced capital expen-ditures combined with enhanced screen-ing performance."

According to the company, it engi-neered two completely new modules for the new screen, measuring 10 x 12 ft (3.05 x 3.6 m) and 10 x 16 ft (3.05 x 4.9 m). By using any combination of these two modules, machine sizes of 10 x 24 ft, 10 x 28 ft or 10 x 32 ft (3.05 x 7.3, 3.05 x 8.5 or 3.05 x 9.75 m) can be configured according to the process requirements. The F-Class, in tandem design, can also be operated at variable speeds and with different angles of incli-nation between the modules, creating a banana screen-type effect. The result, according to the company, is a fully cus-tomized screening system adaptable to meet the needs of almost any application.

Overall, F-Class screening machines are now available in widths ranging from 3 to 10 ft, all offering standard features that include proven four-bearing technolo-gy, minimal structural vibration and con-sistent stroke. The F-Class, says W.S. Tyler, has an advanced eccentric shaft design, supported by four high-perform-ance, double spherical roller bearings. The double eccentric shaft creates a constant positive stroke that handles material vol-ume spikes without losing momentum. As the eccentric shaft turns, the screen body is forced to follow the shaft movement. While it travels upward, the counterbal-ance weights move in the opposite direc-tion and create an equal force to that gen-erated by the body. As a result, the forces cancel each other, allowing a dynamically balanced system that transmits minimal vibrations into the structure—allowing multiple screens to be placed side by side while minimizing the installation costs of heavy structures. The design keeps noise emissions low for a quieter system and reduced overall plant noise.

The continual circular screening action provided by the eccentric design also pro-duces a constant, optimized G-force. Not only does this further maximize screening efficiency, it allows the F-Class to be an effective solution in both wet and dry applications, according to the company. Designed for high tonnage outputs, the F-Class can process up to 1,200 tons per hour, and screens virtually any material from 6 in. (152 mm) down to 20 mesh.

To provide maximum versatility, the F-Class can be run with up to three screen decks. The unit features inclines from 10°–25° and comes with a base frame that allows for simple installation in a cus-tomer's existing structure. The F-Class fea-tures a Huck-bolted screen body, allowing for extra strength and rigidity. Side plates are constructed with high-strength carbon steel. The area surrounding the shaft assembly is strengthened with a reinforc-ing plate, which ties together the side plate, screen panel and shaft assembly.

All 6-ft, 8-ft and 10-ft wide units are built on platforms that combine a machine width and a drive type, consist-ing of an eccentric shaft assembly. Within the platform, the customer choos-es basic parameters, such as screen length and the quantity of decks the application requires. To optimally adapt to each operation, the customer then configures multiple variables such as deck set-up, suspension systems, rein-forcing plates, wear lining and stroke and speed combinations.

The F-Class's standard 18-month war-ranty (from date of shipment, 12 months from the installation date, or 6,000 oper-ation hours, whichever comes first) can be extended with optional customer-spe-cific warranty upgrade packages, accord-ing to the company.
---
As featured in Womp 2013 Vol 01 - www.womp-int.com