Siemens Snags Peñasquito Service Contract
---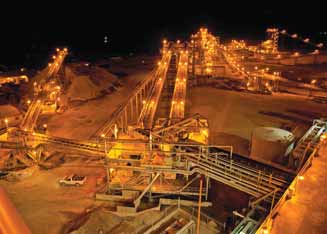 Siemens, following receipt of a recent contract, will operate and maintain the
crushing and conveying systems at the Peñasquito mine for the next five years.

Siemens has signed a five-year agreement for operation and main-tenance of crushing and conveying systems at Mexican mining company Minera Peñasquito, a subsidiary of Goldcorp, Vancouver, B.C., Canada.

Although estimated at €40-million, the actual cost of the order will depend on the plant's output, with the maintenance system serving to enhance the availability and reliability of the mine, according to Siemens. Under the contact, Siemens will be respon-sible for round-the-clock operation of the in-pit crushing and con-veying system, as well as maintenance, repairs and parts manage-ment. The mine is located in the Mexican State of Zacatecas.

Siemens said the customer will benefit from flexible contrac-tual arrangements, which sets payment according to contractor compliance with production-based and performance-based key performance indicators such as plant output, productivity, avail-ability and environmental compatibility. Siemens noted that it has had prior experience at the mine, having supplied drive systems and performed servicing and maintenance from startup.

Peñasquito began commercial production in 2010. Full-year 2012 production is estimated to include 370,000–390,000 oz of gold, 23 million–24 million oz of silver, 310 million–325 million lb of zinc and 155 million–160 million lb of lead.
---
As featured in Womp 2013 Vol 01 - www.womp-int.com