Ship Damages Coal Loading System at Westshore Terminals
---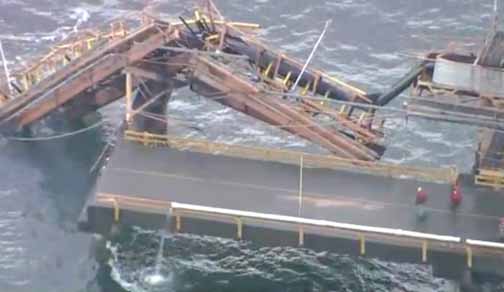 A large bulk carrier destroyed a section of trestle after crashing into a berth at Westshore Terminals.
(Photo courtesy of Global BC)

A large bulk carrier docking at Westshore Terminals in Vancouver, Canada, destroyed a coal conveyor system December 7, 2012, disabling the largest of the port's two berths. The mishap has put the berth out of service for an indefinite period of time and diminished the port's ability to export coal. The loss of the berth, which handles ships with a cargo capacity up to 260,000 metric tons (mt), is a significant blow to Westshore, which is North America's largest coal exporting port. Westshore has one remaining berth, that can handle ships with a capacity of 180,000 mt. The bulk carrier Cape Apricot, with a capacity of 180,000 mt, slammed into a trestle, the only link between the berth and the terminal, destroying more than 100 m of it. The ship went right through the causeway, taking a road, the coal-carrying conveyor belt, and electric and water lines with it.

Denis Horgan, general manager, Westshore Terminals, called the incident "the biggest calamity in our history" and said the cleanup and repair is something "that will take months, not weeks." Noting the coal port already operates 24/7, Horgan said there's no doubt the loss of the berth, which is the bigger of the two, will impact customers. Fewer trains will be arriving at the terminal and less coal will be stored at the site as a result. Westshore Terminals has filed a lawsuit against the Japanese owners of the ship.

The terminal is the main shipping point for metallurgical coal from Teck Resources mines in eastern British Columbia. It is also used by U.S. coal companies. Teck Resources said it would continue to use Westshore's remaining berth, but will be shifting capacity to Neptune Terminals in North Vancouver to maintain export vol-umes. It's also investigating other options.

Teck Resources recently provided an update its coal sales, saying the company expects to exceed 6.2 million mt for the fourth quarter of 2012, and production for the first quarter of 2013 is not expected to be materially impacted by the damage to Berth 1. Teck will use alternative shipping options while Westshore repairs the damage, includ-ing securing additional capacity through Neptune, Pacific Coast, Thunder Bay and Ridley Terminals. Based on Westshore's esti-mated repair schedule and expected loading capacity for Berth 2, Teck expects to have total shipping capacity of approximately 6 million mt in the first quarter of 2013.
---
As featured in Womp 2013 Vol 01 - www.womp-int.com