OceanaGold Produces First Concentrate at Didipio
---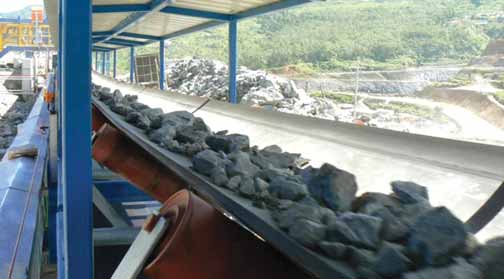 Copper-gold ore is conveyed to the mill at OceanaGold's Didipio project in the Philippines. The facility produced first
concentrate in December 2012.

OceanaGold Corp. announced on Decem-ber 18, 2012, production of the first cop-per-gold concentrate at its Didipio pro-ject on Luzon island in the Philippines. Commissioning was ongoing and continued to meet expectations. Processing plant construction activities were complete, and construction of the remaining infrastruc-ture, such as plant and mine maintenance workshops, will be completed as part of the project's 2013 capital budget, in conjunc-tion with the ramp up of the plant.

Commissioning of the plant's gravity gold circuit was in progress.

OceanaGold expects the Didipio project to produce 285,000 to 325,000 oz of gold and 15,000 to 18,000 mt of copper in concentrates in 2013, with cash costs of gold production estimated at $650 to $800/oz net of copper by product credits.

The Didipio project is located about 270 km north-northeast of Manila. Re-serves total 1.68 million oz of gold and 230,000 mt of copper. Measured and indi-cated resources total 2.14 million oz of gold and 290,000 mt of copper, and inferred resources total 430,000 oz of gold and 70,000 mt of copper.

Mine life is estimated at 16 years at average life-of-mine production of 100,000 oz/y of gold and 14,000 mt/y of copper.

The Didipio deposit will be mined by both open-pit and underground methods. The open-pit and underground mines will run concurrently during the last seven years of operations.

The open-pit mine is scheduled to deliv-er ore to the mill of sufficient grade to achieve production of 200,000 gold equiv-alent oz/y until the underground mine starts. Low-grade ore stockpiled during open-pit operations will be milled at the end of both open-pit and underground operations.
---
As featured in Womp 2013 Vol 01 - www.womp-int.com