Record Number of Explorers Expected for PDAC 2013 in March
---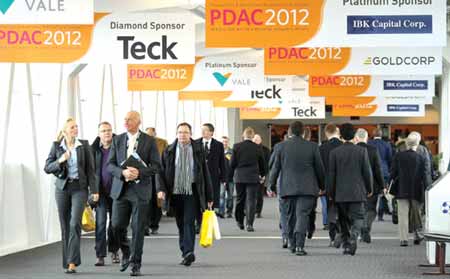 More then 30,000 attended the 2012 PDAC in Toronto. This year's conference will be held March 3-6.

The annual Prospectors & Developers Association of Canada's (PDAC) Con-vention is the mineral industry's most pop-ular networking and educational event. The convention's sheer size is impressive. Held at the Metro Toronto Convention Center, it attracted more than 30,000 delegates last year—a record number. No other annual convention for mineral exploration and mining draws a crowd of this size.

"Early indicators show both Canadian and international interest is strong again this year," said PDAC President Glenn Nolan. "Trade Show and Investor Exchange exhibits sold out early on and we're seeing many of our 2012 sponsors returning this year. 2013 is shaping up to be another exciting year for the convention."

Now in its 81st year, PDAC attracts investors, analysts, mining executives, geologists, prospectors and international government delegations from all over the globe. In 2012, 25% of the delegates were from outside of Canada. The largest num-ber of attendees in 2012 came from the U.S., Australia, England, China and Peru.

"The convention has really hit its stride in terms of its place in the global mineral indus-try," said Nolan. "In the early 1990s, PDAC began to build an international reputation— and the convention went international. Since then, it has come to be known as the global networking opportunity for the mineral explo-ration and development industry."

PDAC Executive Director, Ross Gallinger, who came on board in August 2011, expe-rienced it from the inside for the first time in 2012. Having been part of the mineral exploration industry for years and a regular PDAC delegate, Gallinger said it has be-come "a massive focal point for the junior exploration sector.

"We have expanded programming with an impressive list of speakers for our tech-nical sessions, and innovative touches like our mobile convention guide," said Gallinger. "Our goal is to maintain the quality of the Technical Program and the overall convention experience."

The PDAC Convention is actually a con-vention, trade show and investors exchange in one. The convention includes a technical program (presentations, short courses and workshops), a corporate social responsibility (CSR) event series, an abo-riginal program, a student program and networking events.

The Technical Program features talks by industry experts that reflect the PDAC's year-round advocacy work as the industry associ-ation representing the mineral exploration and development sector in Canada. The pro-gram opens with the Commodities and Market Outlook session, and includes other sessions such as Land Access Challenges and Solutions, the keynote session on Risk and Reward in Mining Exploration and Development, Building Aboriginal Capacity for Economic Independence, Financing in a Volatile Market, Geophysics, and Ontario's Ring of Fire: Unlocking Potential and Creating Opportunity.

PDAC 2013 is offering a record num-ber of short courses to assist delegates with their professional development goals. Courses will be offered on everything from health and safety to communications to geophysics.

The trade show features 415 compa-nies, organizations and governments pro-moting technology, products, services and mining jurisdictions worldwide. The oppor-tunity for convention delegates to learn about the global mineral sector while walk-ing the aisles of the trade show floor is phenomenal. The trade show receptions on Monday and Tuesday afternoon give atten-dees the chance to network over a glass of wine or beer on the show floor.

There is no shortage of social events at the convention, including the Awards Evening, Mining Night and the Gala. Other ticketed events include a series of three luncheons running Monday to Wednesday that feature popular speakers such as the Honorable Perrin Beatty, president and CEO of the Canadian Chamber of Commerce, who will be speaking at the Innovation Luncheon. Recipients of the 2013

awards will be honored at the PDAC's awards evening on March 4, 2013, at the Fairmont Royal York Hotel.

Pretium Resources is the recipient of this year's Bill Dennis Award for a Canadian mineral discovery or prospecting success. Pretium is receiving the award for advancing the Brucejack Property's Valley of the Kings, which was first discovered in 2009, into a world-class, high-grade gold deposit. Since 2011, Pretium's successful exploration program has seen the high-grade Indicated Mineral Resource Base for the Valley of the Kings grow to the current 8.5 million oz of gold.

New Gold Inc. is the recipient of this year's Viola R. MacMillan Award for com-pany or mine development. New Gold is receiving the award for demonstrating leadership in management and excellence in best practices in bringing the New Afton mine to production. Located in Kamloops, B.C., New Afton is a large underground copper-gold deposit that is expected to produce, on average, 85,000 oz of gold and 75 million lb of copper per year over a 12-year mine life (See September 2012 E&MJ, p. 52).

Daniel G. Wood is the recipient of this year's Thayer Lindsley Award for interna-tional mineral discoveries. Wood retired from mineral exploration in late 2008 after 24 years with BHP and almost 18 years with Newcrest Mining Ltd., leading teams exploring for a range of mineral resources in Australia, SE Asia/SW Pacific and the Americas. Their efforts produced coal, gold, gold-copper and copper-molybdenum discoveries in Australia, Indonesia and Peru, including the large Cadia gold-cop-per deposits in NSW.

Ronald P. Gagel is the recipient of this year's Distinguished Service Award. Gagel is receiving the award for his outstanding contribution to the mineral industry in the field of finance, and for his contributions to the PDAC. He was part of the team that successfully lobbied the federal govern-ment to implement the Mineral Exploration Tax Credit, and is the chair of the Mining Industry Task Force on International Financial Reporting Standards.

Cameco Corp. is the recipient of this year's Environmental and Social Respon-sibility Award. Cameco is receiving the award for its outstanding accomplishments in establishing good community relations to support its exploration and mining opera-tions. Cameco's five-pillar CSR model is designed to ensure local community sup-port and proactive environmental steward-ship, and has led to recognition as an industry leader in CSR by Aboriginal asso-ciations and industry rankings.

Windigo Catering LP is the winner of this year's Skookum Jim Award for Aboriginal achievement in the mineral industry. Located in northwestern Ontario, the company is solely owned by Windigo First Nations and boasts an 83% First Nations employment rate. Windigo special-izes in providing catering services to indus-try, including remote camps, and is cur-rently providing camp management, cater-ing, housekeeping, laundry and light main-tenance services to Goldcorp's Mussel-white mine at its remote fly-in camp on Opapimiskan Lake.
---
As featured in Womp 2013 Vol 01 - www.womp-int.com