Boart Longyear Expands Service Network Locations
---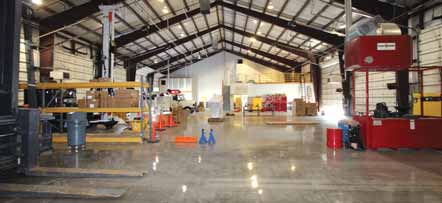 Boart Longyear's new Utah parts and service center, shown here, will enable a higher level of support for
the company's customers in the western U.S

Drilling products and services provider Boart Longyear opened a new parts and service center in Salt Lake City, Utah, USA, in early October. The new facility, accord-ing to the company, will provide aftermar-ket equipment support for Boart Longyear's third-party customers in the mining indus-try through technical support, repair and rebuild services, preventive maintenance, and training programs. The 20,000-ft2 (1,858-m2) facility includes a 15,000-ft2 shop and 5,000 ft2 of office space.

The Salt Lake City location was chosen for a parts and service center due to the large number of customers in the area. "By opening the Salt Lake City location, we are better able to service the mining industry in the Great Basin region of the U.S.," said Michael Norris, senior manager of after-market products.

Boart Longyear said it has recognized the need to have the right spare parts and services available in more convenient regional locations. Expansion of their parts and service centers globally, along with an enhanced global distribution network, allows regional centers to service Boart Longyear rigs faster than before.

The Salt Lake City location adds to the existing parts and service centers in Adelaide, Australia and Nottingham, United Kingdom. Global expansion of Boart Longyear parts and service centers also includes the further development of the North Bay, Ontario and Lima, Peru markets. Facilities at those locations will be upgrad-ed to full-capacity parts and service cen-ters. The company said it also plans to open new parts and service centers in Santiago, Chile; Belo Horizonte, Brazil; Johannes-burg, South Africa; and Khabarovsk, Russia, by the first quarter of 2013.
---
As featured in Womp 2012 Vol 11 - www.womp-int.com