Sandvik to Supply Largest Underground Mine Automation System
---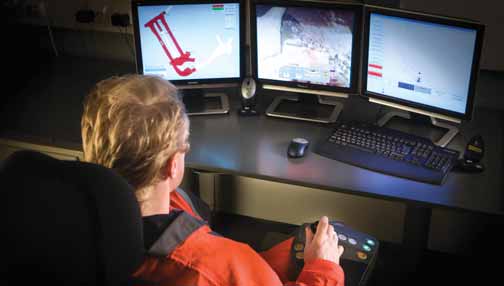 Operators located in surface facilities will control a fleet of automated Sandvik LHDs soon to go into service at
Rio Tinto's Argyle underground diamond mine in Western Australia.

Sandvik Mining recently announced receipt of an order from Rio Tinto to pro-vide advanced mine automation capability for the Argyle Diamonds underground oper-ation in Western Australia. The automation systems are scheduled for delivery in 2012–2013.

The order comprises Sandvik's Auto-Mine system with 11 LH514E electric-pow-ered LHDs and two LH410 diesel LHDs. Delivery also will include Sandvik's recently launched Draw Control product that en-ables tracking, reporting and overall man-agement of manual production loading dur-ing the mine's development phase.

Automated loaders will be operated from surface-located control room systems that include three operator stations.

Sandvik noted that the Argyle Auto-Mine system will meet Australian mining sector standards for functional safety, and claims to be the only supplier of this type of system to be capable of compliance with the strict Australian requirements. This, said Sandvik, was recently demonstrated and confirmed in connection with a suc-cessful AutoMine delivery to Rio Tinto's Northparkes mine, where the system is now operating 24 hours a day in a produc-tion capacity. It has proven to be a safe and efficient technology, according to the com-pany, and the work undertaken at Northparkes will significantly streamline the delivery, implementation and support process at Argyle.

The advanced AutoMine automation systems will be the largest underground mining automation installation in the world to date, according to Sandvik. The Argyle production structure is designed for automation when fully operational. At its peak the mine's block cave annual produc-tion will reach around 9 million mt/y, with 16 extraction drives.

"This order is a very important mile-stone in the growth of our fleet of AutoMine not only in Australia but globally as well," said Riku Pulli, vice president–Mine Automation at Sandvik Mining. "The Auto-Mine Draw Control and AutoMine Loading systems are ideally suited for Argyle's block caving operation. We are honored that Rio Tinto has put their confidence in our AutoMine system to improve their operation safety and efficiency."

Argyle is one of the world's largest sup-pliers of diamonds. The underground mine is being developed to produce on average approximately 20 million carats per year over life of the block cave. Argyle has been operating since 1985 and has produced close to 800 million carats of rough diamonds.

Sandvik Mining has installed 10 auto-mation systems of this type, deployed in seven countries worldwide.
---
As featured in Womp 2012 Vol 11 - www.womp-int.com