Queensland Lifts Uranium Mining Ban
---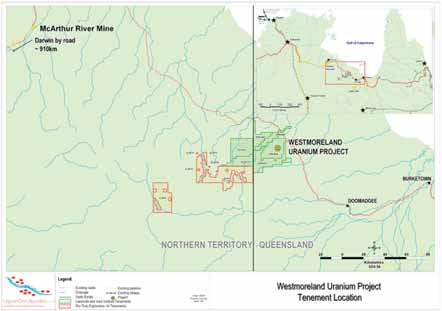 Laramide Resources is currently exploring its Westmoreland uranium project in northwest Queensland near
the Northern Territory border. Laramide is one of two companies with active uranium exploration projects in
Queensland; the other, Paladin Energy, holds several properties there with significant uranium ore resources.

Queensland Premier Campbell Newman and Minister of Natural Resources and Mines Andrew Cripps in a joint statement announced October 22, 2012, that the state government will convene a three-member implementation committee to over-see the recommencement of uranium min-ing in the state. Uranium mining has been banned in Queensland since the 1980s; however, some uranium exploration compa-nies have remained active, and good poten-tial exists for future mine development.

The Australian federal government adopted a "three mines policy" for urani-um in 1983, restricting uranium mining to the Ranger and Narbalek mines in the Northern Territory and Olympic Dam in South Australia. Narbalek was mined out and shut down in 1988. The policy was lifted in 1996, reinstated in 1999, and finally removed in 2008; however, a Queensland state ban on uranium mining remained in place until now.

The Queensland government's opening of the state to uranium mining followed a visit by Australian federal government Prime Minister Julia Gillard to India, where she promoted Australian uranium mines as a source of uranium supply for India's growing nuclear power industry.

Queensland Resources Council Chief Executive Michael Roche welcomed the opening of the state to uranium mining, saying, "The government's decisive action today will provide a strong boost to the regional economies of north and northwest Queensland. It will create jobs and eco-nomic opportunities, including for indigenous Queenslanders.

"The known uranium resource in Queensland, using projected prices and exchange rates, is currently valued at $18 billion. That $18-billion resource value translates into $900 million potential earn-ings in royalties from the mining of uranium," Roche said.

"The experience in Western Australia suggests that a decision to overturn the ban on uranium mining in Queensland will unleash a strong upsurge in exploration for uranium, thereby boosting the known ura-nium resource in Queensland."

Companies with currently active uranium exploration projects in Queensland include Paladin Energy and Laramide Resources.

Paladin operates the Langer Heinrich uranium mine in Namibia and the Kayelekera uranium mine in Malawi. In Queensland, the company has interests in several uranium properties. Among these, the Valhalla deposit 40 km northwest of Mount Isa has a combined measured, indi-cated, and inferred resource of 56 million lb of U3O8, and the Skal deposit 30 km north of Mount Isa has a combined indicated and inferred resource of 21.8 million lb of U3O8. Regarding Queensland's lifting of its ban on uranium mining, Paladin Managing Director and CEO John Borshoff said, "This initiative taken by the Queensland state government is a hugely positive move for the Australian uranium industry as a whole. With a pro-uranium position, priori-ties can now be made on deposit quality and markets, and thankfully the politics of access will not be a key determinant in moving a project forward."

Laramide Resources, a Canadian junior company headquartered in Toronto, is exploring its Westmoreland project in northwest Queensland near the Northern Territory border. The company's NI 43-101-compliant U3O8 resources at the pro-ject currently total 36 million lb indicated and 15.9 million lb inferred.
---
As featured in Womp 2012 Vol 11 - www.womp-int.com